Why and How You Should Turn Your "Customer Service" into "Customer Success"
You may have heard talk of customer success in marketing circles a lot recently, it's the latest buzzword that's becoming extensively used, especially in the SaaS (Software as a Service) sector. But despite what many appear to think, customer success is NOT the same thing as customer service. It's not particularly simple to clearly define exactly what customer success means though, as it's more of a mindset than a set way of doing things.
So what is the real difference? And how do you move from Customer Service to Customer Success?
According to Lincoln Murphy speaking at the Customer Success Summit in San Francisco last year:
"Customer success is about more than delivering service or support. It's about having real-time visibility into the issues customers are facing and finding smarter ways to manage those issues in ways that allow customers to extract maximum value from your product."
Proactive vs Reactive
And to do this, he says, it's necessary to become a business that is proactive, rather than reactive. For the most part, customer service teams tend to rely on the latter – the 'break-fix' model – in which they only take action when something goes wrong. In this model, when a customer makes a complaint, the team will scramble to fix it, but what they don't do is take steps to ensure that it doesn't happen in the first place (or again).
For a business that's been working under the break-fix model for quite some time, it can be difficult to alter business processes in order to create an environment that's concerned with customer success and not straightforward customer service.
Mashable points out that "successful customers lead to a wildly successful company" and if you're a business owner then certainly that's an objective that you'll want to fulfil. With that in mind, let's have a look today at how you can implement steps to transform your customer service into customer success.
In the technology support industry, we've seen a shift from break-fix to managed services take place and again, this is a move from a reactive solution to a proactive one. Whilst once if anything went wrong a business owner would call the support engineers, now we see more and more businesses opting to protect systems with proactive monitoring. This allows support technicians to constantly monitor everything on the network for errors or intrusion in order to intervene before too much damage is done.
What this has done for the IT support sector and the businesses that use its services, is better align the business goals of the client with those of the support company. Whereby before when the business owner saw a technician they would groan with the knowledge that they were probably about to part with a fair sum of cash, with the managed services model (which could also be described then as a customer success model ) the business owner knows that his data and network are protected and that he can work with the support business to further upgrade systems when it's more suitable for the business.
So customer success isn't a new mindset, but rather one that's gradually finding its way into many different industries.
It Starts With Company Culture
If you want your business to be one that has customer success, then it's necessary for the entire workforce to be involved and this means that the culture has to change to accommodate it. A healthy workplace culture means that your employees will all work willingly to achieve the high standards that you set. It starts with valuing your workers and ensuring that they have the right tools at their disposal to do their jobs effectively.
So if you have a call center this would mean implementing unified communications and a great CRM package, for example. Further to this, you should create a company ethos document which sets out the core values of the company and how it treats its customers. For example, Zappos publishes its Family Corre Values online, where customers and staff can access it. The main value that the company begins with is the idea that all staff should "Deliver WOW through service".
The message on the Zappos site reads:
"As we grow as a company, it has become more and more important to explicitly define the core values from which we develop our culture, our brand, and our business strategies."
The company further defines delivering WOW through service as something that in order to deliver it, you must: "differentiate yourself, which means doing something a little unconventional and innovative. You must do something that's above and beyond what's expected. And whatever you do must have an emotional impact on the receiver. We are not an average company, our service is not average, and we don't want our people to be average. We expect every employee to deliver WOW."
It continues: "We seek to WOW our customers, our co-workers, our vendors, our partners, and in the long run, our investors."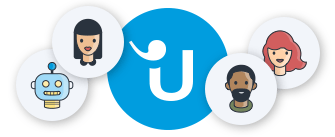 Looking for better customer relationships?
Test Userlike for free and chat with your customers on your website, Facebook Messenger, and Telegram.
Read more
So what you must take from this, and apply to your own company, is that everyone, regardless of position, must be proactively seeking at all times to make an impact with customers that really makes them say "Wow, that was great, I must tell all of my friends." It goes further than the customer though, you should also be prepared to wow your staff. A healthy and well-defined company culture boosts productivity, makes for happier workers and as such staff retention and increases your bottom line. With that in mind, start first by drafting a core values document and then get your staff involved – all of them.
Chooose Managers Wisely
When it comes to the management of your customer service team, you should choose a person who is be passionate about customer success and who understands your core values. They should work with the team to help them gain a thorough understanding of the values and the meaning of customer success.
Change within any organisation is never particularly easy, so the managers should also understand that they will have to work towards changing customer service reps' perceptions of how customer service works within your business. They should always be looking for new ways to help customers even before the customer has asked for any. In the first instance, managers can help to make these changes by implementing further training and team exercises.
They should ask of the staff:
What the current customer experience is across all platforms and communications channels
Who is the customer? What do they enjoy, how old are they, etc.
What means of communication does the customer prefer?
How does the business currently monitor and engage with customers? How can this be improved?
It's important for staff to understand who the customer is if they're to effectively make the business one that's centered on customer success. Without this understanding, it's going to be all but impossible to put themselves into the customer's shoes and understand how to deliver success.
Training should also include real-life scenarios as to how customer service staff address customers. This should be with empathy and highly personalized so that the customer comes away considering that all-important wow-factor.
Customer Success Formula
Micha Soloman writes in Forbes that all staff should be trained to respond to failures in customer service using a set formulaic sequence, as shown below.
A – Apologize. And be very sincere, no half-baked or fake apologies that are usually extremely transparent.
R –Review. Go over the complaint with the customer so that they can explain what's gone wrong from their own perspective.
F + F – Fix the issue for the customer and then follow up . The customer service rep should fix the problem quickly, within 20 minutes, or they should explain progress made after 20 minutes. Once the problem has been solved, the rep should then follow up to further show continued concern and appreciation.
D – Document. Record what happened in detail so that the issue can be permanently resolved for all customers by identifying trends.
You don't have to follow this particular framework, but it's very useful to have one as it gives staff a template to work from and they will know exactly what's expected of them. This is especially useful if you're moving into making the company customer success centric as it allows staff to really see where and how they need to make changes. Couple this with further training and team exercises and you could be changing the company ethos pretty quickly.
When a framework such as the one above is used, it's also worth including a process that allows everyone to be alerted to the service failure. This then allows other staff to learn from the process too and they can track the progress of the company's response as well. There's then very little room for doubt when it comes to how staff perceive customer success and this will help them to further fine-tune their own job in order to ensure that their personal goals align with those of the company.
Customer success then is dependent on creating an environment where it's capable of thriving. Training will have to be put in place and the company will have to ensure that it puts a lot of work into getting the right culture in place. Becoming a people-centric business is the key to real success – one that considers the whole picture in terms of the people that make up the business –staff and customers.