Discover Your Ideal Method of Communicating with Customers
Until telepathy is possible, customer service will always rely on three main forms of communication: spoken, written and face-to-face.
But this doesn't mean everyone will forever have to make phone calls, write emails and visit stores to make complaints.
Many businesses have given old-school communication channels a much-needed facelift and new ones have been added to keep up with technological developments. This post will take a look at the evolution of customer communication methods, give helpful tips for successful service and help you decide which method is right for your business.
1

Spoken communication

Since the invention of the toll-free "800" number, businesses have relied on the phone for their marketing efforts and to receive inbound calls from customers. As its popularity grew, businesses used call centers to offshore customer service. Though this method was cost-effective and extended service, it ruined its reputation.

Today, people associate customer service calls with stress, frustration and long waiting times .
Agents with a superb phone presence soften the blow of being put on hold, but not every business invests in proper employee training...or enough employees. This means your waiting time is unpredictable, and it's out of your control.
Americans are also often paired with non-native English speaking service agents at offshore call centers, increasing the likelihood of information being lost in translation, customers having to repeat themselves and significant call charges.
To combat these hiccups, many companies have employed virtual assistants to immediately help the customer, or forward her to the proper agent. Some systems also offer auto callback so a customer doesn't have to wait on the line until an agent is available.
Here are our tips for good phone service:
Improve your call routing system to reduce forwarding
Repeat the caller's name to establish a personal connection
Smile while you speak to the customer
Explain technical topics as simply as you can
Avoid robotic, scripted language
Check out this post for more customer service phone tips .
Are phone calls becoming obsolete?
Yes and no. Studies have shown that customers still prefer to call when making a significant decision or when they have a complaint. However, "voice messaging" is a modern communication trend that may eliminate the need to call. People can record and send spoken messages, but unlike voicemail , these recordings can be sent between regular chat messages.
Voice messaging is an example of how communication methods are beginning to blur increasingly. Since verbal communication can exist without having to make a call, a new wave of service possibilities may soon permeate the market.
2

Written communication

Email has dominated written customer communication for more than a decade now. It's easy to see why since it's:
Free or inexpensive
A permanent log of the conversation
Internationally accessible
Trusted and private
Ideal for attaching large or essential files
But customers have realized that unlike phone, email lacks communication speed, concision and human connection. Sometimes you're even lucky if you get a confirmation of receipt or receive a timely response. Email is becoming our modern-day snail mail.
Businesses are choosing live chat to evade email's inherent limitations.
It combines the best qualities of phone and email support:
It's free and easily accessible. Live chat is offered directly on the website.
Chat flows like a real conversation. Much like talking on the phone, chat feels personal.
Customers receive a transcript of the conversation. Chat transcripts serve as reference guides if the customer and agent face the same issue again.
And it overcomes the negative qualities:
Communication is instant. Instead of being stuck on hold, a chat agent can often immediately help during service hours.
Agents can assist multiple visitors at once. Live chat is flexible and leads to quicker resolutions.
Visitors are instantly synced with the right agent. If a visitor speaks a certain language or needs help with a specific concern, live chat instantly forwards her to a qualified agent.
Chatting is quiet. Agents can have direct communication without disrupting colleagues.
This doesn't mean live chat is untouchable. It relies on a stable internet connection to function, it's clumsy for agents to use via mobile phone, and your customer support team is susceptible to spam chats and being misunderstood .
Here are our tips for good live chat service:
Maintain a positive tone - avoid ambiguous one word responses
Write only one or two sentences at a time
Use emoji to create a human vibe
Don't respond too quickly, even when using canned messages
Communicate your actions to the customer
For more, check out our post on customer support chat tips .
3

Face-to-face communication

Certain situations typically require in-person assistance, like returning a product purchased in-store, picking up a prescription or buying a car (unless it's a shady ride you found on Craigslist).

Interacting with the customer in person gives a representative a better gauge of the situation. The interaction is personal and real, which can be a blessing or a curse. An agent's body language and tone could make or break the mood, as well as the customer's language and tolerance.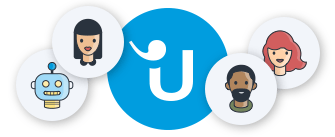 Looking for better customer relationships?
Test Userlike for free and chat with your customers on your website, Facebook Messenger, and Telegram.
Read more
Methods like voice messaging and live chat are making it easy to get caught up in efficient customer communication, but they lack human touch. Dr. Richard D. Arvey, a psychologist and professor at the National University of Singapore, found that 77 percent of people believe that in-person meetings are a necessity. Shaking someone's hand and looking them in the eye while you speak is an intimate exchange that can't be paralleled via web.
Here are some tips for solid face-to-face service:
Mirror the customer's emotion - it's in your nature, anyway
Try not to interrupt
Avoid asking negative questions - say "Do you have an account?" not "Do you not have an account?"
Make eye contact - avoid looking at the computer or other people
Give cues that assure you're listening - saying "I see" or a nod
In the future, more companies may offer video support to maintain the in-person feel without needing a store. Amazon has already made an attempt and the company SightCall created its own video service inspired by Amazon.
However, video calling can be a lot more demanding than live chat or a phone call. You need the proper environment to take a video call and a secure connection. SightCall's business premise is clever, but if you're in a sudden fender bender and need to contact your insurance, having good enough service to connect via video is not guaranteed.
Other methods of face-to-face communication, like Skype or Google Hangouts, are also possible in a customer service sense, but on a smaller scale. You wouldn't expect a customer to install your video client to ask a simple question about dress sizes, but you would schedule a video call with a customer interested in purchasing your most expensive software plan.
Your communication method should be appropriate for your use case and area of application.
Modern trends in communication methods
Businesses typically have at least one communication method it invests most of its time and money in, but what about a backup option? New communication trends are making this possible.
This may be a polarizing opinion, but having a social media account is crucial to a business. Here's why: According to New Voice Media , "59% of 25-34 year-olds share poor customer experiences online."
This means if someone complains about your business on Twitter and your company misses it, your competitor can steal your customers with the promise of better service, or it will leave a negative impression on the person's followers. Of course the person complaining could have very little online influence, but it would still be in good taste to respond to their tweet.
Social media lets you connect with the customer on their level, and it shows that you're listening. However, it requires close monitoring and is less sophisticated than a front-line service.
Businesses are also starting to integrate messaging platforms such as Facebook Messenger, Telegram and WhatsApp with their customer service tools, like live chat software.
If your business is interested in combining customer service with direct messaging, here are our tips:
Connect where your customers are. If most of your customers are from North America and your company is in Europe, talk to them on Facebook Messenger instead of WhatsApp (which is not popular in the States).
Create a chatbot . Depending on your business, a chatbot can answer quick questions and keep your customers entertained.
Keep messages brief. You wouldn't write an email-length message to tell your friends about the half-off deal at your favorite burger joint, so don't overwhelm customers with all the marketing talk.
Be casual, but stay professional. You don't want a screenshot of your customer conversation to end up on /r/FellowKids , so try to be human without being cringey. At the same time, remain professional without sounding like a robot (no pressure!).
What's the best method for communicating with customers?
As you might have guessed, this depends on your business, customers and team size.
Many companies will stick to traditional support methods and aim to optimize those because they work and are already in place. Other companies are experimenting with technology and learning if newer methods of communication fit their needs. Whichever method you decide to use, remember to not keep your customer waiting, establish a personal connection and resolve their issue as quickly as possible.