Messenger Marketing: 7 Strategies and Examples
Messenger marketing is about connecting with customers on channels like WhatsApp and Instagram. With these simple strategies, you're guaranteed to reach your target audience on their favorite apps.
Customers want to chat with companies. A recent Forrester study showed that almost 70 percent of customers are more likely to buy from a company that offers convenient communication channels. This doesn't mean someone has to be online at all times. Customers are also happy to chat with a bot or receive automated messages and status updates on their phones.
Unified Messaging solutions (more on this later) as well as WhatsApp, Facebook and Instagram's new professional features make it even easier to offer messenger marketing along the entire customer journey. We'll show you how messenger marketing has proven itself successful and how you can profit from chatting with customers using seven simple strategies.
Messenger marketing along the customer journey
Messenger marketing focuses on offering personalized, flexible conversation that can be both synchronous and asynchronous without feeling like a sales pitch.
Advertising specific products isn't the main goal of a messenger marketing strategy. The idea is to use instant messengers to build the customer's trust in your brand throughout their buyer journey. Your business then establishes itself as an easily accessible and trusted source. Messenger marketing strategies can also help improve your reach, which positively impact your lead generation and conversion rates.
This cycle can start with immediate chatbot assistance, continue by sharing useful videos or blog links, and end with personalized recommendations of relevant products based on previous orders or defined interests.
After a purchase is made, messenger marketing is ideal for maintaining healthy customer relationships. Brief messages about shipment statuses, appointment changes and products that are back in stock help keep your customers up to speed.
Push and pull strategies
The difference between push and pull strategies is just as important in messenger marketing as it is in email marketing. Messages can only be sent proactively, i.e. "pushed," to customers through messaging if they previously consented to it by opting in.
A key advantage of messaging compared to email is that customers only have to register once. As soon as they've given their consent - whether verbally, in writing or by clicking a button - the company may start a conversation. Of course, this is only for topics the customer agreed to.
Otherwise, the company needs to ask for permission again, like in the chat conversation:
Push strategies: companies write to customers ("one to many") = clear opt-in required.
Examples:
Chatbot: e.g. sweepstakes, quizzes, advent calendar
Newsletter: e.g. product launches, links to guides or sale promotions
Upselling messages: e.g. relevant or similar products
Notifications: e.g. delivery status, date changes, product availability
Pull strategies: customers write to companies ("one to one") = message from customer via messenger replaces opt-in.
Examples:
Chatbot: e.g., coaching, cost calculators
Orders: Instagram store to Instagram direct messages
Pre-sale questions: Facebook contact button to WhatsApp direct messages
Post-sale issues: individual discounts, vouchers and offers for returning customers or dissatisfied customers
Reactivation: advice for customers who have frequently returned products or have been inactive for a long time
Tip: In general, promotional messages and notifications should be sent sparingly and be as relevant as possible. For example, WhatsApp has developed a rating system that divides the quality of your marketing messages into three categories: high, medium and low. The more negative feedback WhatsApp receives from users about your message templates, the more likely they'll be blocked.
Now that you know how messenger marketing works in theory, let's look at seven simple and effective strategies.
7 strategies for messenger marketing
1

Eliminate contact hurdles: seamless integration into the customer journey

In order to text your customers, a clear opt-in is required as we mentioned above. Consider when it makes sense to transition to a conversation. Good messenger marketing fits seamlessly into the customer journey and offers added value - much like email marketing.

A customer contacting your brand for the first time may not want to immediately receive offers and promotions via Telegram or WhatsApp. But if a messaging app is available as a contact option on your customer service page (e.g. "Ask us questions via WhatsApp at any time" ) or if customers can sign up for delivery status updates during checkout, the hurdle is much smaller. This is how you quickly expand your marketing database and increase your reach through attractive messenger opt-ins.
During the conversation, a company can conveniently learn if the customer would like to receive discount codes or notifications about new products via Facebook Messenger, for example.
An experiment by Uber Eats showed how well it works to not directly lead potential customers to the end product, but to take a "detour" by using conversational marketing. In the control group, Uber sent users directly to the product (the Uber Eats app) via a Facebook ad link, while a test group was first connected to Messenger via click-to-chat ads. The surprising result: they received six times more first-time orders from messenger marketing than direct referrals to the app.
Google Business Messages also have great potential for optimizing the customer journey. The feature allows users to start a chat directly from a Google search, making it even easier to capture leads. Instead of looking for a phone number or email address on the company's website, customers can talk to a chatbot or agent directly.
Tip: To make sure customers know you offer messaging channels as a contact option, you need to communicate it well. This article will show you how. You can also create a landing page for your messaging channels that explains the benefits of opting-in and how easy it is to opt-out.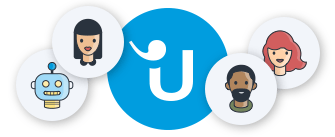 Looking for better customer relationships?
Test Userlike for free and chat with your customers on your website, WhatsApp, Facebook Messenger, Telegram and SMS.
Read more
2

Build personal relationships: turn website visitors into messaging contacts

Website chat has the advantage of being available to your customers directly on your website, making your business feel closer. As more and more customers shop on their mobile devices, it makes sense to offer a direct switch to messaging apps such as WhatsApp, Telegram or Facebook Messenger in the chat window. Customers can continue and save their chats in an app they're already familiar with and businesses benefit from being added to the customer's personal contact list.
With Userlike's messenger platform, sporting goods manufacturer Decathlon offers its customers support on their favorite channels, like Messenger.
3

Reduce first contact and resolution time: chatbot assistants

Customers love live chat and messaging because those channels are easily accessible and match their communication habits. Though messaging support is cheaper for businesses than hotlines, businesses that offer chat have to meet higher expectations. Fortunately, there is a simple and inexpensive solution: chatbots.

Chatbots have quickly established themselves in messenger marketing as a way to reduce first contact time and first contact resolution. They're also great for resolving frequently asked questions.
A chatbot can also collect personal data and relevant information from customers that can later be used by agents, such as their shoe size, material preferences and available appointments, or - in the B2B context - their company name, industry and email address. Your agents have all the information they need to take over the chat and assess if they're speaking to a potential qualifying lead.
Hermes has been using its service chatbot "Bo" on its website for many years to help customers track and redirect shipments. Since 2021, Bo has also been available to users via WhatsApp with the help of Userlike's messaging software. If it's raining at the customer's closest Hermes store location, Bo kindly notifies the user. It's details like these that make for well-rounded conversational marketing!
4

Address individual interests: segmenting target groups with advice bots

Conversational marketing allows you to upcycle clunky tools like price calculators and product search forms. Along the way, you'll get better insights into your customers' needs and interests, so you can easily personalize follow-ups.
Mattress online store Purple offers a mattress finder that asks for the user's sleeping habits in a chat, analyzes it and makes specific product recommendations. This simple messenger marketing strategy has almost doubled the company's click-through rate to relevant landing pages.
Lego's gift finder had similar success. Thanks to accurate recommendations from its chatbot "Ralph" via Facebook Messenger, Lego's marketing costs per purchase were reduced by 71% and the purchase value was increased by almost 2% from click-to-messenger ads.
Once you know what products or topics your customers are interested in, you can follow up after conversations to let them know about updates or sales.
5

Nurture relationships: using newsletters in messenger marketing

Share inspiring stories, trends, real-world examples, photos and video how-tos with your customers to show who's behind your brand and strengthen engagement. This may seem like typical social media content more suited for Instagram, but it actually has a big advantage in the messaging context: you can embed a call-to-action directly into your message with a link to your website or an invite to have a call.

Telegram, Facebook and Apple Business Chat offer channel or feed features that can be used to send newsletters in messaging apps. WhatsApp discontinued their newsletter function in 2019, but you can now send promotional messages. These must be approved by WhatsApp as message templates or notifications. However, once a template is approved, the dynamic content can be customized for your target groups.
You can use these templates to provide your customers with daily updates via WhatsApp, such as industry news or the recipe of the day.
Instead of a newsletter, you can also create a message sequence (similar to email automation). That way, customers receive a daily message, for example, that guides them step by step through a product onboarding, a course or a coaching program. Nestlé does the latter with its six-week Optifast program via WhatsApp, in which subscribers learn to eat more consciously and healthy. The program also suggests suitable Optifast products.
6

Show instead of write: multimedia in messenger marketing

In messenger marketing, videos can be an important asset for explaining products in more detail and bringing them to life. For example, Facebook offers a direct integration with Vimeo Create in its business suite. Templates, backgrounds and automatic editing shortens production time and is a budget-friendly solution for your marketing videos.

For bigger marketing budgets, you can also implement virtual fittings or furnishings using Messenger. Sephora shows how artificial reality can be used to try cosmetic products live and purchase them directly.
HSE, a German shopping channel, puts the cart before the horse. If someone wants to learn more about a product they saw on TV, they can send their question "live" to HSE's WhatsApp number. The viewer then receives a photo, a short description and a link to the product so that they can order directly online.
You can also use similar strategies on your YouTube channel or podcast - and it doesn't even have to be in a live setting. The Netflix series RuPaul's Drag Race, for example, launched a chatbot that provides fans with insider info, games and series highlights in GIF and video format. This keeps the "RuPaul feeling" alive, even after the season ends.
7

Gamification: creating experiences

Experiences create memories and can help you gain new fans through messenger marketing. Using email lists or social media platforms (e.g., click-to-chat), you can draw attention to activities users can start with a simple command (e.g., "Get started!" ). A bot or game master can then explain what happens next. There are no limits to creativity, which successful messenger campaigns have already proven.

For its 70th anniversary, for example, the Fraunhofer Institute brought its namesake Joseph von Fraunhofer to life. He "chatted" about important inventions of his time using Apple Business Chat and other messengers and, with the help of the Fraunhofer Society, took a look into the future.
As a result, we've experienced lively conversation in recent months, both with Fraunhofer employees and with the general public. We also observed a high level of user loyalty: Once you're friends with Joseph, you stay loyal.

Sibylle Gaßner, community management at Fraunhofer Society
In Germany, Telekom Magenta reached four times more customers with its messaging marketing strategy on WhatsApp than through Facebook advertising. It was successful thanks to its collaboration with well-known German actors Fahri Yardim and Christian Ulmen, and also because of the skillful use of various media within the WhatsApp campaign, such as voice messages, emoji and videos. The campaign was not only well-received by 90% of its participants, but also by the jury of the MAX-Award, which honors outstanding dialogue marketing.
Userlike - one inbox for all messengers
An important milestone in messenger marketing was the development of all-in-one customer messaging solutions. They allow companies to receive and reply to requests from web chat and various messenger apps in one tool. Providers, such as Userlike, receive chat requests across channels, which are then taken over by an agent or a chatbot.
Customers today often switch between different apps, such as WhatsApp, Facebook, Telegram or Threema. But with a unified messaging solution, companies can still guide them along the customer journey and be present on all channels.
Chatting is just one option. Userlike's website messenger allows you to make voice and video calls, share your screen and send files such as PDFs and images.
Sounds like something your business needs? Then feel free to get in touch with us in the chat or try out our customer messaging solution Userlike for a free trial period. Companies like Decathlon, Toyota and Hermes have been successfully working with Userlike on their messenger marketing strategies for many years.