6 Reasons Why Messaging and Chat Are the Best Support Channels
Phone holding times and slow email responses should become a thing of the past thanks to companies revolutionizing the way businesses interact with their customers.
The numbers prove that live chat, though not a new concept, is leading the charge in raising customer satisfaction.
But what exactly makes live chat "the best" support channel for customer service? How does it manage to compete with the long-standing practices of traditional support?
1

No waiting times

A 2013 survey conducted by ResearchNow showed that people spend an average of 43 days on hold in their lifetime. Half of the survey participants disclosed that they spent 10-20 minutes per week on hold, which equals to 13 hours per year, and 43 days over an average lifespan.
This response was very poor, considering sales leads are lost if they don't receive a response after the first five minutes.
Live chat doesn't waste any time. A chat box appears in the corner of the web page offering the visitor to receive quick help, and eliminating the need to search the site for a phone number or email address. Until a live agent is available to take their request, customers have the opportunity to multitask and maintain their productivity.
2

24/7 availability

Live chat has the option to not be limited by business hours or bogged down with backlogged requests. Customers frequently have inquiries or problems outside of normal working hours, and live chat lets them submit a request even when an agent is not available. If you're unable to monitor your chat all night, then switching to offline mode will forward customer inquiries via email.
By design, live chat does not offer agent support around the clock. This doesn't mean providers haven't found a solution to make sure customer needs are addressed. Live chat often comes equipped with chatbots, such as Userlike's Chat Butler , which is capable of greeting customers and forwarding chats to the agents once they come online.
Chatbot capabilities are still limited and are not comparable to a living breathing agent, but having a chatbot available means the user never has to leave the website to submit their request.
3

Sales boost

Physical stores have employees assisting customers on a daily basis for a reason: People need help while shopping. Live chat agents are the web's shop assistants. A sales lead is unlikely to write or call a business to inquire about a product or service they're interested in purchasing at that moment, so if the answer isn't available online –and fast– the business will likely lose the sale.
...in today's fast-paced world, people just don't want to wait for a response. There are tons of other businesses out there doing the same thing you're doing, so why are they going to wait half an hour for you to respond?

Neil Patel
Virgin Airlines released a case study showing a 3.5 times increase in their conversion rate for people who used live chat and a 15% higher average order value versus those who didn't.
The ability to instantly lead a customer through a sale creates a personalized buyer experience, resulting in increased revenue and a positive brand impression.
4

Customer anonymity

People care about the personal information they share online now more than ever. While social media sites will have you believe that people are relaxed about divulging their identity, the reality is that internet users have been searching for ways to keep their digital footprint to a minimum.

Pew Research Center reported that 86% of users have taken steps towards online anonymity by deleting their cookies, encrypting their email, and even avoiding using their name.

Most live chats don't require an email address, phone number, or even a name to function, so users don't have to forfeit their identity when chatting with an agent. This doesn't mean, however, that a business is unable to gather important data from their chat interactions.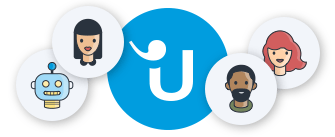 Looking for better customer relationships?
Test Userlike for free and chat with your customers on your website, Facebook Messenger, and Telegram.
Read more
A reputable live chat service gives a business the option to monitor how a user is navigating across their site, whether or not they're currently active, their time spent on site, and whether or not they have already been helped, among other helpful data.
5

Immediate documentation

When customers call a business to receive support, they're often greeted with this line: "This call may be recorded for training and quality purposes."
This verbal recording is of great use to the business, but what about the customer who needs help? Spoken instructions can easily be forgotten and customers grow tired of being handed over to multiple agents only to have to explain their issue again.
Live chat has the benefit of keeping a chat log that can be seamlessly forwarded to multiple agents without sacrificing the customer's patience.
Once the conversation is over, a transcript is available for download. This transcript serves as a searchable point of reference just in case either party confronts the issue again.
6

A modern support channel

Customers use a variety of channels to stay connected in their private life, from social media to instant messaging. They have built a dependency on the Internet to give them what they need when they need it. Businesses keep up with this constantly evolving climate by making themselves available via live chat.

According to a 2018 Customer Service Expectations Survey , customers want to be treated like people, not case numbers. 98% percent of respondents admitted that they try to bypass Interactive Voice Response Systems to reach an agent, and 59% of customers said being treated as an individual was more important than having their issue resolved quickly.

Unlike phone, email, and social networks, live chat offers a fine blend of speed and personalization. Companies can now focus on helping their customer directly from their website. Customers no longer have to go out of their way to contact a company. It's a win-win for all.
Research-backed
The proof is in the statistics: People expect a faster, efficient, personalized way to resolve their issues and ask questions. Live chat not only delivers, but it's redefining customer service as a whole and creating lasting trusting relationships between a business and its customers.