The 9 Best Messaging Apps for Customer Service
The convenience of mobile messaging seems like a perfect fit for customer service.
Depending on the app, users spend an average of 8 to 50 minutes a day in their messengers. Together with the conversational nature of messaging, this makes them highly promising channels for customer support.
Customers can just send their question and get a notification when the answer is there. Unlike email and phone, for example, messaging support is fully in line with their day-to-day habits.
As a business, you're left to decide on which messenger to support . Messaging apps have been popping up like mushrooms over the past few years, making it difficult to choose.
Besides a handful of heavy hitters, there's a wide range of niche players that rule in specific geographical areas, use cases, and/or age groups. Let's go over the nine most interesting messaging apps that lend themselves for customer service.
1

Facebook Messenger – From social network to 1:1 support

Facebook's Messenger is the first one to put on your list as a messaging support channel. Although it hasn't outgrown WhatsApp in user numbers, it's more geographically distributed. What's more, it's more open than WhatsApp and thus a lot easier to get started with customer support.

The natural advantage of Messenger is that it's connected to what's still the world's largest social network. For you, to your Facebook business page; for your customers, to their private accounts.
Especially if you're spending marketing dollars over Facebook, complementing it with customer service seems like a good idea. Customers see your post or ad, click through to your Facebook page, and can send their questions to you there directly.
Customer service options
Facebook offers a number of built-in service options. These include:
Facebook Manager Inbox. This is the interface for interacting with your customers. It offers some basic service features, like labels, notes and status tagging. You can assign team members to be able to answer messages.
Messenger greeting. Set a greeting message that people see before they send you a message.
Customer chat plugin. Add a simple Facebook chat box to your website.
Automated responses. Set up responses to automatically trigger after customer messages. These are available for multiple scenarios, such as an away message, an instant reply, or a custom message to answer defined frequent questions.
2

WhatsApp – Support on the leading messaging app

WhatsApp stands next to Messenger as the second 300-pound gorilla. The two aren't territorial anymore, though, since both of them are owned by Facebook since 2014.
Active users: 1.6 billion
End-to-end encrypted: Yes
Userlike channel: Yes
WhatsApp is the messaging standard in many countries . Compared to Messenger, WhatsApp somehow feels more closed and safe. This is probably because there is no connection to a public social profile, just to your private phone number.
WhatsApp also tries to uphold this perception, which is one reason why it's harder for businesses to partner with them.
Customer service options
WhatsApp does offer two entries into customer support: (1) through the WhatsApp Business App, and (2) through the WhatsApp Business API.
WhatsApp Business App. This app was built with a small business owner in mind. It allows you to set up a business profile and create a catalog with your products and services. It also includes a few basic support features, such as quick replies, away messages, and contact labeling. A big downside is that it doesn't allow for multiple users (= a service team). For this, you'll have to use the API.
WhatsApp Business API. This API was built for medium to large-sized businesses. Unlike the Business App, it has no frontend interface to communicate with customers. The idea is that businesses connect the API to their own business solutions, such as Userlike. Read more in our blog post .
3

Telegram – Customer service for the privacy-conscious

Telegram doesn't dominate any single market, but is still pretty well-spread. It's an "underground" alternative to Messenger and WhatsApp.

Telegram is an interesting specimen because of the foundation on which it seems to have grown: privacy and security.

Telegram has the option secret chats : end-to-end encrypted, self-destroying conversations, with the history only on the devices of the conversation partners. These have endowed Telegram with a reputation for privacy and security – even though the chats aren't end-to-end-encrypted by default like WhatsApp, for example.
The secret chats have turned Telegram into a dominant player in totalitarian regimes . That said, some researchers question its security. It is probably not as secure as the lesser-known Signal, which we cover further below. Nevertheless, many of your customers regard it as the most secure option.
What else is notable about Telegram is its rich ecosystem of chatbots, which segues nicely into their customer service options.
Customer service options
Telegram doesn't have something like business accounts. Businesses can set up channels or groups , which can be used for marketing and community purposes.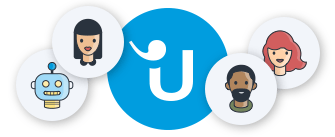 Looking for better customer relationships?
Test Userlike for free and chat with your customers on your website, Facebook Messenger, and Telegram.
Read more
For 1:1 customer support, you could simply set up a Telegram account and offer it through its interface (this requires a dedicated phone number), or you set up a bot and connect it to a business solution like Userlike. Here's how .
4

WeChat – Service behind the Great Firewall

WeChat is a whole different beast. In active user numbers, it follows closely behind WhatsApp and Messenger, yet these users are nearly all located in China. Within China, WeChat is the undisputed champ. So if you're planning to do business there, getting a support presence up seems like a must.
Active users: 1.1 billion
End-to-end encrypted: No
Userlike channel: Not yet
Among many other digital tools and destinations , Messenger, WhatsApp and Telegram are blocked by China's Great Firewall. The Chinese government only allows entry to companies that comply with its demands for data access, which has given WeChat tremendous competitive freedom to grow into a gigantic hydra.
State protection hasn't made WeChat complacent, though. In fact, it's more unique than any of the other messengers out there. You could say it's a combination of WhatsApp, Facebook, Tinder, and more. Similar to the App Store, thousands of mini apps are built for this platform.
Customer service options
To get started with WeChat as a business isn't so straightforward. First you must create a WeChat Official Account and then you must go through a paid verification process.
The WeChat Official Account comes in four different shapes:
Service Account. As the name suggests, this is the account we're interested in for customer service. It allows you to open a WeChat store and access additional WeChat functions. A Service Account allows WeChat users to reach out to your business directly with questions or feedback, and your team's replies end up as messages in your customers' regular friends messaging area. To prevent user spamming, businesses can only respond to contact messages and not reach out proactively to contacts. This can only be done through broadcasts (messenger newsletters), which are limited to four per month in a Service Account.
Subscription Account. This is also an account for customer communication, but it's more marketing oriented. It's basically aimed at broadcasting content. You cannot have 1:1 customer interactions, but you can send out one mass broadcast per day. So seven times more than with the service account.
Mini Program. This is the account you need if you want to build a mini app for WeChat.
WeChat Work. This is for using WeChat as a chat communication platform with your colleagues, similar to Slack. Yes, WeChat does that too :)
After registering the account, you go through a verification process. This includes providing additional information, uploading a set of documents, and paying a fee of $99.
5

Viber – Support on a call-first messenger

This messaging app was developed in Israel and then bought by Rakuten, the e-commerce giant from Japan.
Active users: 260 million
End-to-end encrypted: Yes
Userlike channel: No
Viber is another app that partially grew strong due to a secured UX. Thanks to Israeli regulations, Viber wasn't obligated to give out information to third parties.
Next to that, Viber has always had a strong focus on calling. This is reflected in its user interface, which is split up in three main panels:
Chats. Where all your current conversations are.
Calls. See all your contacts and easily start a call.
More. Discover bots, stickers and brands.
Customer service options
It used to be possible to set up a Public Account . If you have one of those, you can chat with your customers as if they were your friends. Public Accounts aren't available anymore, however. Now you have the following options:
Set up a community. You can set up a community with up to one billion users. For a service purpose, this could make sense to build a community in which customers exchange tips and support regarding your products or services.
Create a Viber bot. This is the way to go for 1:1 customer support. You can set up a Viber bot if you have a personal Viber account, and with the bot profile you can create your company profile. Once you've set it up, you can assign a chatbot to do the customer interactions for you, or you can use the token you receive to connect with an external service. Userlike does not offer a connection with Viber yet, but it'll come soon. Just reach out via our web chat if you're interested.
6

Line – WeChat's little brother

Japan's Line is another messaging app from the orient. Line is like WeChat's little brother who decided to go end-to-end encrypted.
It was actually developed in response to the 2011 Tōhoku earthquake and tsunami, which damaged Japan's telecommunications infrastructure. It has grown into the go-to messenger in Japan, Thailand, Indonesia and Taiwan.
Like WeChat, Line's interface consists of four tabs:
Discovery. Group creation, Line apps, contact recommendations, and lists of friends and official accounts.
Chats. Classical messaging overview of your conversations.
Newsfeed. Posts from the contacts and businesses (Line Official Accounts) that you follow.
News aggregator. Location-based news.
To use Line as a business, you need to get a Line Official Account . These come in three tiers:
Unverified. These free accounts are set up in no-time, but their profiles are accompanied by a grey badge to indicate that they are not verified. Also, your business profile won't show up in search results.
Verified. The advantage of a verified account is that you'll have a verified badge (trust) and your business profile will show up in search results. It takes a few days to be verified.
Premium. The advantage of premium over verified is that it allows you to send more broadcast messages to your customers per month.
For larger corporations, Line also offers Line Business Connect . This is basically the option to integrate Line with your own customer data systems and through that offer automated responses to customers. Read more on this Line engineering blog .
Customer service options
Line offers some rudimentary service options. Like Messenger and WeChat, several of your service team members can be logged into the backend at the same time.
Responding to customer chats. Customers can reach out to you and you can respond to them like a regular chat, but the conversation interface isn't quite optimized for customer service. You cannot forward the chat to another colleague, for example.
Keyword-based auto response. Automated responses are pretty well provided for in Line. You can set up keywords and corresponding automated responses that trigger when they match with your customer's message.
Greeting message. Line also offers a standard greeting message that triggers when customers enter your Line account.
Away message. You can also set up an away message to trigger during off-service times. Do note that the keyword-based auto responses prevail over away messages.
7

Signal – Privacy-based minimalism

If privacy and security is your thing, then there's probably no better choice than Signal .
Active users: Not disclosed
End-to-end encrypted: Yes
Userlike channel: No
Signal is a non-profit organization dedicated to privacy and security. Their take is that messaging has become so integral to our lives, that its security shouldn't depend on the whims of for-profit organizations.
It's growing especially fast in countries scoring high on the corruption index – which can be explained by the correlation with authoritative tendencies.
Customer service options
There are no dedicated service options for this messenger. The app only does basic messaging. You add friends per phone number.
As a business, you could simply advertise your presence on Signal accompanied by a dedicated phone number. You could use the desktop version to offer support. This would only work for small businesses though, as only one user can be logged in at the same time.
8

SMS – Service on the original messenger

SMS or text messaging isn't exactly a messaging app, of course. But your customers use it in the same way, so who cares? :)
Active users: 5+ billion
End-to-end encrypted: No
Userlike channel: Yes
SMS has some powerful benefits , namely:
It's platform independent. It works on all mobile phones, and it doesn't require downloading an extra app.
It's internet independent. When the internet connection falters, your customers can still reach you.
It has become almost free of charge. Many mobile phone subscriptions offer unlimited text messaging, and those that don't only charge a tiny amount.
Customers are already used to communicating with business via SMS. Whether it's promotional material, two factor authentication, codes, or otherwise.
9

Website Messenger – Bring messaging to your website

Let's start with the disclaimer that this last one is self-promotional, but sincere :) At Userlike we saw the potential of messaging for customer service, and decided to bring it to website support .
The website is still the prime face of a business. When a customer thinks of reaching out – assuming that they haven't been messaging via app with your business before – entering the business name in Google is likely the first thing that comes to mind.
The Website Messenger is a chat integration for your website . Messages that your customers send you from there land in your Userlike Message Center, together with messages from other messaging apps you've connected. From here your support team can answer them, making use of dedicated support and sales features.
Besides the fact that it's on your website and not a mobile app, the Website Messenger has all the features that you'd expect from a modern messenger – emoji, voice messaging, in-app video, media transfers, etc.
If you're thinking about adding mobile messaging to your service mix, your website would a logical place to start.
One messaging app for customer service to rule them all
Besides the Website Messenger, Userlike allows you to connect multiple of the above messaging apps . Firstly, this alleviates the issue of deciding which ones to support. And secondly, it allows you to do so while making use of professional support and sales features – like canned messages, auto translation, tagging and much more .
If that made you interested, just sign up for a free trial . You get to experience the premium version for 14 days, after which your account automatically switches to Free. Find out more .