Live Chat With Your Customers from Slack – Userlike & Slack
You know Slack as a solution for team collaboration, but with the right add-ons, it can also be a valuable tool for customer support.
Video Transcription
Slack is perfect for boosting your team's responsiveness – which is largely what customer support is about.
With the Userlike integration for Slack, you'll receive notifications for chat events, like new incoming chats or offline messages, in an app you're already using every day.
Configuration
Integrating Userlike into Slack is simple. If you have a Userlike account, you'll only need your Slack Webhook URL to get started.
To get your Webhook URL, head to " Customize Slack " in your team's menu. Then click on " Configure Apps " on the left and search for the Userlike app in the App Directory .
Select the Userlike app and click on " Add Configuration ". Decide where you want to receive the notifications by choosing a Slack channel. You can also create a new channel, for example if you prefer to have a dedicated channel for all Userlike notifications. Afterwards, click on " Add Userlike Integration ".
Scroll down to the Integration Settings and copy your Webhook URL.
Now head to the Userlike Dashboard and go to " Config" > "Add-on Settings ". Then click the slider icon to the right of your Slack add-on.
Paste your Webhook URL and subscribe to the events that you would like to receive messages for in your Slack channel, like offline messages, when an Operator comes online or goes offline, Widget configurations, and more. Be sure to update your Add-on settings to save your changes.
Let's look at some examples of use cases we find most helpful.
Examples for Event Subscription
1

Respond quickly to waiting chats with Chat Butler

One way to connect Userlike with Slack is through our native chatbot. Chat Butler is a simple bot that automatically responds to incoming chat requests when no human Operator is available, notifying your team of the waiting chat.

We built this bot to relieve teams of the need to always be online and to take over the 'repetitive' first steps within the support process.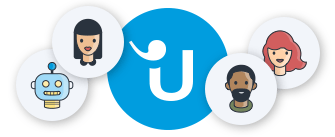 Looking for better customer relationships?
Test Userlike for free and chat with your customers on your website, Facebook Messenger, and Telegram.
Read more
Chat Butler works together with our Slack and EmailTicket integrations, however, Slack is our preferred notification tool. It's an app that most of your teammates already have open throughout the day. That way, it helps you react quickly to Chat Butler's call and take over the chat.
2

Notify your team of new chat events

It's also possible to get a message for chat events, for example each new chat session or offline message you receive. Or if your Operator's received a five-star rating for his service. Not only does this help to keep your team in the loop, but it also increases the overall visibility of the great work your customer service team does.
3

Follow up on leads with chat transcripts

When you're in the chat with a visitor who shows interest in your product, it can be helpful to notify your Sales team of the lead. Use the chat command for Slack in the chat session and you'll receive a link to the conversation in the defined Slack channel so your team can follow up later.

That's about it for our Slack integration. Feel free to reach out to us in the chat, should you have any questions.

Happy chatting!