How to Add a Live Chat Module to PrestaShop For Free
Adding a live chat module to PrestaShop is simple. Follow our 3-step process and be up and running in just a few minutes.
Video transcript
PrestaShop is one of the world's most popular e-commerce platforms for building an online presence. With live chat, you get more people into your sales funnel and clear up their questions at an earlier stage. That translates to happier customers and higher conversions.
In this tutorial, we will show how adding a live chat module to PrestaShop works with Userlike .
1

Sign up for Userlike

The first thing you need to do is create a new account . No need to add any billing information. When you sign up for Userlike, you get a 14-day free trial which allows you to experience the features from our premium plan. After the trial, your account automatically switches back to the free plan. So you can try it out with zero risk.
2

Tailor the chat to your brand

Before adding live chat to your website, you probably want to make sure it looks and behaves how you want it to. So let's quickly set up the basics.

In the Userlike Dashboard, you can set up your operator profile. We recommend uploading a photo – it's always nice to put a face to a name.

Now we take a look at the Website Messenger. That's the chat box your customers see on your PrestaShop site and that they'll use to get in touch with you.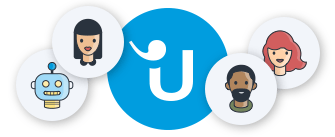 Looking for better customer relationships?
Test Userlike for free and chat with your customers on your website, Facebook Messenger, and Telegram.
Read more
You probably invested a good amount of time into designing a beautiful PrestaShop store. Of course, we want the Website Messenger to fit in smoothly. Adjust the colors and texts to tailor the chat to your brand. You see your changes in this little preview.
Those were the most important tweaks. You can always go back and adjust your settings. But for now, I'm happy with the messenger which means I'm ready to add it to my site!
3

Integrate the chat on PrestaShop
Download the Userlike plugin for PrestaShop here . This will start the download of a zip file.
Head over to the PrestaShop website and log in to your account.
On your home screen, click on "Modules" in the navigation on the left and select "Module Manager". Then select "Upload a module" in the upper right.

Drag the zip file you downloaded in step 1 and drop it into the upload field. You can also choose to select the file from your computer.
This automatically starts the installation of the Userlike plugin. After the installation is complete, select the configure option and enter your Userlike Widget Secret.

To find your Widget Secret, head back to your Userlike account and open "Channels > Website widgets". Select your widget, then head to the Installation tab and click on "Credentials for Applications".
This is where you'll see your unique Widget Secret. Just copy your Widget Secret and go back to Prestashop to paste it.
...and that's that! Userlike live chat is now integrated and visible on your Prestashop site.
Start chatting!
To start chatting with your visitors, log in to the Userlike Message Center , set yourself to online – and chat away!
Integrating chat on your website is the first and most important step for getting started with live chat support . For more tips and best practices on working with Userlike, take a look at our in-depth product tour.
If you have any questions, just reach out to us in the chat on our website, we're always glad to help.
---
Userlike is one of the most popular chat softwares that businesses like BMW and Merck trust in their customer communications.
It comes with lots of benefits, like a comprehensive free version that gives you unlimited chats and all the features you need for live chat support in a small business. For medium to larger businesses, the premium plans provide many advanced options like customization, smart routing and integrations with messaging apps like WhatsApp and more.
See for yourself and sign up for your free Userlike trial today.