Live Chat for Online Car Sales and Automotive – Features & Benefits
Live chat is a common sight on websites that sell, rent out, or lease out cars.
There are some clear reasons for that:
People are willing to spend on cars. As opposed to, say, clothes, the absolute margin on cars is big. This makes it lucrative to invest in support people to man the chat and boost sales.
Cars are complex products. Combined with the fact that a car is a high investment, this means buyers tend to have many questions. The technical jargon that accompanies your typical car description requires some human translation, and chat is the perfect low-barrier channel for this.
Cars are especially suitable for upselling. Upselling in car sales means getting a buyer to choose a newer model or to get an add-on, e.g. an extended warranty. Chat is a powerful channel to nudge people towards a slightly more premium option.
Examples of automotive companies already using chat
Some examples of car brands making use of our live chat solution Userlike :
Mercedes-Benz. This global automobile brand of the Daimler AG company has been pushing the reputation of German engineering and car manufacturing for decades. They've started using live chat to offer current and potential customers a premium service experience on their website .
BMW. Another leader of the German car industry, BMW offers chat as their main contact channel on their website .
MINI. MINI is a British automotive brand owned by BMW. Their iconic small yet powerful cars roam the streets in all the cities across the world. Check out their German website to see their chat support in action .
Chat features that drive sales
We didn't design Userlike specifically for the automotive industry, but we do offer an array of features that are especially useful. An overview:
Customer info. The primary purpose of a pre-sales chat often is to capture the lead and schedule a test drive. With Userlike, you have all the necessary info at your fingertips – name, e-mail, phone, location. With our Fullcontact integration , your customer's public social media handles (Facebook, Twitter, LinkedIn) are automatically collected once she leaves her e-mail address. A good way to collect the e-mail address is to offer the customer some extra information to send over.
Registration form. You can also ensure that every customer that starts a chat has left some contact information, such as phone, e-mail address, or website, through a pre-chat register form. You can also make this form optional, so that people who don't want to leave their contact info can still start a chat.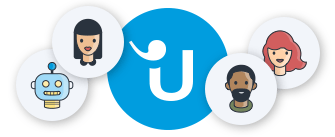 Looking for better customer relationships?
Test Userlike for free and chat with your customers on your website, Facebook Messenger, and Telegram.
Read more
URL path. Our eyes signal our interests. When a web visitor is looking at specific car models, it's a clear sign that she's interested in them. That's why Userlike's URL path is so useful. Within your Chat Panel, it shows you the current and previous URLs of your website that the customer has visited.
Chat macros. These are our canned messages , which can be as long as you want, and which can be sent through a short key combination or via type-ahead function. This allows you to set up standard replies to frequently asked questions.
Push macros. This feature allows you to guide the web visitor to a specific page on your website. This is great for guiding her to a page for upselling, or to guiding her to the registration form for a test drive.
Download macros. You may have some documentation that customers frequently ask for, such as the general conditions of your car insurance. Our download macros allow you to easily send over such files over the chat.
CRM integrations. Once you've collected the contact information of a lead, you need to have a way to follow up with him. You can easily do this through our integrations with CRM solutions, such as Pipedrive . You simple send your chat transcript to your CRM, and follow up on them from there.
This feature list is by no means exhaustive. Just have a look at our features page for more.