How to Use Live Chat to Build Trust in the Insurance Industry
It's all about trust when it comes to the insurance sector. Learn how live chat helps you build healthy customer relationships and boost online sales at the same time.
People love the price transparency of comparison platforms. But rather than opting for the cheapest deal, they want to be reassured that - when they need it - the insurance will actually cover. That's why solid customer relationships are so essential.
The best way to gain your customer's trust is to provide quick, personal and reliable support throughout the whole customer journey. According to the Eptica Insurance Conversation Study , 91% of insurance holders say that good service makes them more likely to stay loyal.
The Eptica study further found that in 2017 already 35% of insurance companies offered live chat - a rapid increase of 15% within two years. Modern Insurance companies like Concordia, LVM and Helsana count on live chat as a main service channel.
So, let's take a look at how live chat helps you bond with your customers and compete in your specific insurance branch.
1

Reduce complexity

No doubt about it, the internet is the new insurance marketplace. A 2017 study on behalf of the European Commission confirms that young customers more often buy their insurances online.

But policies are complex products with lots of lingo. Many questions come up before a policy is even considered. A live chat button on your website allows your web visitor to quickly ask for a rate quote or information on a certain type of coverage.

To connect your customer with a specialized agent right away, she can choose which topic she wants to talk about before the chat starts, such as claims, contracts or general inquiries.
2

Assist the buying process

Comparison platforms are popular, but people want to buy directly from you. The aforementioned study on consumers' decision making in insurance services by the European Commission found that customers feel more comfortable buying insurance on the insurer's website rather than a comparison platform. Moreover, they are likely to purchase from the source that they used to gather in-depth information.

Besides a friendly web design and a structured policy overview, live chat is the most convenient way to provide information and resolve questions and doubts directly on site. It also allows you to assist your customer during the online application process, reducing the risk of half-finished applications that never see the light of day.
Pro Tip: Your agents don't have to veg around while waiting for customers to contact them. You can proactively invite web visitors to chat with you. The proactive chat can be triggered right away or if your customer already spent a few minutes on a certain policy page.
3

Advice on complementary products

The average person is not a risk and insurance specialist. They likely haven't thought of many potential scenarios and adequate policies to reduce their risks. This makes a direct communication tool like live chat valuable for upselling.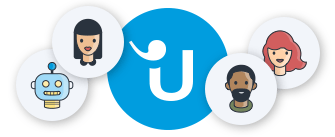 Looking for better customer relationships?
Test Userlike for free and chat with your customers on your website, Facebook Messenger, and Telegram.
Read more
Your chat agents can consult your customers on complementary products that fit their needs and guide them to the relevant informational pages. This is an unobtrusive way to turn a service chat into an upselling opportunity. It also shows that you have your customers interest in mind - without the risk of appearing pushy.
4

Provide quick support

With hundreds of options at their fingertips, customers now expect quick and easy online support. A 2010 Forrester study revealed that 57% of people will leave your website if they don't find a quick answer. Live chat is a smart way to cater to impatient online buyers.

Your chat agents can connect with up to 10 visitors at once, drastically reducing the first contact time . Canned messages allow you to answer in common situations with dazzling speed.
A live chat software like Userlike also allows you to see what your customer types in the chat box before he clicks the send button; this buys your agent time to prepare an individual answer, or to choose a canned message suitable for the case.
This makes it easy to keep the conversation flowing and reduces the average resolution time - which in turn cuts your service costs and improves customer satisfaction .
5

Shine with personality

In the insurance context, consumers are looking beyond the simple metrics of speed and accuracy. According to the Eptica Insurance Conversation study , participants listed empathy (27%) and personalization (24%) as the most important factors in service conversations.
Since live chat and messaging are widely used in a personal context, its easy-going image creates a comfortable service experience. This is a great opportunity for insurance companies to get rid of their stiff reputation.
Sticking to the best practices in chat support , you are able to offer high quality service that will result in a personalized and positive customer experience.
To further tailor your service to individual needs, Userlike provides you with customer details like location, device type and social media accounts. These insights allow your service reps to personalize the communication style, solutions and offers.
6

Instant documentation

A big bonus of a written service tool is that everything is automatically documented; the live chat transcript is a solid base for discussing service improvements with your team, but it's also a memo and a document for future reference to your client.

After the chat closes the transcript automatically finds its way to the web visitor's email inbox. This will increase transparency and, thus, the trust around your insurance brand.
Live chat in insurance – examples and use cases
Many insurance companies already count on Userlike for their chat support. Each of them present and work with live chat in their own way - adjusted to their individual web design and routing preferences . Here are some ideas, examples and use cases.
LVM insurance decided to highlight their green chat button with a white logo banner stating "We are here for you" (German: "Wir sind für Sie da"). The chat button can be adjusted in a few simple steps .
Concordia personalizes their live chat experience by using real photos of their service reps. The small portrait picture slightly enlarges by clicking on it.
IDEAL insurance gives you the option to choose between a customer rep or a sales rep, thus avoiding a hand-over from agent to agent. The preferred chat routing modes can be selected in the Userlike Dashboard.
During the day, the LV1871 insurance company offers live chat on their website. After hours, the chat window turns into a contact form. If a customer fills out the form, a ticket is automatically created and forwarded to the connected ticket system .
While most insurers enable live chat all throughout their website, KS-Auxilia insurance offers live chat only on their policy calculator page. This allows them to quickly assist customers who obviously have a strong interest in buying their insurance.
Main gains of live chat in insurances
Compared to traditional tools like phone and email, your customer doesn't need to interrupt his browsing experience.This makes live chat a low barrier to starting a conversation with your service agent - and a great opportunity for a personal and positive encounter with your company.
Quick, personal and effective chat support will help you boost sales while cutting down service costs. And most importantly, it will show your customers that you are there when they need you - a crucial factor to keeping their trust and business.