5 Core Benefits of Live Chat for Electronics Shops
Buying electronics online may be convenient, but consumers still have a lot of questions. Comparing prices and specs can be stressful, but with live chat you can quickly guide visitors exactly to what they're looking for.
Smart phones and voice assistant systems aim to make our lives easier, but deciding on the right one is tough. Besides the price, a customer needs to consider the specifications, usability and usefulness of the item.
Today's consumers actively shop online because in-store products are often limited, and the internet makes it easier to compare what's out there. But if a consumer has questions that can't be answered on the website, your business risks losing the sale. This is where live chat comes into play.
According to the National Retail Federation's 2017 Omnichannel Retail Index , at least 54% of online retailers are adopting live chat as their main support channel, especially electronics shops. It's a convenient alternative to in-store help and businesses have reported an increase in conversion rates and customer satisfaction.
How exactly will live chat improve your electronics sales? What is it worth to your business? There are five key benefits, which we'll explore in this post.
1

Translate tech terms and give product recommendations

There's a reason why tech review videos and online forums dedicated to specific products are so popular; electronics are complex, technical and innovative so people want to make sure they're making the right decision before they buy.

However, you can't always trust online reviews. Since many "influencers" are gifted products in exchange for publicized positive feedback and fake five-star reviews are being bought and sold online , it's up to your electronics shop to give an unbiased overview.

Most people visit your site with a general idea of what they're looking for. While your product pages may do a good job of breaking down the details of an item, an agent can help decipher all the technical lingo that's difficult to avoid.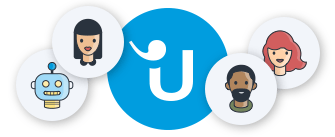 Looking for better customer relationships?
Test Userlike for free and chat with your customers on your website, Facebook Messenger, and Telegram.
Read more
Live chat allows you to automatically message your customers after they've spent a certain amount of time on a page, which likely indicates that they're seeking information or might even be stuck.
Once the chat begins, the agent can see which products or services the visitor is browsing. If the agent has a better product recommendation, they can redirect the customer to that page (with their permission of course). It's a sophisticated way to show off your collection and your support team's tech expertise.
2

Make checkout a painless process

Buying a new TV or computer can become pretty costly for the average buyer, and it's easy to talk yourself out of it. The Baymard Institute calculated that the average online shopping cart abandonment rate is a whopping 69.89%. The main culprit? Shipping costs.

According to the eCommerce personalization professionals at Barilliance , "25% of customers specifically cited shipping costs as the primary reason driving them away." Large or heavy products such as a dishwasher or fridge could fall victim to this, since shipping costs are typically dependent on the product's weight and dimensions.
Digital shoppers value transparency , so it's best practice to make shipping, payment and delivery details clear on your website. However, people will still have their doubts and start comparing your prices to competitors.
Your electronics shop can help avoid this by using proactive chat to trigger a chat invitation to the customer after they've spent a certain amount of time on the checkout page. If the customer accepts the chat, an agent can assist with any questions or concerns.
If the overall price is more than a customer budgeted for, this is the best time for an agent to highlight possible payment plans or any sales, discounts or free warranties available. This is also a good chance to recommend products that can be combined with their purchase, such as accessories, software or damage protection.
When the customer mentions that they're "just looking" and plan to buy later, agents shouldn't consider it a loss. Use the opportunity to promote upcoming sale days and ask if they would like a transcript of the conversation. The customer may appreciate the transparency and non-aggressive sales help.
3

Provide instant tech support

For electronics shops that also offer technical support or repair services, live chat is king. Many people turn to Google to try and fix the problem themselves, but if and when that fails, they'll come back to your business.

Online technical support isn't new, but live chat is making it easier for businesses and customers to get connected. Its benefits are simple:
It's cheap. Resolving issues via chat means your business saves the time, effort and cost of sending a technician. If the problem is too complex, agents can book physical service appointments for the customer.
It's fast. Chat response times are shorter than phone or email, and operators can create chat macros or canned messages to quickly answer frequently asked questions. This eliminates the need to type out answers to the same questions over and over, and makes the whole process quicker and easier for both parties.
It's convenient. Customers can't always effectively describe the problem they're having, but agents can decipher the issue by asking questions and referring to past chats where the same issue may have already been addressed.
Live chat also makes it possible for customers to ask for an order status or report problems with the website. The quicker customers can resolve their issue, the more satisfied they'll feel closing the chat.
4

Maximize availability

Customers want to do business whenever and wherever it is most convenient for them. Live chat makes it possible to offer instant and seamless support without a customer ever needing to leave your website.

Cyberport , one of the largest retailers of consumer electronics in Germany, reported lower dropout rates after adding Userlike live chat to their website. Jens Lippert, head of customer experience and service, said questions asked about a product might not be relevant anymore after two to three hours have passed since another source has likely answered the question already.

This doesn't mean you need to make your support available 24/7. If a customer needs help while your team is offline or after service times, offer a contact form, or employ a chatbot to help with basic tasks. Userlike's built-in bot Chat Butler can welcome visitors, collect questions and contact info, and send you notifications.
5

Reduce phone calls

We shouldn't underestimate just how much customers don't like speaking on the phone. Calls can be frustrating and costly for your business and customers, so why have them? In fact, Forrester Research found that 53% of adults in the U.S. are likely to abandon their purchase if they can't find a quick answer to their question online.

Customers prefer to speak to real people, but passing them around to different phone agents only escalates the situation. Live chat solves this problem through clever chat routing, which lets you connect a visitor to an operator fit to handle a specific inquiry. This is customizable depending on the size and skill set of your team.

Live chat also lets you manage multiple chats at once, which isn't possible on the phone. With Userlike, an operator can have a maximum of 10 chat slots, which is adjustable depending on the employee's experience.

Much like phone calls, a chat conversation is personal and casual. But unlike phone calls, live chat doesn't require headsets, separate software or a call center to function. Save your money and talk to your customers directly on your website.
Optimize your electronics shop with live chat
Technology is constantly changing, adapting and modernizing, which means your customer support should too. If you're interested in trying live chat, read more about the features Userlike offers and get started with our 14-day free trial.