5 Ways Live Chat Helps Financial Institutions
Online banking, contactless payments and TAN-Apps...no other sector has adapted to the digital shifts as impressively as the banking sector.
A 2017 Salesforce study highlighted that online capabilities are one of the main decision drivers when choosing a financial institute. As banking revolves more and more around seamless digital experiences, it doesn't come as a surprise.
People want to organize their finances on the go and find answers quickly online. If the self-service section of your website doesn't satisfy, the next best option is live chat. It's on-site, speedy and informal.
Besides tech-savvy support, live chat is also a powerful tool to counter the bureaucratic and impersonal feel of banking institutions. Live chat provides your customers with personal human support that's easy to reach.
For any bank advertising itself as responsive and customer-centric, a feature like online chat seems almost indispensable.

Jeff Stephens , financial branding expert
American Airlines Federal Credit Union recognized the advantages of live chat very early on. Their service reps have been chatting at least since 2002 . The biggest German institutions like Hypovereinsbank and Targobank also use live chat as their main service tool.
But offering live chat is one thing, how to seize its possibilities is the other. Here are 5 savvy ways live chat helps finance institutions excel.
1

Increasing online sales

Unlike retail products, financial products aren't typically bought with one click of the "buy now" button. Still, people don't want to invest a lot of time and effort in researching your website.

If web visitors get stuck in the application process, the chat button enables them to reach out to you in just a second - without switching the channel.
Financial institute Volksbank Lahr, for instance, encourages the use of live chat by integrating it in the blue contact bar on the side, and additionally in the right bottom corner.
Live chat also allows you to approach your customers proactively. Say a customer visited more than five pages, or remains inactive for three minutes. You could let this be a trigger for a chat window to automatically open with an invite to chat.
Hello, I'm Leo Thomson, let me know if you need help to find the best-suited credit card option.
Once your service agent is chatting with your client, she can clear up any doubts and tailor your offers and deals to the customer's needs and desires.
The Financial Brand published the following results in their article about the impact of live chat on sales in the financial sector:
BofA observed an eight-fold increase in online mortgages and a doubling in home equity after the introduction of live chat.
National City stated a six times higher conversion rate for visitors using chat.
Citibank reported that 90% of live chat users complete their home-equity application.
American Airlines FCU's membership application number rose 15%.
2

Sending files securely

Your customers trust you with their money and bank details. Securing both is a primary concern in the financial sector.

A live chat solution like Userlike is GDPR-compliant and stores private data on secured servers in Germany – a country with one of the highest data protection standards in the world.
This makes live chat suitable for directly sending files to your customer, e.g. your terms and conditions. This allows for a more streamlined service interaction that is comfortable for you and your clients.
To inform your customers about your data privacy standards, a link can be included within the live chat window. You may also ask visitors to check a disclaimer before the chat opens.
3

Serving customers quickly

In contrast to the despised choice menus in phone support, live chat allows you to integrate a friendly routing menu in the chat window. Allowing your customer to choose the best-suited topic or department speeds up the process and connects your customer with a knowledgeable service rep right away.

Another way to route customers to the right department is by creating various Chat Widgets that route chats to specific service teams. For instance, if a customer contacts you from within the login area, he will be directed to an account manager. If the message is sent from a public site, he will be connected to a sales rep.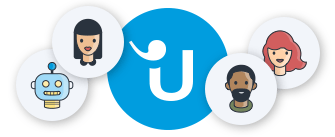 Looking for better customer relationships?
Test Userlike for free and chat with your customers on your website, Facebook Messenger, and Telegram.
Read more
In case the question exceeds the knowledge of the service rep, the conversation can be smoothly handed over between agents, teams and departments. When forwarded, the new support rep sees the documentation of the chat so far, so the customer doesn't need to repeat himself either. This way, your business is a unified force connected with your customers through a single tool, without the need for different systems in each department.
4

Saving service costs

Only looking at the cost per contact, a 2009 Forrester study found that live chat saves 17%-30% of service expenses compared to phone support. The American Airlines Federal Credit Union (AAFCU) speaks from experience. The AAFCU experienced 20% in savings .

The costs per chat can be further lowered if skilled chat agents take on two to three chat slots at a time and wisely use canned messages ( Chat Macros ) for frequently asked questions.
But the speed of chat service is not the only factor that saves your business money. Training costs are higher and there are more requirements for call agents, considering that the phone channel requires quiet, formal, immediate responses – even when dealing with angry or otherwise emotional customers.
Live chat, on the other hand, allows your service reps to mindfully tailor the answer to the mood and tone of the customer, and even to his native language. You can translate your Chat Macros in multiple languages, thereby avoiding miscommunication and solving a language problem that might otherwise have skyrocketed the resolution time.
When connected with your CRM system, live chat also reduces the time a service agent spends documenting the inquiry and typing relevant information into your management systems.
5

Instant customer feedback

To be close to your customers and know how they feel about you, give them a chance to rate your service right after the chat experience.

This will show that you care about both their time and their opinion, because they can express their satisfaction with just a click. Customers who want to go into detail about their experience have the option to add a message before they send their response.

Don't give your customers a reason to swap you with another financial service provider just because you react too slowly to dissatisfying service loopholes.
Examples and use cases from the finance sector
Targobank offers live chat during the application process for its financial products:
HypoVereinsbank supports its real estate sales through live chat:
Volksbank Lahr offers live chat throughout the whole customer journey. They promote their live chat option by displaying a live chat button twice on their homepage:
Live Chat in Finances – Final Thoughts
If you haven't implemented live chat yet and are not sure if your customers will use the channel in your special finance use case, we recommend trying it out as a pilot project on a few test sites, like your FAQ page or application form. You can set up Userlike in five simple steps .
To choose suitable sites for your Chat Widget, think about who you want to offer live chat to. Should it be reachable only in the login area for your customers, during the application process or on your homepage for potential customers to use?
Keep in mind that live chat is not just a tool to solve problems and handle transactions. A live chat button on your homepage shows that you aren't shying away from connecting with your customers. This creates a warm welcome to new customers and is a satisfactory signal for loyal ones.
Florian Störck from Volksbank Lahr, who envisioned a fast and modern way to interact with customers, is now a live chat proponent: "Our customers see that service doesn't have to be complicated. They enjoy the benefit of getting help while being addressed personally."
Read the whole case study of Volksbank Lahr – a branch of the successful bank group Volksbanken Raiffeisenbanken with more than 1000 local institutes in Germany.