Live Chat in Fashion: 11 Tips to Increase Brand Loyalty
Instead of chasing visitors around the web like a star-crossed lover, make them come back voluntarily and stay.
Retargeting is a common solution to this problem in online fashion retail. But let's be real, people don't love it – especially when being shown items they've already bought.
Live chat lets you strengthen your customer bonds right in your online store. This way, visitors will be more likely to buy at first sight and return to your store without being asked.
We'll explain all the ways live chat can boost your online sales and increase brand loyalty.
1

Provide a human mirror

A "lack of help needed" is the number one problem (29%) why fashion brands lose business from women shoppers, according to research from the Wharton School of the University of Pennsylvania.

Usually in online sales, people don't have the chance to get a second opinion. A live chat agent is the virtual equivalent to an in-shop advisor and compensates for the lack of a good friend's feedback.

You and your service staff can recommend suitable matches and fits according to the customer's body type, skin type, budget and occasions. You can send direct links in the chat or redirect them to a specific sales page on their screen.
For shoppers, especially women shoppers, store loyalty is related to sales associates' familiarity with the products in the store and an ability to determine what products best suit them.
For example, German fashion store Ulla Popken designs clothes for plus size women. Because online sizing can be a bit iffy, they make sure an agent is available as soon as you visit the site.
Live chat makes it easier for their customers to find the best fit and purchase with confidence.
2

Shape your fashion brand

Live chat gives you the opportunity to stand out as a fashion expert. You can explain the idea behind a certain design, the advantage of a fabric, or why you recommend certain colors – and also what's a no-go in the coming season.

Lulus , for instance, lets customers choose if they want to talk to an expert about sizing, style, logistics or bridal fashion.
For ethical or sustainable fashion brands, use live chat to share your brand's mission and offer more information about your production standards.
3

Prevent cart abandonment

The fashion industry has one of the lowest cart abandonment rates compared to other retail e-commerce sectors. This is due to simple return policies and the high adaptivity to e-commerce trends. And still, the cart abandonment rate lingers around 68% . Reasons for that are high prices or shipping costs , and a lack of determination.

Live chat cannot influence your pricing models, but it can help with creating a stronger bond with your company – and thus motivate customers to go through with their purchase.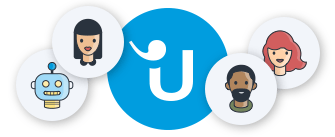 Looking for better customer relationships?
Test Userlike for free and chat with your customers on your website, Facebook Messenger, and Telegram.
Read more
This is supported by a case study : Customers who have chatted with you are more likely to purchase from you.
Pro-tip: Don't wait until a visitor has added items to their cart and abandoned your site to entice them with a discount or offer. Use proactive chat when a visitor checks their cart or has spent time looking at an item's page to offer them a coupon or a special deal.
4

Offer channel choice

Younger demographics prefer live chat and messenger apps to communicate, not only for personal interactions, but also for interactions with brands. In 2016 already half of the web sessions in fashion were mobile : Digital, 'on the go' support channels became essential for satisfying customer service.

TechStyle Fashion Group , mother company of Kate Hudson's Fabletics, stopped providing email support in North America altogether and switched to messenger solutions.
We are only building ourselves up for the future evolution of service… our consumers were evolving, and so were their "channels of choice.

Anna Pettus, TechStyle Fashion Group
A modern live chat software like Userlike allows you to integrate your web chat, WhatsApp, Telegram and Facebook Messenger into one central message center – allowing customers to choose their favorite channel while staying on top of things.
5

Receive feedback on new collections

One of the big live chat advantages is that it meets online shoppers where they are: on your website. Besides providing on-site, immediate customer support, you can use this advantage to easily access customer feedback.
Include a survey about your service quality or your latest collections in the chat window. You can choose to show your survey prominently before the chat starts, or ask customers for feedback after the service interaction ends.
6

Create a safe space

Fashion touches some sensitive topics, like lingerie, beachwear and plus sizes. Live chat offers a discrete space for your customers to talk about personal needs and preferences. Without giving away their identity or contact information, customers can approach your for advice on certain fits depending on the type of undergarments or swimwear they need, and you can walk them through how to take body measurements.
7

Help find gifts

It's unlikely that someone will call or write you an email when making desperate efforts to find the perfect gift for a spouse or friend. With live chat, you make yourself available in a few seconds, so you can explore the options with your customer together.
8

Draw down returns

According to CNBC , online retailers deal with a return rate of about 30%. For online fashion retailers it's even worse with next to 40%. To reduce the damage, fashion stores have started to describe their product's fit in more detail and allow product ratings.

Live chat can be another solution for decreasing returns by guiding customers to the most relevant products and answering questions about individual pieces. Your customers may be less likely to return an item if it meets their expectations from the specifics you and your agents give.
9

Sell more luxury fashion items

While H&M and Zara don't have a problem with clothes flying off the racks, more exclusive fashion labels and jewelry designers have to explain and sell their products with more care.

Live chat is an easy doorway to your professional sales personnel who know all the details and functionalities of your delicately crafted goods.
The concept of fashion store Lodenfrey is to combine exclusive designer brands with excellent customer service. They promote their live chat channel with a sophisticated black chat button.
10

Build in-depth customer profiles

Order history and wish lists already give you deep insights into what your customers like. Live chat allows you to integrate the chat history into your CRM, so that you have a well-rounded picture of the needs and worries of your shoppers.

The next time you talk to a customer, you can take previous conversations into account, find the right tone and offer them suitable deals and fashion items.
11

The right fit for your fashion website

If you are worried that a chat icon on your website might disturb its sleek finish, say no more. Userlike allows you to tailor both the chat button and chat window specifically to your web design.

With the right colors, fonts and personalized greetings to match the site your customer lands on, live chat blends in perfectly – while signaling an openness to your customer's concerns.
Do you want to know more about how to tailor live chat to your fashion website and clientele? Our live chat team is happy to help!