3 Ways Live Chat Impacts Consumer Behavior
We send messages because it's easy – while in a loud train, walking to work, or on the couch watching Netflix. You can send a text to a friend, family member or colleague anywhere at any time and get an instant response – why shouldn't it be the same with businesses?
As more businesses are incorporating live chat solutions like Userlike , consumers and businesses have the unprecedented ability to communicate with one another in the easiest way possible. And the perks may be bigger than you think.
Research published this year by the Institute of Applied Informatics of Leipzig shows how communication via live chat affects qualities of consumers.
How live chat impacts your customer relationships
For the business with a service-mindset, integrating chat seems like mere common sense from a practical perspective: it's a quick and convenient way to troubleshoot issues, guide a customer to the right products, answer questions, while also allowing service reps to help more than one customer at a time. In short, it allows you to provide overall better, more efficient customer service.
But when looking at the research on the effects of live chat on consumer attitudes and behavior, we see that these advantages also translate into quantifiable benefits.
1

Live chat increases trust & satisfaction

The researcher Joel Mero Järvinen compared two sub-samples within the study: one group that used live chat to contact an e-retailer's customer service when making a purchase and one group that didn't use live chat to help them make their purchase.

After purchasing, the consumers received a link via email to an online survey. The results: the chat users reported a 6.2% higher rating for trust in the business than the non-chat group. The chat users were also 6.3% more satisfied with the business than those who didn't use live chat.

Because live chat facilitates two-way communication between consumers and retailers, the consumer's perception of the retailer changes, which results in higher levels of trust and satisfaction.

Sure, it's nice to see that your customers trust you and enjoy the experience of buying from you. But how do those pats on the back convert into tangible rewards? Point number two explains.
2

Live chat boosts repurchase intentions

You've had a good experience with a retailer and you trust their product or service – naturally, you're more inclined to return. Mero's study finds exactly that. The live chat user sub-sample's repurchase intentions were 5.5% higher than the non-chat users'.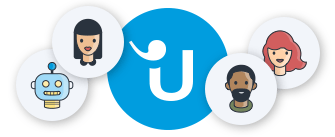 Looking for better customer relationships?
Test Userlike for free and chat with your customers on your website, Facebook Messenger, and Telegram.
Read more
Because you've likely established a stronger level of trust and satisfaction with your customers by offering live chat as a contact channel, they are more likely to return and buy again. This ultimately translates into more repeat business, a foundation of sustainable business.
3

Live chat boosts word of mouth intentions

The study also finds that live chat positively affects a consumer's word of mouth (WOM) intentions. As defined by the Business Dictionary, word of mouth marketing is the "oral or written recommendation by a satisfied customer to the prospective customers of a good or service." They continue to describe it as the most "effective form of promotion."

Mero's study shows that through live chat, two-way communication has "the greatest effect on consumers' intentions to share positive WOM of the e-retailer". It makes customers who've received support from you advocates of your brand.

To conclude the examination of the study, the researcher himself recommends businesses to get live chat. He concludes that "the study findings imply that interpersonal communication may be just as vital to online shopping as to offline shopping."

Any business in eCommerce should understand that how they interact with customers online is just as decisive for the reputation of their company as how a customer is treated by an in-store associate.