Your Ultimate Lead Qualification Checklist
Asking proper lead qualification questions, and paying attention to the answers, is one of the quickest ways to ensure you are talking to the right prospects.
There are two main reasons why a lead qualification checklist is a good idea. First, the majority of your leads aren't high quality. Regardless of how you gather them and the lead magnets you offer in exchange for their contact information, most of them simply won't convert to customers. Going after each lead with the same intent wastes valuable time, money and attention on the wrong ones.
Second, the answers you get from these questions can give you invaluable insight you can apply elsewhere. For example, if you keep hearing the same "concern / roadblock" that's preventing leads from getting started with your service, this is something you might address in your sales copy or product development.
So what are those questions you should ask as part of your lead qualification? Below you will find 13 of the best questions for your lead qualification checklist. The first five will guide your analytical / quantitative lead qualification, while the rest can be asked directly to your lead.
Let's look at them now.
5 quantitative questions for every lead qualification checklist
​
1

Is my lead interested in buying my product or service?

This is the first question for your lead qualification checklist. And for good reason: if your lead isn't actually interested in your offer, you won't get anywhere with them. It's worth your time to answer this question as accurately as possible.

To research this question, there are a few things you can do:
Pay attention to the quality of your communication with them. Do they ask questions in the chat or did they sign up for your email list?
Track which pages of yours they already visited / which content of yours they consumed. Have they seen your features page? If so, this could signal high intent to try out your product.
See how much of their free trial they actually use. A higher percentage correlates to more intent in upgrading to the paid version.
Diving deep into the analytical side of this question is well worth your time. People don't always mean what they say, and an analytical approach to examining your lead's behavior will show you whether or not they should be prioritized.
2

Does my lead actually need my solution?

While "need" can be quite subjective, it's certainly possible to get an idea of where your solution fits into a business plan. This can be contrasted with the first question because interest isn't the same as need. Your lead might be interested in your offer but doesn't actually have the infrastructure to implement it.

Here is how to go about validating a lead's actual need for your solution before you pursue them further:
Examine their business model. Does your product fit into what they are trying to achieve?
Research the solutions they are already using. Do they have a potentially inferior version of your product or service? This is a great sign for your better offer.
3

What is my lead's budget? Can they afford my solution?

Regardless of desire or need, a lead isn't worth your time if they simply don't have the budget. There are a number of ways to be sure that a lead can actually afford your product or service, as Stephanie Burns for Forbes points out. If they don't directly share their annual budget, for example, here are two ways to get a rough idea of their ability to pay your rates:
Are they already using a solution priced similarly to your own?
What's their company size? The bigger their reach (you see their paid ads, for example) may imply a bigger budget.
While these are relatively simple questions, researching them can give you reliable information regarding a lead's true quality.
4

Is this lead a main decision-maker?

Whether or not a lead actually results in a sale may be affected by your contact's position at their company. A CEO, for example, will be a much more qualified lead than a content marketer.

To find out if your lead is a main decision-maker, research their job title on a platform like LinkedIn. Check out this guide to LinkedIn outreach for more information on how often to send outreach messages and set up your profile for success.
You can also directly ask them for their job title in a pre-survey, e.g. when they start a chat via your website messenger.
5

Is this the best time for my lead to buy my solution?

Even if a lead seems like a relatively good fit for your solution, now might not be the best time for them to purchase. If you have a seasonal product like pool installation, for example, it might be some time before your lead is even interested in exploring your offer.

Answering this question doesn't require too much analytical research. Still, it's important to understand the typical "timing" for your new customers.

For example, if you know your lead's current service with a competitor expires at the end of the year, invite them to a consultation call or product demo a few months before. That way you capture their interest before they just decide to renew their subscription because it's "easier."
8 more qualitative questions to directly ask your leads
The five questions above will help guide your analytical lead qualification, but to do this you need to build a profile of your customer. Here are eight additional questions you can ask in a survey or directly in a chat to further qualify your lead and understand what they're looking for. Check out our post on using live chat for lead generation for more tips.
1

What problem do you want to fix by using our product or service?

The way a lead answers this question shows you how much they understand what your product or service actually does. If they have a fundamental misunderstanding here, or ask for unrelated features and functions, they likely aren't worth your time. That's because they might have unrealistic expectations that your company simply can't meet.

At Userlike, for example, the main problems our customers want to fix usually revolve around better communication and lead generation. That's why we market our product as a handy solution for both.
2

How urgently do you need our product?

Complaints, new developments in regulations ( are they compliant with GDPR? ) or a surge in demand may signal the need for your solution. This question helps you understand what would happen if your lead did nothing to resolve the problem. The higher the risks or costs of not working with your solution, the more urgent the problem and the better the quality of the lead.

It might also be the case that your lead is exploring their options but not taking the problem seriously enough. If so, it's time to move them closer to a purchasing decision. Consider sharing articles, whitepapers and videos that not only educate your prospect about your product but also show them what could happen if they don't address their problem soon enough.
3

What features or capabilities of our product are you most excited about?

The more precisely a lead is able to understand your product's features, the more likely they are to be a qualified lead. By demonstrating this knowledge they are proving their understanding of what you have to offer.
This is less likely to result in unrealistic expectations and a sign that they have no major objections.
4

Where did you hear about us, and what does your decision-making process look like for getting started?

The answer to the first part of the question has implications for how "serious" a prospect might be. If it's just "word of mouth," for example, they might have less intention to become a customer than somebody that saw a Google ad and downloaded a lead magnet. Check out this Salespanel article for more information on "purchase intent."

As for the second half of the question, it doesn't matter how excited or "serious about getting started" a lead might be. It can complicate things if they aren't the final decision maker. Plus, even if they are, you need to know how long the buying decision will take, if there are other bottlenecks and who else is involved. This can help you plan in advance if there are other people you need to convince at their company.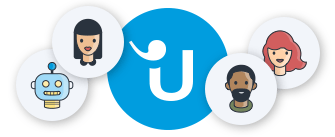 Looking for better customer relationships?
Test Userlike for free and chat with your customers on your website, WhatsApp, Facebook Messenger, Telegram and SMS.
Read more
5

What are you currently spending to fix this problem?

It's possible a lead is already using another product or service but is unsatisfied with their ROI. Knowing how much they are spending gives you an idea of how willing they might be to switch to your offer.

This is slightly different than a black or white "can you afford my solution" question. For example, maybe they are spending 300 dollars a month on a software solution, but would be able to justify a higher monthly budget for a product with more value. In this case, try reading our guide to selling to earn their trust to spend more for your solution.
6

Have you ever used a comparable product? If so, what was your experience like?

Answers to this question give a company more concrete info on what their lead is actually looking for. Hearing the same answer multiple times provides insight into how you can differentiate your product or service from competitors. What are the main pain points you keep hearing about, and how can you position your product's features in a way that addresses them?
It's common for a potential customer to have used a solution that wasn't tailored to their needs. This is why it's important to offer customized support. Not only does it make your new customer happier, but it makes it more likely that they stay with you for a while.
7

What are your biggest concerns preventing you from using our service?

You need the insight of what exactly is preventing somebody from getting started with your product or service (check out Indeed's list of common customer complaints for an idea). Like some of the other questions, this lead probably shouldn't be pursued if their concern is something that can't be resolved after thoroughly discussing their needs and pain points.
8

How long of a timeframe do you have before you have to fix this problem?

Certain products or services take time before you see an effect. It's natural to want quick results, and assuring a lead of your skill and professionalism is always important. However, if this lead's timeframe is substantially faster than your ability to provide results, it's a sure path to negative reviews (even if you know what you're doing).

Be honest about how long it takes to see results and share evidence to back up your claims. If you have proof, the lead may be more inclined to set more reasonable goals.
Customer messaging software: your tool for asking qualifying questions
Of all the tools you can use to ask your leads these qualifying questions, customer messaging is easily one of the best. That's because messaging makes it easy to connect with your site visitors, create personal connections and qualify them in the process.
If you're interested in kicking off your own lead qualification checklist, consider using our all-in-one solution, Userlike.
Our product makes asking leads qualifying questions easy with several features:
Proactive chat: Time your chat window to trigger at specific times
Pre-survey: Ask your potential lead questions before the conversation even starts
Chatbot: Provide 24/7 assistance to your site visitors
Plus, not only is Userlike easy to set up, but it's also completely GDPR-compliant, giving customers peace of mind about the data they share. It only takes a few minutes to set up the Userlike widget on your website and start generating leads.
Want to qualify your own leads quicker while building long-lasting personal connections?