6 Lead Magnet Templates Tools For Creative Designs
Lead magnets are much more effective than uninspiring "sign up here" forms. But how can you create a lead magnet quickly that is both compelling and effective? That's where lead magnet templates come in.
An obvious pro of using a template is that it's faster than creating lead magnets from scratch. This is powerful because while lead magnet creation is essential for growing your audience, it's also hardly ever urgent. This means it often gets pushed aside by other tasks at your business.
Still, there are indeed limitations to using lead magnet templates. For example, some templates aren't easily customized. This makes it difficult to create a lead magnet that looks exactly like you want it to. Because of this limitation, you can also end up with lead magnets that are similar to other websites or don't match your brand.
That's why it's important to use the right tool or websites if you decide to implement lead magnet templates. In this post, we compare six of them with their strengths and weaknesses.
Which kind of lead magnets work best?
Before getting started with lead magnet template tools, you need to know the kind of lead magnets that work on your website . While there are plenty you can choose from, here are five of the most effective:
Checklists. People are looking for quick wins and a checklist is a resource that provides it. Plus, as Outgrow points out, checklists are also low-commitment. Signing up for one feels like it will result in less work for your new lead, so your conversion rates are likely to be higher. Your checklist should ideally be linked to a specific benefit your lead will experience after going through it.
Resource libraries. On the opposite end of the spectrum from checklists are resource libraries. These should give your lead a ton of education in the form of video collections, digital downloads, or even audio playlists. While this kind of lead magnet takes a bit of work, it often converts quite well because of the "everything you need" nature of it.

Quizzes. This type of lead magnet appeals to your visitor's curiosity and is also quite fun. Popular Buzzfeed articles are a decent example to follow here. Still, you'll want to make your quiz a bit more professional depending on your industry. And remember: regardless of the kind of quiz, the result your lead gets should be valuable in some way.
Work books. This is especially useful for your more "action oriented" audience members. It can also be good for people that need a bit of motivation. Because a workbook lead magnet often applies to a bigger project of some kind, be sure to put in plenty of exercises. You might also include your own expert advice throughout. This ensures your lead gets the maximum value.

Ebooks. This last lead magnet is something many of us have downloaded. And for good reason: an ebook is a convenient way for your audience to get valuable information in one place. Assuming it helps your lead solve a problem, a good ebook can also position you as an expert in your field. This makes it more likely for your lead to become a customer when the time is right.
Of course, be sure to follow lead magnet best practices Here are three of the most important for any lead magnet:
Understand your audience. This is the only way to ensure you are creating something your audience actually wants (and bringing in a steady flow of leads).
Create lead magnets that are evergreen. Whatever you are offering should be useful regardless of when your prospect comes across it.
Know how to promote your lead magnets. Even the greatest lead magnet in the world won't mean much if nobody can find it. Common strategies include implementing popups and lead magnet banners within every blog post.
Lastly, it's important to remember that almost any kind of lead magnet can work as long as a) it's useful for your audience and b) they can easily sign up for it. These are the two biggest weak points in subpar conversion rates. Read this article on underperforming lead magnets for more information on fixes you can implement.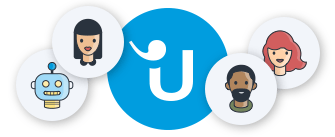 Looking for better customer relationships?
Test Userlike for free and chat with your customers on your website, WhatsApp, Facebook Messenger, Telegram and SMS.
Read more
Best websites for lead magnet templates
A go-to platform for many brands is Canva, which has some of the most robust features for quick lead magnet creation. Still, depending on your use case, you might be happier with an alternative.
Here we compare six websites that provide lead magnet templates as well as a brief analysis of each.
LucidPress is a great tool for businesses that want to make more professional-looking content. It's also user friendly and doesn't require extensive design knowledge.
That said, Lucidpress is also quite limited on the free plan. This is probably not the best tool for a company looking for budget friendly options for lead magnet templates.
Treat Visme as your one stop shop for creating numerous lead magnet types. This is a great tool if you're especially in the market for something visually appealing. With Visme, making cool visual elements and engaging presentations is easy.
Still, according to some online reviews, Visme isn't the easiest product to use. Certain inconsistencies with keyboard shortcuts, for example, create a steeper learning curve than other tools.
This is a great tool if you want to see the creativity of other designers. Because people from around the world can publicly post their work, using the tool can expose you to fresh ideas you've never considered. That makes inspiration easy - and you can even hire them if you want.
However, if you're looking to work on your own, Dribble might not be the best choice for you. Because the emphasis of the platform is finding designers (and not necessarily assets you can use yourself), a search for strictly lead magnet templates might be disappointing.
This is a simple solution for any company that needs to get a lead magnet set up quickly. With numerous templates at your disposal, Beacon offers numerous options for the most common lead magnet types. The tool also has a feature where you can instantly convert existing content into shareable lead magnets, which makes it great for bloggers.
Beacon's weakness lies in its customization capabilities. While its selection of lead magnet templates is solid, you typically have to stay within certain layouts with little to no chance to edit. If you're mainly looking for a tool that allows quick and easy content design, Beacon is likely for you.
The title says it all. With over 58 million assets to choose from, Envato Elements makes it easy to find a lead generation template. Plus, because you receive unlimited downloads with the tool, there's no limit to how much you can experiment with your lead magnets.
Because the quantity of templates you have access to is so huge, the quality suffers at times. This can result in a lot of wasted time looking for the right lead generation template. In addition, everybody has access to the same assets. That means there's a chance you create a lead magnet that looks almost identical to other companies.
We covered above how effective quizzes can be. Many companies agree…but don't know where to get started making one?
That's no longer a problem with Typeform. This tool specializes in forms, surveys, and quizzes that keep your site visitors engaged and makes it easy to set them up. A great option if you'd like to try out a new type of lead magnet.
Live chat: the best tool for lead magnet research
We've covered before how effective using live chat for lead generation can be. However, it's also useful for creating lead magnets because you are talking directly with your audience. You get valuable insight into exactly what they want, and can shape your lead magnets accordingly.
Lead magnet templates are one piece of the puzzle, but nothing beats live interaction with your audience when they are on your website. This is when they are most likely to have questions and dive deeper into their pain points.
That's valuable information you can use in crafting lead magnets that are hyper-targeted to your audience and solve a proven problem. What's not to love?
Sign up for a free trial and take your lead magnet research to the next level.