10 Effective Lead Generation Blog Tactics
Content marketing is one of the best ways to generate leads. If you consistently provide engaging, educational content to your audience, they'll learn to trust your brand and feel comfortable sharing their contact info. This makes a blog indispensable for lead generation.
According to Orbit Media Studios, 77% of businesses report that their blog brings marketing results, but they're investing more time and effort into posts. Your blog is destined to underperform if it neglects some important best practices.
And when it comes to blogs, it's not just businesses that understand their usefulness; consumers do as well. In fact, according to Si Quan Ong's Ahrefs article on blogging statistics, 77% of internet users are still active readers. That's a lot of potential business you are missing out on if you don't currently have a blog.
More specifically, a blog is a valuable lead generation tool for three main reasons:
With the content that your business creates, a lead generation blog establishes authority in your industry. This builds trust with your audience over time - one of the most important factors in creating new customers.


A lead generation blog gives your company the opportunity to stay current and on top of any trends in your industry. This establishes a relationship with potential customers and positions you as their preferred source of information.


Consistent blog content always gives your audience something new to consume while highlighting your unique product or service. This gives you a competitive advantage over less active businesses.
A blog is simply one of the best and most reliable inbound lead generation methods. Let's go over some specific strategies for creating an effective blog.
10 tips for generating leads through your blog
1

Create content that is high quality, targeted and consistent
A lead generation blog is nothing without great content. While the kind of content you create will vary depending on your industry, there are three attributes it should always have:
Quality. Setting up a blog for lead generation simply isn't worth your time if the content isn't good enough. You should favor longer content that is well-researched and valuable over shorter posts. Be sure to check out our formula for creating "10x" content.

Targeted. Writing the world's best article on strawberry ice cream isn't the best plan if your site visitors prefer chocolate. Your content should always address the topics your audience wants to be educated on. That's why keyword research is so valuable. For the best results, try to target keywords that have high search volume but low competition and always avoid keyword stuffing.
Consistent. As I mentioned above, one of the biggest factors towards a successful lead generation blog is how often you post new content. This not only gives your audience more reasons to keep coming back but is a great signal to search engines . Try to publish a post two to three times a week to maintain brand awareness and generate organic traffic.
2

Understand search intent
Search engine algorithms are increasingly sophisticated. They understand what you are looking for based on certain words in your search query and then show results that are most likely to satisfy you. This is search intent in a nutshell and it's essential to understand for your lead generation blog.
Check out the top ten Google results for the keyword you are targeting. The kind of content that comes up here is what people are interested in, and shows you what you should be writing about.
Let's stick with our "chocolate ice cream" example. A quick search of this phrase shows recipes from big name brands at the top, which are results that are difficult to compete with. However, further down the page you also see more targeted recipes ("without eggs" or "no-cook" in this case).
These more specific posts are the kind of content you should be making for two reasons: they are much easier to rank for and they match the specific search intent of your audience. So instead of "chocolate ice cream," you might try creating the best post on "lactose free chocolate ice cream." This targeted style of content creation not only follows search intent, but will rank better over time.
3

Create content for all parts of the funnel
People generally don't become customers quickly. They require communication from you and a certain amount of value before they will think about buying, which can take weeks and sometimes months. This communication is called a lead generation funnel and it's important to remember for your blog.
Your future customers are all at different points in their individual buyer's journey. Depending on where they are, you should interact with them slightly differently. One of the best ways to do that is to make content for each stage.
For example, people at the top of your funnel probably aren't looking for a paid solution. They want information and your educational blog posts can help. As for people at the bottom of the funnel who are ready to buy? In this case, it's time to show them why your solution is best with feature lists and a good sales page.
This funnel approach to your content is targeted. That's why it's so effective: you are giving people at all stages something they can benefit from. By doing so, you also have the chance to gradually introduce your own product or service as the solution to your audience's problems…when they are ready for it.
4

Make it easy to share your content
What's the point of amazing content if nobody ever sees it? While content that people love is the best strategy for SEO lead generation, you can pour fuel on the fire by getting more people to share it.
One of the best ways to do that is by making the process easier through tools. You spend so much time on your content anyway - might as well distribute it to as many people as possible. While easily shareable content has numerous positive side effects for your business, there are two main benefits:
A wider reach. This attracts people outside your typical audience and increases the likelihood that a piece of content you make goes viral.
A better user experience. People want to share things they find valuable; your business should make it easy to do so.
5

Pair content with targeted lead magnets
Even with adding consistent quality content to your lead generation blog, there still needs to be a way to convert traffic to leads. That's the purpose of lead magnets - "gated" pieces of content that your site visitors trade their email address to access. Lead magnets should ideally be something more valuable than your free content. In addition, they should be "targeted," or somehow match the piece of content they appear on.
Let's take the Userlike blog as an example. In our articles covering WhatsApp for business, we give readers the chance to download our WhatsApp whitepaper that does a deep dive on the topic. Reading one of our posts on how Userlike can help you generate leads? In that case, our lead magnet is a free product trial to test yourself.
To actually generate a lead, you will have to combine lead magnets with a signup form. Be sure to read up on signup form best practices.
6

Add pop-ups to your blog
Don't shake your head - pop-ups work. In fact, after studying two billion pop-up examples, Sumo found that an effective pop-up can skyrocket email signups. Combine them with an irresistible lead magnet and your results can be even better.
Still, even though pop-ups can get you better results on your lead generation blog, most of us find them annoying. You need to follow the right pop-up etiquette. Here are three of the most important features of a pop-up done well.
Short. Keep your copy concise and to the point. Nobody wants to be interrupted by a pop-up that takes 30 seconds to read.
Relevant. Make sure the pop-up actually matches the page that it's on. Remember our point about targeting?
Easy to close. Make clicking away from the pop-up painless. Frustrated site visitors are something you should avoid at all costs.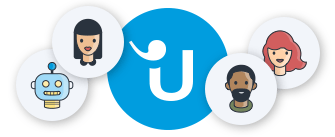 Looking for better customer relationships?
Test Userlike for free and chat with your customers on your website, WhatsApp, Facebook Messenger, Telegram and SMS.
Read more
7

Take user experience seriously
Even the world's best content can't help an ugly blog that nobody likes. User experience will always be a "make or break" factor to your blog's lead generation success. So take it seriously.
Your blog should have easy-to-read text, visuals optimized for your page size and a design that is enjoyable to read Remember this: what you like isn't necessarily what your audience wants. Your lead generation blog should be as user-focused as possible.
Speed is also essential. If it takes longer than three seconds to load your blog, you could potentially drive away your site visitors. It's also terrible for SEO, so be sure to use a tool like Google's PageSpeed Insights to make your site as fast as possible.
A successful lead generation blog is one that's data-driven. That's why testing is so important: it throws out your inherent biases and sticks with what is most effective. And as I pointed out in the last section, you should always give the user what they want.
So what are some things you might test? While nothing is off limits, here are some quick wins for your lead generation blog:
Content type. If everything on your lead generation blog revolves around content, it's worth the time to test it. Try out a new format and use your audience's reaction as your guide.
Lead magnet. What resonates with your audience the most? What kind of lead magnet are they most willing to leave their email address for? You'll never know unless you try out something new.
Signup form. Maybe your lead magnet is great but your signup form does a bad job at selling it. This often hurts conversion rates so be sure to mix things up.
9

Implement the right tools
A blog with great content, valuable lead magnets and convincing signup forms is a great foundation. Take it to the next level with the right tools. Here are two tools we use and recommend:
Sumo. This is one of the leaders in email capture software. They make setting up effective lead magnets on your website quick and intuitive. We should know - we use Sumo on our blog, even in this post.
MailChimp. Another favorite at Userlike. MailChimp is the perfect tool for what comes after capturing a lead: communication through email. Plus, with features like email automation and lead scoring, warming up your leads to become customers is much easier.
For even more options, check out my post on lead generation software. In it you'll find solutions for all types of lead generation blogs.
As important as these tips are, they're just some of the first steps toward a successful lead generation blog. It's also important to get inspired. Here are some of the best resources to consult for optimizing your blog for lead generation.
Here's one last pro tip: pay attention to what these blogs do to generate leads. Do that and you'll be learning from the experts!
Our secret weapon for generating qualified blog leads
The purpose of a lead generation blog is to provide so much value to your site visitors that it's a "no doubt decision" to sign up for whatever you have to offer. What better way to convince them than to provide instant and personalized support through live chat?
With Userlike, engagement is the name of the game. Here are just some of the ways our tool can make lead generation through your blog a breeze:
Use proactive live chat with targeted welcome messages to start a conversation with users on your blog.
Set up chatbots to always be available for questions your blog visitors may have.
Give quick and targeted help to your blog visitors whenever they need it.
Live chat has been our secret weapon in connecting to readers and converting more leads through our blog. Interested in doing the same?
Sign up for a Userlike trial and take your lead generation blog to the next level.