Introducing the CoronAssist Bot – Communication Relief for our Healthcare Institutions
Since the breakout of the coronavirus, we've been thinking about how we could possibly be of value in fighting this crisis.
Of course, what the world needs most right now is more doctors. But we've realized that besides being a medical challenge, this crisis is also a challenge of communication. Of getting correct information to the population en masse .
If the whole population thinks and behaves in the right way, we can flatten the curve. This helps buy our doctors and researchers the necessary time and space for treating the sick and producing antiviral drugs and vaccines.
Besides a huge wave in hospitalization cases, our health institutions are also flooded with questions. And while the internet is an enabler for spreading information, it is also an excellent enabler for spreading misinformation .
More than ever, we need our official healthcare institutions to win the information war. To have reach and to be available.
We realized that while we at Userlike know close to nothing about medicine and viruses, we do know about the challenges of communication at scale. That's why we partnered up with OMQ to build a chatbot that answers coronavirus-related questions en masse: the CoronAssist Bot .
The CoronAssist Bot
Our current prototype chatbot is based on the official information we pulled from sources like the Robert Koch Institute's website. When you have a question about the coronavirus or COVID-19, the idea is that you can simply send this question, and the chat robot runs it through its algorithm and produces a qualified answer.
The CoronAssist Bot can work on websites . So the Robert Koch Institute could implement it on a page like this one and offer a more interactive, tailored way of answering questions.
It is also possible to offer the chatbot via messaging channels like WhatsApp, Facebook Messenger and SMS . That would make getting qualified information as easy as directly sending your question to a number and getting an instant response.
In principle, there is no limit to the number of chats the CoronAssist Bot can process. Its goal is to be the ultimate bottleneck reliever for an efficient flow of crucial and qualified information.
Nudging
Besides offering qualified answers to the questions people ask , we thought it would be a good idea to nudge its users toward other crucial questions.
We can imagine that our healthcare institutions want everyone to know at least three or four things about coronaviruses and COVID-19 – such as the best measures to take for minimizing the spread.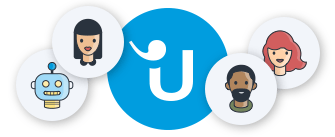 Do you want to support the CoronAssist Bot?
We are participating in a global hackathon set up to find solutions in the fight against the coronavirus. Your upvote is appreciated!
Upvote
That's why, after answering the user's questions, the user is free to ask another question, but CoronAssist also suggests up to three follow-up questions that the user can simply click.
This way, the chatbot nudges users toward the most crucial questions and answers – questions they might not have thought of themselves.
In our prototype, we've built in the following follow-up questions:
What can I do to minimize the spread of the coronavirus? This produces an answer with the current official tips.
Does it make sense to catch the coronavirus early on? This is a harmful meme that's going around in many places. Here the chatbot explains why this does not make sense. That the later you catch the coronavirus, the more likely it is that we will have more effective antiviral drugs and vaccines. And that by catching the coronavirus, you risk spreading it further and risking the lives of others.
How many cases of coronavirus are there in my area? After asking the user to specify their region, the chatbot produces a link to the most up-to-date information on cases per geographical area.
The hospital use case: "qualifying" patients
The chatbot described above functions like a dynamic coronavirus FAQ. There is one other use case where we can imagine the CoronAssist Bot could offer tremendous value: "qualifying" people with medical complaints who are wondering whether they should go to the hospital.
On the weekend of the 14th of March, I tried calling our local medical emergency center because my 18-month son had a heavy fever. Even though extra teams were on duty to deal with the surge in coronavirus-related questions, waiting queues were long. And once I finally got to talk to a supporting nurse, it was obvious that they were under a lot of pressure.
The Ultimate Guide to Chatbots in Business
Learn how chatbots work, what they can do, how to build one – and whether they will end up stealing your job.
Read more
When you do get to speak with someone, they basically just walk you through a number of questions. Based on a decision tree, they advise you to A) continue on with the standard recommendations for non-infected people, B ) isolate yourself for 14 days to prevent spreading (people with light symptoms), or C) plan a visit to the hospital.
A significant chunk of doctors' and nurses' time is currently taken up by such calls. We believe that if we manage to partner up with the official health institute in question, we can offer tremendous relief to these hotline duties and free up time for the healthcare professionals to focus on the most urgent cases.
CoronAssist's next steps
Since we started developing this bot, we've seen other bots appearing that do something similar. Most notably, the World Health Organization has launched a WhatsApp chatbot .
That's a great thing. Governments all over the world have asked the private sector to jump in and help in finding innovative solutions to tackle this crisis, and it's very encouraging to see that this is happening. Besides WhatsApp, companies like Inditex are jumping in to avoid a shortage of masks , for example. The CoronAssist Bot is our attempt to help, but our institutions should have some choice in picking out the best solutions.
We also figured it was worthwhile to continue with our CoronAssist Bot because we didn't see the combination of chatbot, website chat and messaging channels (WhatsApp, Facebook Messenger, SMS, etc.) yet in any of the other offered chatbot solutions.
We are currently offering this solution free of charge to any organization that deems it useful. If you are interested in any of the use cases described above – or you are in touch with an organization that does – please send an email to support@userlike.com.
What we have so far is only a prototype. We can only guarantee to provide the right, official information by partnering up with an official institution with the right expertise.