5 Inbound Sales Strategy Tips for Strong Customer Relationships
There's something I've noticed when playing Settlers of Catan with my girlfriend: the more we approach it with an emphasis on communicating and trying to help each other as a team...the better we play.
This is a lot like an inbound sales strategy. If you consistently communicate with your leads, and help them anywhere you can, your results can truly be astounding.
And if you prioritize outbound strategies like putting your message in front of people that didn't ask for it? Well, your results might be more like my friend's; he wins at Settlers of Catan every now and then, but it's often thanks to luck rather than strategy.
Interested in creating your own inbound sales strategy or making the switch from an outbound approach? Keep reading our guide for the five most important tips in getting started.
1

Inbound vs. outbound leads
Inbound leads can be defined as prospects who proactively initiate contact with you. Examples include a person who reads your blog and signs up for a lead magnet, somebody who opts in for your email list or a company that reaches out to you regarding a product demo.
Outbound leads, in contrast, are prospects that are generated via direct outreach on your part. This can include anything from cold calls to email pitches to billboards. The commonality with outbound leads is that you are pushing your message in front of people who haven't asked for it and hoping a certain percentage of people convert.
Both inbound and outbound marketing have their benefits, with inbound more focused on creating relationships. No matter which approach you choose, give your sales reps the support they need to be successful. But with inbound, you aren't just trying to "generate more business," but putting the work in to develop deep connections with prospects based on trust and education.
In the modern world where people want connection and have more choices than ever before, this makes all the difference. By building a connection with people before they ever become customers, you are actually more likely to make sales. This inbound sales strategy is also more likely to create superfans who promote your products themselves.
More specifically, there are a number of benefits to inbound marketing:
You become a credible source. This happens because you are educating your audience with informative content over time.
It improves your reach. Through the credibility built up with your content, people start discussing your brand. This naturally raises awareness.
Makes sales easier. With inbound marketing you are already dealing with qualified leads more likely to be interested in your product or service. Given enough time, it's therefore much easier to convince your leads to buy.
Saves you money. Inbound marketing is more cost-efficient and sustainable over the long term compared to outbound marketing. The content you create will continue to interest prospects over time compared to handing out leaflets for four hours only for half of them to be thrown away.
Conversely, outbound marketing doesn't work so well anymore because people can now research a business themselves. By the time a customer contacts you, chances are they researched and compared your solution to others already. They're more informed and less receptive to outbound sales tactics than they have ever been.
Think of your inbound sales strategy as trying to position yourself as the helpful guide in your prospect's life. They come to you for advice, and with the help that you provide them, they develop a deeper trust in you. It's this trust that makes it more likely they will buy from you in the future. Understanding your audience's problems as precisely as possible, and providing help to solve them, should be the basis of everything you do.
For a deep dive on all the benefits of inbound, check out our post about inbound leads.
2

5 inbound sales strategy tips
Provide value before asking for value
This should be your guiding motto in an inbound sales strategy, regardless of which form it takes. This value can take many forms, but generally can be considered as anything that provides a benefit to a potential customer before they decide to purchase.
While good examples of this approach are everywhere, a great model is my favorite fitness app, Urban Sports Club.
This is an app that lets you book a wide array of activities in different venues for one monthly rate. You don't actually need to pay before seeing different venues in your area, and dates, times and prices are clearly communicated before signing up. It's kind of like Google Maps…but for people that are curious about different sports options in their neighborhood.
That's how Urban Sports Club provides value up front. They don't put venue locations behind a paywall, but instead show you everything you can sign up for before you pay a dime. This is not only useful for people that decide to do without the app, but a major source of curiosity for people on the fence.
This is how you should approach your own inbound sales strategy. By understanding first what your customer is looking for, you are then able to give them the targeted value they need to make buying from you the natural next step.
And regarding Urban Sports Club? Well, it's gotten even more valuable since I became a paying customer.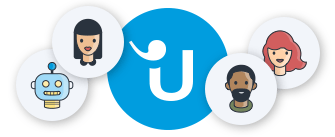 Looking for better customer relationships?
Test Userlike for free and chat with your customers on your website, WhatsApp, Facebook Messenger, Telegram and SMS.
Read more
Identify your business's unique selling point (USP) and use it to build buyer personas
Standing out from competitors is crucial to creating your inbound sales strategy. Once you know the unique value and solutions you provide (or your USP ), you can explain this in a way that resonates with your audience and brings in more leads.
Here are some questions you might ask when identifying your USP:
Who did you create this product / solution / service for?
What common issues lead prospects to your solution, and how does your business help?
How can you describe what makes your solution different from competitors in one sentence?
Answering these questions will not only allow you to market your products more effectively, but will give you a general perspective of what the research process looks like for future customers. This leads directly to the next step: building buyer personas.
Buyer personas are representative profiles of who your typical customer is. While they are fictional, they are based on fact through the information you have on your audience.
Having a few of these makes it easier to focus on your target customer and appeal directly to them. When combined with an understanding of your USP, it also lets you match what your prospects are looking for with the way you market your services to them. This makes the transition to "buyer" as seamless as possible.
You likely have different products and services that appeal to several kinds of buyers, so it's natural to have multiple buyer personas. Here are some questions you might ask when crafting them:
How old is my target audience?
What do they do for work?
What are their goals?
What other similar solutions have they already tried out, and what did they lack?
Create solutions-based content that educates your reader and shows a deep understanding of their problems
As we point out in our guide to inbound lead generation, content is essential to an inbound sales strategy. It solves the problems of your prospects, builds trust and positions you as the go-to resource for high quality information.
As for what you actually create content about? While this can be tricky to pinpoint, here are three reliable strategies for coming up with ideas:
Keyword research. You may very well create the best content in the world. The truth is, nobody will consume it if it's about an irrelevant or outdated topic. Keyword research is how you prevent this from happening. Check out Ahref's actionable guide to get started.
Competitive research. Specifically, check out online reviews of your competitor's products and services. This will show you what their customers complain about and likely give you ideas on how you can position yourself as a worthy alternative.
Chats with customers. To find out what your audience wants to learn as quickly as possible, why not ask them yourselves? This is exactly what a tool like customer messaging software allows you to do. Learn about your audience's pain points, their goals, and then base your content on these insights.
At Userlike, for example, much of our content focuses on chatbots, digital customer service and lead generation. That's because these are three of the topics we know our audience is most interested in.
This positions us as a go-to source of information for any of these three topics, which then increases the chance that we are their preferred provider when it's time for a paid solution.
Become an advisor
Let's be honest: you want your inbound strategy to result in sales. Revenue is what keeps your business going, so if your current strategy isn't producing results after some weeks or months, it's time to change course.
If you can transition away from the "always be closing" business strategy, and instead try to implement an "always be helping" approach, you'll actually have more success.
The difference between these two approaches sounds minor, but it affects almost everything you do. An "always be helping" approach to business prioritizes the satisfaction and well-being of your prospect over any immediate benefit to your bottom line. This sets you apart from the competition.
Take adventure sports supplier Patagonia as an example. One of their most effective marketing strategies is their Stories page, where they share unique stories from all around the world.
Here's what's interesting about this strategy: their stories often don't even mention their products. They prioritize inspiring their readers (and drawing attention to the environmental causes their audience cares about) over sales.
And wouldn't you know it, this "always be helping" approach is actually great for business. As this Forbe's article on Patagonia's brand purpose points out, people love the company first and foremost for their commitment to protecting the environment. Patagonia's stories position them as an advisor for both adventure and causes that matter.
Instead of taking quick sales wherever they can get them, they have built up their well-deserved reputation as an honest and transparent business. Sales and profit are the natural result.
As for your own inbound sales strategy? Here are some other ways you can position your company as an advisor:
Offer demos, webinars, videos and other visual/one-on-one content
Make yourself available outside of customer service hours by using chatbots or contact forms
Set up a personal call to discuss how your product can help them in their use case
Turn your existing outbound approach into an inbound strategy
I talked in the beginning about the difference between inbound and outbound leads. While an inbound approach to lead generation is almost always better, your business's current strategy might very well be based on outbound.
If you make your business about helping others, you'll always have plenty of work.

Chris Guillebeau, author of The 100 Dollar Startup.
In this case, transitioning to a model that prioritizes inbound can be a difficult adjustment. It requires a different kind of strategy and a complete shift in mindset.
Still, it's a switch that's well worth your time. Outbound strategies are simply less effective than inbound. They also require constant upkeep. Take paid advertising as an example. Sure, it can get you results when done right, but those results dry up as soon as you stop pouring money into it.
In contrast, inbound sales strategies can pay you dividends well into the future. With the relationships you maintain with your audience, you build your reputation as a company to be trusted. Similarly, with the helpful content you make, you create assets that will continue bringing traffic to your site long into the future.
Here are just a few ways you can make the transition:
Switch direct mail to opt-in email marketing. Not only is this less expensive, but your audience actually cares what you have to say.
Transfer from radio ads to Facebook ads. The majority of your radio ads are heard by people that don't have any interest in your offer. In contrast, Facebook targeting options almost guarantee you are showing your ads to people that are a good fit.
Stop cold emailing in favor of a more personalized approach, like messaging. As this excellent article by DemandCurve points out, cold email itself isn't inherently flawed - but the way that businesses go about it is.
3

Customer messaging: why conversations are important in an inbound sales strategy
I already mentioned how important relationships are to an inbound sales strategy. Well, conversations are how you build this relationship.
Think about your own connections and the role that chatting plays in them. Who are you more likely to trust: a friend that is always there to help, or somebody that only has time for you when it suits them?
Customer messaging is the support equivalent of the friend who is always available to talk: there when you need them, whenever it's convenient for you, and always ready with some helpful words of advice.
Plus, not only does messaging bring you closer to your customers, but it fits into every stage of your buyer's journey.
Messaging also makes it easy to connect to your website visitors and learn about them and their pain points. This helps you find a solution that works for their unique case, which builds trust and makes it easier to guide them to a purchasing decision.
Lastly, the insights you gain from talking to your customers can help you create content that directly appeals to your audience. Over time you establish customer relationships through trust, which creates a positive brand image and earns you recommendations.
Sign up for a free Userlike trial to get closer to your customers to create a successful inbound sales strategy.