3 Ways to Pump Up Your Prospecting Efforts with Live Chat
Be honest: when was the last time you flipped through an encyclopedia? How about used a real live map to circle your destination? Thanks to Google Search and mobile GPS, it's probably been a while.
This then begs the question: why do we assume that prospects are willing to fill out forms or wait on hold to make contact with our companies?
According to recent research from Zendesk , customers feel most satisfied during their buyer's journey when using live chat. In an era where consumers can get answers to any question and turn-by-turn directions in mere seconds, this makes perfect sense.
The popularity of live chat is growing rapidly – at a projected 24% compound annual rate , to be exact. The way current and prospective customers are reaching out is clearly changing, requiring salespeople to evolve alongside this trend by learning how to turn these conversations into leads. Here are 3 ways to pump up your prospecting efforts with live chat.
1

Go Straight for the Pain

Selling 101 teaches you that, to make a sale, your prospect must view your product or service as the remedy to a particular pain or untapped opportunity in their organization. Sure, sometimes you get lucky and a lead comes through raising their hand and ready to buy.

But most of the time, actually closing the deal requires serious digging to uncover prospect pain. Not only does this take time, but your prospect must also be open to having this conversation and receptive to your professional advice.

Prospects who visit your website and engage with you via live chat are signaling that they are open and receptive to learning more. Any questions they ask are clear indicators of the pain that they are currently experiencing, opening the door for you to present your solution as the answer.

Another way to leverage live chat to discover prospect pain is for sales to team up with support . Support reps are often responsible for manning live chat. Staying in close communication with them about any site visitors actively seeking information, or better yet integrating your CRM and chat platform so that these chats can be pushed directly to reps, is also an effective strategy.
2

Be Relevant in Real-time

Did you know that 82% of buyers view 5+ pieces of content from their vendor of choice before making a purchase? It's true - resources like white papers and case studies can be powerful tools of persuasion.

Of course, this requires prospects to actually read them. And with the average B2B email campaign open rate lingering around 30% , this is often easier said than done. Not to mention, after reading this content, prospects must then connect the dots to their specific needs.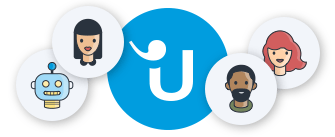 Looking for better customer relationships?
Test Userlike for free and chat with your customers on your website, Facebook Messenger, and Telegram.
Read more
Live chat presents sales reps with the opportunity to strike while the iron is hot by sending prospects relevant content in real-time. Instead of shooting attachments off into the cold-email abyss, reps can get the most out of content resources by providing them in response to actual prospect inquiries.
Not only does this increase the chances of the material being read, but it also presents reps with the opportunity to add personalized context around it, quickly connecting those dots for buyers.
3

Let Leads Find You

If you're like every other ambitious sales person out there, all of the leads you could be missing out on during your downtime are probably never very far from your mind - especially if you own a territory in another timezone. But sales people need sleep too!
The reality is that reps can't be on all the time. But robots can! The latest and greatest chat platforms offer chatbots that can welcome visitors to your site, answer some of their questions and gather their information in the absence of a live representative.
In the event that your chat solution is integrated with your sales platform, these conversations can even be forwarded directly to your CRM , allowing reps to reach back out and continue the conversation ASAP. Take advantage of these artificially intelligent friends and keep building your pipeline even while you're sleeping.
Don't use a chatbot? That's okay - many chat platforms can simply forward any messages that were received while you were offline to your CRM or helpdesk solution of choice.
Pump Up the Volume
It's time for sales to start changing its behavior in-step with customers and technology. Utilizing live chat to uncover prospect pain, send relevant resources and generate leads 24/7 is the way of the future.
However, live chat is just one of the latest tools for reps to connect with the right prospects at the right times. For more insight into how sales is changing and what you can do to keep up, download the guide From Art to Science: 5 Steps to Predictable Sales Growth .