11 Actionable Steps to Improve Customer Satisfaction
Did you know that a happy customer spends at least three times more money on your brand than a "somewhat" happy one? Maybe this year, instead of sending automated birthday emails, follow these 11 research-backed and practical action steps.
To max out customer satisfaction, let's first agree on a definition of this important success figure. There are a number of ways to describe customer satisfaction, but they all boil down to this:
Customer satisfaction is a measure of how well a company's product and service meets, or exceeds, customer expectations.
Forrester research indicates that expectations toward customer service are related to three main factors:
success of the solving process (25%)
ease of the solving process (25%)
emotions during the solving process (50%)
It might seem counterintuitive that emotions are the most important aspect. But if you can still remember summer '99 when you got in a big fight with the receptionist at the Sunshine Hotel, it becomes less surprising.
Strong emotions attached to events are saved like yellow post-its in your brain and govern your future decision making. A study by neuroscientist Antonio Damasio revealed the importance of emotions when making decisions: People who suffered from damage in the brain's emotional processing area had trouble making decisions - otherwise their reasoning was not affected.
Why focus on customer happiness?
The modern concept of customer satisfaction came up in the 1950s, when marketing interweaved behavioral science and psychology into its core practices. Since then, customer satisfaction has become more and more important, reaching today's high standards. But why?
How to improve customer satisfaction
1

Make sure your company culture is alive

When it comes to customer satisfaction, you need to start from the ground up: Your company culture and how it is lived on a day-to-day basis. In his bestseller " Start with Why ," Simon Sinek talks about successful companies whose magic ingredient is putting the bigger purpose first.

A purpose-driven approach will raise customer satisfaction – if it is imbued with life. Each customer interaction with your employees is a chance to do so. You have to make sure that your service reps know your vision and values and communicate them confidently.

Action step: Sprinkle your communication values in every possible format, like interviews, standups, 1-on-1s, quarterly reviews, Christmas dinner speeches or blog posts.
People don't buy what you do, they buy why you do it.

Simon Sinek
2

Set clear expectations and follow through
Know what you're able to deliver
Communicate it clearly to your customers
Don't pamper those who ask you for special treatment, just because they thought to ask.
This brief guideline to setting the right expectations sounds radical and not very customer-centric. But it will save your customer service a lot of trouble and allow time for consistent high quality customer service that meets most customer's expectations .
The "meet and exceed" approach was praised in the 80s and 90s . Considering the number of clients companies deal with today, this strategy is unsustainable in most cases. The Customer Effort Score is a metric to assess by survey the effort a customer experienced during an interaction with a company. The interaction can be anything from a purchase to a service inquiry.
Matthew Dixon, Karen Freeman and Nicholas Toman will tell you all about the Customer Effort Score in their milestone post " Stop Trying to Delight Your Customers ." The most important takeaway: Exceeding customer expectations will make customers "only marginally more loyal than simply meeting their needs."
Action step: Make sure your customers know what to expect throughout their customer journey. Test different scenarios to see if you can deliver exactly what you promised. There is nothing sexier to your client than transparency.
3

Lower the customer's effort

If you reduce your customer's effort to reach out to you and solve the issue, customer satisfaction will rise; the research-backed book " The Effortless Experience " illustrates this in detail. As a consequence, well-equipped FAQ sections and quick support channels like mobile messengers or live chat on your website become the go-to tools for a seamless customer journey.

Modern live chat tools offer a skill-based routing , which immediately connects the customer to the appropriate representative. If the question needs to be forwarded, e.g. to a supervisor or the technical support, the attached chat transcript contains all details so the customer only has to explain his problem once.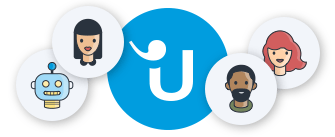 Looking for better customer relationships?
Test Userlike for free and chat with your customers on your website, Facebook Messenger, and Telegram.
Read more
The issue can be solved without interrupting the web browsing experience.
Action step: Implement a holistic live chat software like Userlike that not only allows you to chat with your customer on your website, but allows for integration with instant messenger apps like Facebook Messenger, WhatsApp and Telegram.
4

Boost employee satisfaction

Your customers are likely to mirror the mood of your service staff. A study conducted by the University of Western Australia and Carlton University found that "the affective state (e.g. relief, satisfaction or excitement) of each may influence the other". The findings underline that employee satisfaction and customer satisfaction are highly intertwined.

Both your customers and your service agents want to feel respected and valued.

Action step: Make sure your service employees see the positive results of their hard work. By integrating your feedback tool with your team platform (e.g. Slack, Asana), service ratings or customer comments are immediately visible to your service agents.
5

Use cheat sheets

Millions of books have been written on "proper" communication to improve customer satisfaction. At their core you can find these three elements:
active listening
empathy
clarity
Good communication should be easy, but too often it's not. One reason is negativity bias . People naturally assume the worst. Thus, communication training is essential for your customer service team.
Until they are more experienced, it is very helpful to use cheat sheets that help your service reps to set the right tone, align with your company culture and make the customer feel valued.
| What Not to Say... | What to Say Instead... |
| --- | --- |
| "We don't deal with that." | "It sounds like you need [X department]. I'll just find you the correct number/transfer you." |
| "Can I take your Christian name please?" | "Can I take your first name please?" |
| "I'll just put you on hold." | "I quickly need to...I I'll be back on the line with you in X minutes at the most." |
| "I'm new here." | "I just need to consult with a colleague. The line will go quiet for a minute or two." |
| "I don't know/ I'm not sure." | "I will find out for you." |
Cheat sheets should be used as a handy guideline, not a strict set of rules. If you impose a tight protocol on your service team, the customer experience might turn out inflexible and impersonal.
Action step: Brainstorm the most common phrases used by your customer service team and find improved alternatives that keep the customer engaged and uplifted.
6

Train eagles, not ducks

Ducks quack and complain, eagles take charge of their destiny. Your customer agents should be encouraged to become "eagles," thus take responsibility and execute decisions that comply with the vision and values of the company.

For sure, common problems should be handled within a standardized framework, but we can't define a process for every single eventuality . Don't deny your service team of using common sense and offering your customers solutions that deal with their current issue, not their type of issue.

Employee empowerment will not only save human resources but show customers and service reps alike that they are not treated like numbers. Chris DeRose and Noel Tichy, co-authors of "Judgment on the Front Line: How Smart Companies Win By Trusting Their People," share some useful tips on how you can empower your service reps .

Action step: Allow your customer service reps to find their own solutions within a supportive framework of guidelines. To improve their improvised responses, use roleplay to observe how they handle tricky situations and give constructive feedback.
7

Craft your goodbye

Most companies have defined how they greet their customers on different channels. What is often overlooked is that the "goodbye" sticks in your customer's head most. Barbara Fredrickson and Daniel Kahneman coined the term peak-end rule for this psychological mechanism. Thus, your customer support etiquette should define how to end the conversation.

Action step: Define a closing etiquette.

A closing etiquette could look like this:
Thank your customer for reaching out
Ask them if all their issues are resolved
Let the customer end the conversation first
8

Solve problems before they arise

If you go to your doctor because you wake up each morning with a horrible headache, you would expect to receive more than a painkiller prescription. A good doctor knows that your goal is not just to be temporarily pain-free, but to return to sustainable health.

A service agent needs to approach the interactions with customers similarly. Once the rep is talking to a customer, he has the opportunity to explain the next steps of the process or provide the customer with self-help resources. You will dramatically lower the resolution time by preventing the client from reaching out a second and third time.
Action steps: Encourage your staff to see beyond the question and anticipate upcoming issues. Prepare best practice guides and Q&A sheets for processes your customers often get stuck in.
9

Offer high quality self-help options

With all the effort that companies put into customer service, they sometimes overlook the potential of the cheapest service platform: Self-help in form of manuals, tutorials, Q&A's and videos. Over 90 percent of consumers expect a company to offer a self-service customer support portal . Once you have one, make sure to keep it lean and up to date.

Asana produces short entertaining videos to explain new features:

Remember that ease is one of the three main customer expectations of your service. As a neat side effect, you will save good money every time a customer uses your self-help desk instead of reaching out to your service team.

Action step: Make it fun and easy for your customers to educate themselves on your product or service. From YouTube videos to structured Q&A-pages; with infographics and comprehensive FAQs – choose the best option for your brand and budget.
10

Stay real

If your customer gets in touch with you, keep in mind that they fancy human interaction s on eye level. It doesn't matter if those happen in person or through digital channels like live chat or messenger. Take this negative example: IKEA got rid of their chatbot Anna because people didn't know if she was human or not. Her photo and name implied she was a real person, but her conversing skills were more than poor.

If you use a chatbot , make sure the customer knows it's software, and when you train your service staff, don't make them sound stiff. A portion of empathy and humor can make an angry customer happy as a bean.
Action step: Revise your communication in each support channel. Is your communication transparent and human? If there is a waiting gap , for instance, clearly communicate the lengths as well as the reason for the wait. Garnish your message with a personal touch.
11

Know when your customer needs you

It's easy to wait for the customer to contact you when a problem arises. But wouldn't it be really satisfying for your customer if help came right when he needed it?

Thanks to tracking technology, you know exactly where your customer is on your site – and for how long. This data can provide them with well-timed tips and help. For example, if a customer stays on a certain page for longer than two minutes, this might suggest he needs advice. Especially in crucial moments, like the check-out-phase, proactive help is gold.

This not only improves customer satisfaction but saves you resources. Like the 2017 UKCCF Proactive Customer Service Survey showed: 87% of businesses think proactive service will save on inbound lead generation, "potentially equating to millions of pounds saved each year for large customer contact operations."

But proactive customer support doesn't stop here. After the purchase, you can check on your customer through his preferred contact channel, ask if everything is running smoothly, provide pro tips or link him to a tutorial video. This shows that you care about your customer's satisfaction even after the purchase is made.

Action step: Define where your customer service can be proactive. Track your website with a software like Kissmetrics or Google Analytics, and ask your service crew about common problems and questions to get a feel of where your customers get stuck.
Final thoughts on improving customer satisfaction
Of course, there is no "one size fits all" solution for improving customer satisfaction. But if you're looking for a key takeaway, it would be this:
Before you try to surprise your customer with heroic customer service, focus on meeting their needs when it comes to ease and emotion.
If you want to figure out how to measure customer satisfaction , we wrote a blog post on this topic as well.