What's the Importance of Customer Loyalty?
From Harvard Business Review's (HBR) Customer Loyalty is Overrated to McKinsey's latest research showing that purchases are driven more by shopping than by loyalty, there has been a movement to downplay the importance of customer loyalty.
In this article, we're going to examine the importance of customer loyalty and its impact on your business.
Disruption & Defaults: The Case Against Customer Loyalty
HBR and McKinsey are well respected sources of research and breakthrough thinking. The fact that they both challenge the traditional thinking around customer loyalty is noteworthy and challenges us to take a deeper look into how we traditionally value and emphasize its importance.
According to HBR,
performance is sustained not by offering customers the perfect choice but by offering them the easy one. So even if a value proposition is what first attracted them, it is not necessarily what keeps them coming.
The easy choice is often the "default" choice, as was first popularized in the book Nudge . People will save more for retirement when 401(k) enrollment is the automatic option and payments are automatically deducted from their paychecks.
There is no question that humans are creatures of habit. When we find something that works for us, we tend to stick with it; that is until an even better option comes along. This is the very essence of disruption.
Why call and wait for a taxi cab when you can push a button on your phone and an Uber driver shows up wherever and whenever you want them to? Why purchase expensive razors when Dollar Shave Club will send you less expensive alternatives directly to your mailbox? In fact, why go to physical retail stores at all when you can click a button and have everything you want delivered right to your doorstep?
To that end, HBR makes a compelling argument that customer loyalty is overrated when,
…the fast pace of change in modern business … means no competitive advantage is sustainable, so companies must continually update their business models, strategies, and communications to respond in real time to the explosion of choice that ever more sophisticated consumers now face. To keep your customers—and to attract new ones—you need to remain relevant and superior.
Your Customers Feel Compelled to Shop Around
Now compound HBR's arguments with the latest study on customer loyalty from McKinsey and you can see why many are questioning the value of customer loyalty. McKinsey reports that,
…58 percent of loyalty members not using the programs for which they are signed up. We see such data as an important signal that new technologies and greater choice are changing how consumers are thinking and acting across their consumer journeys. As one executive puts it, 'In the digital world, your consumers can't help but shop around.'
With a plethora of options on any given purchase decision just a few clicks away, it's easy to see why some experts are questioning the value of customer loyalty. While consumers have always had multiple choices when making purchase decisions, it's never been easier to do your homework before making a purchase decision.
Customer reviews have become a critical part of the buying process and potential customers look to their peers to decide if a product or service is worth buying. In fact, 90% of consumers read online reviews before visiting a business. And 88% of consumers trust online reviews as much as personal recommendations. .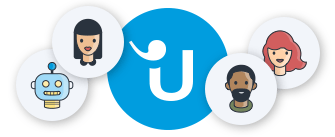 Looking for better customer relationships?
Test Userlike for free and chat with your customers on your website, Facebook Messenger, and Telegram.
Read more
Even customers who have historically been considered moderately to extremely loyal can (and do) retract that loyalty in the blink of an eye. According to Accenture, 61 percent switched some or all of their business from one brand or provider to another in the last year. And in that same study, 77 percent of all consumers admitted they now retract their loyalty more quickly than they did three years ago.
With all of these highly respected sources touting the decline in the importance of customer loyalty, you might be tempted to reduce or eliminate your investment in customer loyalty altogether. That would be a mistake.
Why Reports of the "Death" of Customer Loyalty Have Been Greatly Exaggerated
The same Accenture report acknowledged,
Loyalty still matters. It always will. But today, as the correlation between customers' loyalty sentiments and purchasing behaviors continues to weaken, it's becoming clear that the old loyalty rules no longer apply.
It's true that customer loyalty as we know it continues to evolve (as well it should in the digital age). When every airline's loyalty program is essentially at parity, frequent flyer miles are no longer the incentive they once were. The airlines have recognized this and have rethought their loyalty programs to emphasize what today's traveler truly cares about, such as:
Boarding the airplane first
NOT paying baggage fees
Minimizing the lines to get through airport security
These things are more important to today's business travelers than the historical incentive of accumulating frequent flyer miles. And yet, most travelers are not satisfied with the overall experience they have with their airline – leaving open the very real possibility of future disruption.
So if points programs and access to free stuff are no longer the incentives they once were, what are the key drivers of customer loyalty today?
8 Steps to Guarantee Repeat Business
While many will claim to be the authority on customer loyalty, Richard Shapiro is the founder and president of The Center for Client Retention and considered a leading authority in the area of customer satisfaction and loyalty.
For nearly 30 years, Richard Shapiro has spearheaded research – from start-ups to Fortune 500 companies – providing critical insight on customer loyalty and the drivers of repeat business. In his new book, The Endangered Customer , Richard Shapiro identifies the 8 steps to guarantee repeat business:
Make me feel welcome
Give me your full attention
Answer more than my question
Know your stuff
Don't tell me no
Invite me to return
Show me I matter
Surprise me in good ways
It's amazing when you step back and look at how most businesses treat their customers. What Richard Shapiro does in his book is remind us of all the ways the best companies in the world continue to endear themselves to us when it matters the most.
To many, the gold standard of customer loyalty has been (and will likely to continue to be) Zappos. At Zappos, there is no frequent buyer program and their prices, while low, are not likely to be cheaper than you can find elsewhere.
While they revolutionized their industry with free shipping both ways, many of their competitors followed suit. So what makes Zappos so special?
Founder Tony Hsieh, in his book Delivering Happiness , explains that he threw out the old play book and set a new standard in customer service by measuring very different things. Rather than an obsession with call time efficiency, his number one metric for a successful call was (and still is),
Did the customer leave happier than when they called?
Surprise and delight is built into the core DNA of Zappos and customer service reps are empowered to do whatever it takes to ensure customers leave happier than when they called.
A Commitment to Earning Your Customer's Business Throughout the Entire Path to Purchase
Another well respected expert in customer loyalty is the direct response agency, Wunderman. In their microsite Wantedness, they reveal their findings and build a roadmap to the next generation of customer loyalty. Here are a few of the top insights they have compiled:
You aren't just measured against your competitors anymore; you're stacked up against the best.
87% measure all brands against only a select few – think Amazon, Netflix and Starbucks.
88% want to engage with brands that are setting new standards
74% say brands can set new standards by providing a higher level of customer service
56% feel more loyal to brands that show a deep understanding of their priorities and preferences
And 89% are loyal to brands that share their values
The new playbook for customer loyalty isn't about enrolling your customers in a points-based program. The importance of today's customer loyalty starts with having a clear understanding of who your ideal customer actually is and then mapping their needs throughout your customer's journey. Showing your customers that they matter and finding unique and interesting ways to surprise and delight them will go well beyond traditional points-based programs.
The more you can demonstrate that you "get" your customers and their specific needs, the faster you will win them to your brand. Go above and beyond what they could reasonably expect from you, and you will create a raving fan who will share their experience passionately with their peers – the very customers you are looking to attract.
Measuring The Impact of Your Customer Loyalty Efforts
Before you make wholesale changes to your loyalty campaign efforts, you should be sure you know the best ways to measure the effectiveness of customer loyalty. For that, I recommend you check out Userlike's previous post on measuring customer loyalty . You might consider implementing one or more of his suggestions before making changes to your program.
---
This post contains affiliate links. As an Amazon Associate, Userlike earns from qualifying purchases. We donate all of these proceeds to our non-profit cause, the Atefa Girl's School .