9 Ways Userlike Can Help Your Business
When getting started with a new tool, you may think, "What do I do first?"
It helps to have a clear view of all the ways that your new tool could help you, so that you can then set it up according to your priorities.
That's what I'd like to offer you today: an overview of all the different ways that Userlike can help your business.
​
1

Offer a better customer experience
In the digital world, better means easier. Live chat is the only channel that your customers can use throughout their entire experience on your website. No need to interrupt their journey and go through the hassle of searching for a phone number or email address. Plus, if you pair your live chat with a messaging channel like WhatsApp , you are always just one thumb-tap away.
Userlike is a product that fits the demands of the modern consumer. You are able to quickly solve customer's questions before they become problems and potential negative reviews. As just one example, it can be hard to identify the problem the customer is experiencing. With Userlike, you always see the current URL the customer is on, so you can just click and open the page. This helps to avoid misunderstandings and builds customer satisfaction in the process.
Also, with Userlike's operator groups, you can easily route your site visitor to the operator who is most qualified to answer their question or help them. This can be anything from a particular area of expertise to their country of origin. Gone are the days of chatting with a customer service member who doesn't understand your problem.
Website chat is one of the most simple yet powerful ways to step up your lead generation game. Think about it: The warmer the prospect, the more likely that they will have questions about your products. What more natural way is there to "capture" those leads than to be readily available right as they are checking out your products?
Userlike acts as a catalyst to your lead generation in a way that few other channels can achieve. With proactive chat , for example, you can reach out to web visitors who may have questions. This makes missed opportunities a thing of the past.
Userlike also has features like smart customer profiles which makes it a breeze to stay informed about your customer over a long period of time. Plus, even if a topic does become a bit complex and require more information, Userlike offers on-page guidance. This ensures you are providing the help your audience demands and makes relationship building second nature.
For more specific information on the Userlike features that will help you generate more leads, check out our post: "10 ways to generate more leads with website chat."
3

Raise website conversion rate
Often, it's the simple yet unanswered questions that stand in the way of a completed checkout process. Your competitors' search results are always just two clicks away – a far easier path than reaching out via phone or email. But with Userlike, your answers are just one click away. Offer your customers the path of least resistance and you will see your shopping cart abandonment rates drop.
With the speed of website chat, and the ability of your website visitor to choose which department they talk to with operator groups, you keep your leads constantly engaged. This is much more effective than a channel like phone support that often forces a customer to wait.
And what happens if your customer does have to wait in line? Well, don't be surprised if they give their money to a business that answers them quicker.
But what if you run into a situation where a call actually would be better? We've got you covered with Userlike's call feature. This allows you to offer the option of a voice call when a topic can be covered with a quick explanation, which naturally increases your chance of conversion.
4

Raise average order value / upselling
The success of an online business largely depends on the average order value of its website visitors. If only you could have a direct influence on how much your customers buy. If only you could tell them that if they are planning to buy product A, product B would be a great complementary choice.
With website chat, you can! Especially if you connect with Userlike's Javascript API, you can do cool stuff like see the contents of your chatting customer's shopping cart, or only display the chat to your visitor once their shopping cart reaches a certain value.
Plus, when you pair our chatbot with the carousel feature, your average order value is even higher. That's because it's easy to show the products that your visitor might be interested in — customers can simply side scroll through your recommendations without having to search on their own.
5

Reduce phone calls, emails and service costs
Anyone who has done the math will know: phone support is expensive. Service queues are the default response to mitigating these costs, but we all know how frustrating they are for our customers. Emails are a lot cheaper, but they aren't fit for customers who want to buy now. In a culture of instant gratification, delays will cost you business.
The nature of chat, on the other hand, allows one agent to help multiple customers at the same time. By deliberately integrating Userlike into your customer journey, you can channel a big chunk of those expensive phone requests to your cheap –yet superior– chat support.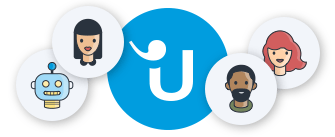 Looking for better customer relationships?
Test Userlike for free and chat with your customers on your website, WhatsApp, Facebook Messenger, Telegram and SMS.
Read more
Chat macros allow you to set up canned messages to common questions and situations, which you can either use as a template or send directly. This lets you communicate to your customers at lightning speed.
In addition, chat slots are one of the features that Userlike offers to improve your customer service efficiency. With them, you are able to chat with multiple customers at the same time and adjust upwards as your service team becomes more skilled.
6

Automate your customer communication
Or at least part of it, through the use of chatbots. At Userlike, we believe that chatbots are only valuable as long as they always offer an easy escalation option to a human support rep. But when set up right they can be a tremendous help for your customers who mostly care about one thing above all else: speed.
A Userlike chatbot is also especially helpful if you are an international business with customers all over the world. That's because they can provide support 24/7 and can quickly and efficiently take care of routine requests.
Userlike also offers instant translation so you can help your customer in a language that they are most comfortable with.
This shows them that you have their back and eases the stress of conversation in a language your visitor might not know so well.
7

Optimize your recruitment process
The fact is, most recruitment these days is digital. The majority of your future employees are searching for their next job on the internet, and potential prospects are likely interacting with your company online before opening an application. You ignore this at your company's own peril.
With Userlike, you are able to modernize your recruitment process and make it more efficient. Interested applicants can ask you directions directly with website chat. This removes bottlenecks and speeds up the process of building the right team.
Userlike can also be used as a weapon in the war for talent. Set up correctly, it offers your candidates an easy and quick way to apply to positions of interest to them. When paired with WhatsApp, for example (which we can quickly and easily help you set up), the barriers to your next allstar employee applying have never been lower.
Click here to get started with the WhatsApp Business API through Userlike.
8

Get and stay close to your customers
People don't want to do business with a faceless organization. They want a company that has personality and is there when they need them with customized support. Userlike let's you do this. For example, with our on-screen guidance, it's easy to step in and show your site visitors the exact information they are looking for.
Plus, as we've already seen with the Userlike calls feature, escalating to a call for customers that prefer a voice chat is quick and easy.
Trust is inherent in today's business-consumer relationship. If your potential customer doesn't trust you, they will gladly switch to a different business. Userlike builds this trust over time through customized support in a way that not many products can.
This is a more generic point, but probably also the most important one. Most of our customers use Userlike first and foremost because it allows them to get and stay close with their customers. We –and many of our customers– strongly believe that it will be those that understand their customers best who will win in the marketplace in the end. With that in mind, Userlike offers some very direct features of gathering customer insights (e.g. chat ratings and surveys ).
Still, the main advantage of Userlike comes from the personal and low-barrier nature of chat and messaging. You're offering your customers the channels that they already love and use in their private lives every day. For example, Userlike offers connections to a wide collection of messaging channels, including Threema and SMS.
This ensures that you are meeting your leads on the channels they prefer. With Userlike, getting closer to your best customers has never been easier.
Sign up for a Userlike trial in minutes
We've designed the Userlike product to specifically address the most common problems that business owners face. Whether it's better understanding the people on your website, or guiding them through a purchase, Userlike's features are there to help.
And really, the benefits don't stop there. Here's a list of some other common concerns that Userlike can help with:
GDPR: Userlike is completely compliant and data protection is one of our top priorities.
Ease of integration / use: Userlike can be set up and ready to go in under five minutes, no coding skills required.
Free trial: your account is free forever until you decide to upgrade.
Personal support: we are always there to help, and provide a level of support that bigger solutions like Intercom just can't match.
Ready to experience these benefits for your own business?