Exploiting the Power of Feedback for your Company
"Improper guidance and feedback are the single largest contributors to incompetence in the world of work" (Gilbert, 1987)
There's more to customer service than answering customer requests, comforting angry customers or rewarding repetitive buyers. Even though those are obviously good principles, 90% of companies forget to implement an effective feedback system. Every marketeer knows it is vital to measure the effectiveness of a campaign and react on the numbers. Somehow when it comes to the value proposition to the customer, companies forget to do the same. Through this they are missing out on a number of great benefits.
Benefits of Feedback
When supported by the right process, feedback is worth gold for any type of company. That's why it's such a waste that it is not always taken seriously. Let't look at all the things feedback can offer.
1. Your customer feels appreciated
By giving your customers space and incentives for sharing their opinion, they will not only feel heard but will also feel valuable for the organization - that their opinion matters to you. Letting your customers share their opinion with you is the first step of a reciprocal relationship between your company or brand and the customer.
This strong relationship increases loyalty to your brand, especially when the people giving feedback actually see it incorporated in your product/service. They may even become spokespersons for you by sharing your services with their friends, and thus your customer referrals may also increase quickly.
2. Employee Learning
You can give your employees all the training in the world, nothing will get them on track as fast as realizing how their actions affect the final customer value. This sounds logical enough, yet almost no companies offer these insights to all their employees. They might implemented a feedback system for the font-line service employees only (for example those annoying post-service phone questionnaires), but unfortunately is mostly ends there. Every employee involved in the delivery process, whether core or supportive, should have access to the opinion of the customers.
3. Actually Receive Great Feedback
This is a straightforward one, but your customers are obviously in the best position to make judgments. This doesn't mean that you have to make changes according to any oddball with an opinion, but make sure that you are at least open to new ideas. Harness the power of the crowd.
How To Set Up A Successful Feedback System
1. Integrate feedback options throughout all your channels
Feedback can occur at any customer interaction moment: whether through complaints, suggestions during purchasing process or while they are seeking for information on any of your pages. This means you should design your feedback system to integrate with all the channels through which feedback could occur.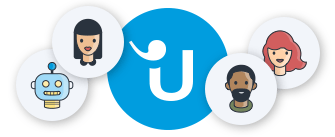 Looking for better customer relationships?
Test Userlike for free and chat with your customers on your website, Facebook Messenger, and Telegram.
Read more
The first step is to communicate to everyone within your company the importance of collecting and reporting customer feedback from every channel possible. The second step would be to set up the right channels through which your employees could redirect the feedback. A good example of a feedback function inside an existing channel is the ranking system inside our chat window . Through this visitors can easily give feedback about their experience after the chat.
2. Set up dedicated feedback channels
Next to integrating feedback options throughout your existing channels, it is important to set up a dedicated channel , just for feedback. If customers want to reach to you to share their thoughts or ideas they may not be willing to call customer support or the sales team, which is why a dedicated channel is a must. To better understand this, take a look at NBC News' website and see how they provide a direct channel for viewers who want to share their ideas with the reporters.
If you haven't done so, then it's time for you to set up dedicated direct channels to interact with your customers with clear directions and public visibility (e.g. consider having a telephone number for SMS's with comments, a direct e-mail for feedback, an online survey for more detailed feedback, a form on your website or any other you can think of).
3. Be Transparent
Take two seconds to read iMac's feedback form intro below. Even though Apple isn't able to respond to every enquiry made through its website, they announce it before in a straightforward transparent way.
You should aim to be a bit like Apple in this sense. Let your customers know beforehand what will happen with their feedback, what the process is to analyze their inquiry, and an approximate time for response. Always communicate that feedback is important for you to optimize your business, to provide a better product and that their opinion is a valuable asset for you.
4. Expand Your Horizon To Other Channels
Be sure you take a look into every available channel your customers have at their disposal to talk about your company to other customers or associations, especially on dedicated social networks (e.g. Tripadvisor for tourism companies, Facebook, Twitter, LinkedIn). Channels can be formal or informal and thus creating e.g. panels or forums of discussion can be a great way to get your customers to talk about your product without the pressure of a structured feedback form.
Spotify, through its trouble-shooting community, took this concept even further. By creating this visible community, they managed to achieve a hands-on control to eventual feedback that comes across to which they may also respond immediately.
You should also be aware at what's going on in social media platforms. where your customers may be providing their friends important data of your product in the form of recommendation but also complaints. There are some great tools out there that allow you to follow your social mentions in real-time, such as Mention or Google Alerts , allowing you to respond in a quick manner.
5. Get Back To Your Sources Of Feedback
A final consideration to show your customers that you really care about their feedback is by getting back to them about what they told you, the so-called reverse feedback look. The best information you can provide on this case is by telling them what happened with their feedback, whether something was changed or how you considered the feedback but didn't respond on it because... When you remain quiet it will probably be the last feedback you received from that customer.
6. Define responsibilities
One of the best ways to make sure you have your feedback leads under control is by appointing a feedback manager, or setting up a team responsible for this subject. By doing so you'll assure that no other customer will leave without a proper response and fully satisfied with your process. Remember that happy customers are the most valuable customers.
If you have a strong vision for growing your business, from economic/financial to customer satisfaction growth you should integrate a comprehensive vision on learning and constant improvement of the service you are providing.
About Userlike
Userlike is live chat software for websites, allowing companies to chat with their (potential) customers directly over the website. Look here for more information.