How to Create Automatic Support Tickets with Live Chat: EmailTicket Integration
As an additional channel, live chat should fit seamlessly into your existing workflow. With our EmailTicket integration, you can easily receive notifications for support tickets in your inbox and stay informed at all times.
Video Transcription
To go to your notifaction settings, log into the Dashboard and select " Add-on settings " from the " Chat Settings " menu. Then click on the toggle icon on the right for the "EmailTicket" add-on.
Now, enter email addresses for everyone that should receive the ticket. By separating email addresses with a comma, you can add up to 3 addresses.
1

Event subscription

You can subscribe to automatic emails to trigger notifications for offline messages or new incoming chats.

As you're likely working with others in a team, it can be helpful to know when an Operator comes online or goes offline in the Chat Panel. You can enable this under Operator events.

You can configure notifications for all important chat events. When Chat Butler is holding a chat for you, for example, or when your Webvisitor has sent her first message or when she's given your Operator a star-rating after the chat.

With the EmailTicket integration, you stay informed about your team's performance.

If you enable the Widget Event, you'll be notified about any changes to your Widget's configuration. We recommend this option if you're the admin of the account.

While email notifications can be a great way to stay in the loop, a lot us are already drowning in our inboxes. So the last thing you'll want is more emails. Sometimes you might only be interested in receiving notifications for one specific topic, like Data Privacy. Just filter for the topics that interest you the most.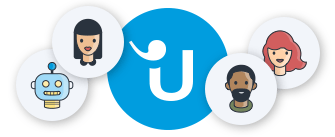 Looking for better customer relationships?
Test Userlike for free and chat with your customers on your website, Facebook Messenger, and Telegram.
Read more
Make sure to save your changes before leaving the page.
2

Messages

If you prefer not to receive any automatic email notifications, there's also a more precise way. Go to the " Messages " menu in the Dashboard, select a message, then click on " Create EmailTicket ticket " in the dropdown menu on the right. The ticket will be sent to the email address or addresses you've chosen in the add-on configuration earlier.

That's our EmailTicket integration in a nutshell. Thanks for watching and happy chatting! :-)