Tessamino's 125 Year Journey from Shoemaker to Ecommerce Success
"If you want this company to have a future, you have to bring it to the internet." It's December, 2008. Jochen Hummel has been working as sales rep at Schätzle for just one month when he share this message with company owner Ansbert Schätzle. The content is no news to Ansbert at this time, it was him who had run first tests on the online marketplace eBay. Thus, Jochen is knocking on the right door with his suggestion.
The change to eCommerce and the website tessamino.de would later be the biggest of a number of changes, which has been a clear thread running through all 125 years of shoemaker family business Schätzle's existence. "Tessamino is the future of this company, its new identity," says today's executive team about their decision to get the business online.
I am always fascinated by longstanding family businesses, by their ability to adapt to changing tides. I imagine the immense pressure to uphold a legacy, the fear of failing. Ansbert knows this situation. He's struck by a sentence of his grandfather Hermenegild, which left as strong a mark on Ansbert as an entrepreneur as anything else: "You sow with tears, you reap with joy."
It takes guts and commitment to change direction. That's exactly what Schätzle did to stay afloat for more than a century. "Only with change you can stay true to yourself," Jochen claims. Furthermore, he explains how his company manages to mate resilience with their actual company slogan "quality by tradition". And how they succeeded in the end, despite a late introduction to eCommerce.
From the basement to the factory
Ansbert Schätzle's great grandfather, young shoemaker Hermenegild Schätzle, started serial production in 1890. He had just returned from a disappointing trip to the US. There he had planned to learn the batch production from Americans but saw nothing of interest. Back in Germany, he puzzled out processes for the production of larger quantities on his own.
The concept of large-scale production was a big challenge in Hermenegild's times for the established shoe industry, which was focused on one-offs. As Jochen tells us, merely making ends meet must have been hard back then: "Until deep into the 80s, today's owner Ansbert ran up and down the hills to sell his shoes in the villages. But he was successful, shown by the fact that in 1987 the production was still running." Now, however, in the third generation, in rural Tuttlingen, not far from the Black Forest, "aloft, high on the Swabian Mountains".
In that very year, the founder's grandson, Helmut Schätzle, passed on a much bigger business to his son Ansbert, along with a factory. But the company was on the ground back then. Ansbert, only 22 years old, had to decide if he wanted to start from the bottom and build up the business again. He faced the task and runs the company ever since.
Production or retail
First Ansbert tried his luck as a mere shoe retailer. He sold rather unknown, high quality shoe brands in his store in Deilingen. After a few years as a retailer-producer-hybrid, he returned to mere production. By outsourcing some processes to a Czech subsidiary the company jumped to new dimensions of profitability. At the same time, the handmade production was never affected by the changes.
The know-how for perfect shoes has been passed on within the family for a long time. Eventually, it resulted in a cooperation with a major German healthcare-manufacturer, for whose semi-orthopedic shoe brand Natural Feet Schätzle took over the production.
With the purchase of Natural Feet in 2006, Ansbert wanted his own company to cut surface like a submarine. To shape it from a reliable supplier to a strong brand with high visibility for the retail market. Today, the B2B branch is one of two mainstays of the Schätzle company.
Returning home: innovation from inside
The second pillar of the Schwaben is still in the works but it is gaining more relevance with every year and is likely to become the gravest influence on Schätzle in 125 years of existence: their online shop tessamino.de.
With first steps taken on eBay in 2009, with an own Amazon shop in 2010, and the decision to set up their own platform in 2011, the market of end-consumers came into tighter focus.
According to Jochen, the following description suits both Ansbert Schätzle and the spiriti of the enterprise he embodies: "He gets the things done, including changes and innovation."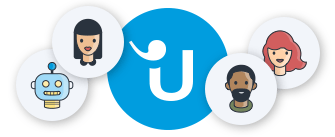 Looking for better customer relationships?
Test Userlike for free and chat with your customers on your website, Facebook Messenger, and Telegram.
Read more
Four years later, Jochen still calls their webshop their "baby", however one "that is now growing up. The figures are terrific, our marketing efforts are paying off and the customers tell others about their positive experiences. Tessamino is the company's future, it's new identity."
Jochen reveals that from email signatures to neon signs on the company's headquarters and factory buildings, everything has been changed as part of the reframing. But that's not all.
The product development has been moved from the Czech Republic to Germany. For Jochen, this is a logical step because as the management sees things, new processes shouldn't be left to agencies or subsidiaries thousands of kilometres away. "Innovation should always come from inside. This means that you bring talent into the company instead of outsourcing processes to external specialists."
After we saw how much emphasis Tessamino puts on innovation and flexibility, there is little reason to believe that the courageous entrepreneurs from Schwaben won't reinvent themselves once more. Watch out for them in the future.