How Mister Spex Turned Competitors into Partners — and Conquered the Market
Mister Spex is one of Europe's leading online opticians, offering the most comprehensive range of directly available designer glasses and sunglasses. They are selling to eleven different countries with establishments in Germany, Sweden and Norway. Their start was well-calculated, but still put the founders in a tense situation that could have made the whole project fail. Co-founder and CEO Dirk Graber took his time to tell us how they managed to avoid an early collapse when the financial crisis hit hard.
How did you start out?
At the end of 2007, the only thing that my partners Björn Sykora, Thilo Hardt, Philipp Frenkel and me knew was that we would enter eCommerce. But we had no idea with what product – not until we analyzed the market and growth potentials of various industries.
We decided for spectacles, convinced by the humongous target group and high margins. None of us had any experience in this industry, however. I did work in various eCommerce companies before – which ignited my aspiration for starting my own – but Mister Spex was new ground for all of us. In 2007 we founded the company, launching our online shop in 2008.
Our first office was in Berlin, in a place called "Backfabrik" in Prenzlauer Berg – a vibrant district with lots of innovational spirit. With eight people on board we were rather well-staffed for a startup. We were four founders, two IT-guys, and two employees with a business background. Soon several interns and freelancers joined us as well.
The IT-guys did the programming, Björn and me pretty much everything else. We wrote business plans, spoke to investors and retailers, prepared the first packages, and pushed the first marketing measures. In the first year, we only worked with a few business angels, but at the end of 2008 we needed investors to take Mister Spex to the next level. That's when the financial crisis hit…
Did this harm your plans?
Lehman brothers filed for Chapter 11 bankruptcy in September of 2008 – just when we were looking for support to really go through the roof. Finding any investors was tough. We already had a few employees and feared we wouldn't be able to go on with Mister Spex.
Around Christmas we then finally got the liberating "YES" from investors to support us in the following years. It was an emotional turnaround, given the circumstances – and the best Christmas present I could wish for.
Glasses are fashion items. Still, the medical aspect is part of your product. How did you manage to combine both?
Our partnerships with local opticians really did the trick here. They enable us to offer our customers additional services – like eye tests, spectacle fittings and contact lens fittings. These things need to be done in person.
We're constantly growing our local partner networks to be able to offer personal service within a short distance from every customer. That's our goal. So far, we've partnered with 550 opticians in Germany, Austria and Switzerland combined.
These local opticians could also be considered as competitors. How did you convince them to join you?
We aimed for the best overall bundle as a USP early on: good prices, a great product range, and personal service. This meant had to convince both investors and local opticians at once – without having a final agreement with either of the sides. That was tricky.
Everyone in Mister Spex supported the partnership idea. We first targeted our investors, who we convinced with our strong team, early growth, the attractive market, and ambitious plans and ideas.
Many of the local opticians decided to partner with us because it was a way for them to enter E-commerce without any costs – risk free. It brings them extra business through the services in their store for Mister Spex customers. We could also prove with some research that most of our customers didn't know the optician before – so we've never been eating their lunch.
When did you realize that things would work out?
I believed in the idea of Mister Spex from the first day on, obviously fueled by our prior calculations. We knew it was a great idea, but it wasn't until the first investor backing us that I was sure Mister Spex would be a functioning business.
The first financing round was extremely important. Without it, the idea could have fallen into oblivion after the first year. At this point we already had first contracts with partners, we had customers and employees. We had taken responsibility. Letting all these people down would have been extremely painful.
How do you take responsibility of a consistent spirit in your company?
We've developed certain core values for our company. We felt it was important to record those and communicate them openly. Respectful treatment of each other is one such point. Also to be customer-oriented but remain agile.
With short decision-making paths and a flat hierarchy, we foster a modern company culture. We give our employees the freedom and responsibility to come up with and follow their own ideas. Mistakes are okay. As a leading person I have to both challenge and support my employees, to see if they need assistance or encouragement. Our effort to take the business to the next level is a collective one.
How does this help with attracting the right people?
We simply search for people with ideas and passion. Employees who believe in the ideas behind Mister Spex. For such people we have the right place. It's not always about finding the ones with the best degree or the longest stay abroad.
You aired your first TV commercial already in 2009. What were your overarching marketing strategies?
You aired your first TV commercial already in 2009. What were your overarching marketing strategies?
We used TV ads at an early stage to reach a high level of awareness within the first two years. It worked out well. Still, we continuously test different campaigns in a marketing mix to see what works best on which channel.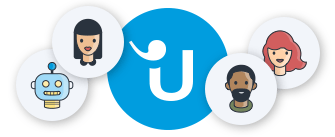 Looking for better customer relationships?
Test Userlike for free and chat with your customers on your website, Facebook Messenger, and Telegram.
Read more
Now expansion plays a big role for our growth which is almost entirely organic. We only open new shops in countries that are attractive and have potential. If it makes sense, we occasionally purchase other businesses. That's the exception to the rule, though.
How has your company changed since 2007?
We moved offices within Berlin in 2009. We needed more space to enlarge our logistics, the storage facilities and our workshop. Other obvious changes are the number of employees (now: >300), and our revenues (€65 million in 2014), both of which have been growing year after year.
As a high-growth company, we face the daily challenge to forge new structures. That's inevitable if you want to make the step from startup to medium-sized company - without losing creativity and flexibility.
Is this a typical mistake of eCommerce businesses, to get stuck in the initial setup?
I think their biggest mistake is organizational blindness, yes. It's problematic to not bring your own product into question on a regular basis. And to not collect feedback from customers and competitors. It's always worth it to put both new ideas and established concepts to the test.
Finally, can you share three tips with other entrepreneurs?
Take the chance to tell others about your idea and keep on collecting feedback.
Build up a strong, motivated, versatile team.
Don't be scared of big goals and hard challenges.