Aponeo's eCommerce Story: How Success Cured the Non-Believers
Berlin in 2004. The dreams of German pharmacist Konstantin Primbas' seem to fail. He can't sell medicaments with his brand new online pharmacy because administrative bodies have not yet granted their permission. He can't expect support from colleagues from local pharmacies either. They don't like his plans. A mail-order on the internet - that's far away from how many pharmacists picture themselves. On top of that, Primbas' new business premises are in fact a "dark and narrow". It's the basement below his stationary pharmacy, which he keeps on running.
Was it all a big mistake? Should he pull out now, while he still can? For a moment, Konstantin thinks back on the day that propelled him on this journey a few months before.
Germany had just passed a law that allowed local pharmacies to operate as mail orders and thereby lifted a bunch of restrictions all at once. Flicking through an edition of Germany's most popular test magazine Stiftung Warentest , Konstantin stumbled on a test of online pharmacies. Their bad results call him to action. "I said to myself: 'Next time, I'll be on that list, with good grades.'"
If he'd known at that moment just how much headwind he'd soon get, how many spokes he'd get put in his wheels, and how many times he'd be an inch away from giving up - he would have probably just moved on to the dishwasher test on the next page. Which would have meant that we couldn't share a real winner story with you today.
Luckily, Konstantin didn't know what was awaiting him. Optimistic, he went looking for a credit from banks. "I handed in business plans and told them I would run a viable €21 million business after three years and four months." He said he'd sell anything labelled with a central pharmaceutical number (CPN) online. Not from a limited own limited stock, but from the range of all products available at four big health product wholesalers nearby.
"To have the biggest range of products out there," Konstantin explains his approach. Furthermore, he wanted to put special emphasis on consulting and and good services. "I didn't want to be an anonymous site on the web where you simply buy something. Aponeo was meant to be tangible and responsive for the customers. We wanted to empower people to talk with us about the products when they had a question."
€21 million, that's ten times more than the average German pharmacy makes a year. Maybe that's why banks only smiled at his proposition - his growth target was enormous. "Everyone told me it would never work", Konstantin recalls. "My business plans were solid, but they lacked a successful reference. I told the banks that my goal was to become that reference, but it didn't help."
Even his house bank - which knew him well - didn't fancy the risk. They only granted him an extended bank overdraft, which he accepted with high interest rates and private debts. "I believed in my idea."
Forced to start lean
Reviewing his options, Konstantin understood the importance of the technical component early on. He wanted several top-notch programmers to create a complex back-end for the shop he had in mind. The thin funding, however, dictated a lean start.
"By coincidence, I got my hands on four very talented programmers. They had been dissatisfied with their previous employer and quit their jobs. I promised to pay them more, but couldn't offer much given our situation."
Konstantin asked what they wished for apart from the salary. Their answer was "funny and shocking": "They only wanted three things: Not to work on Christmas, more than ten vacation days per year, and less than 80 working hours per week. I thought: 'where the hell did these guys work before? Hongkong?'" In retrospect, and ironically so, their previous situation was what made Aponeo happen.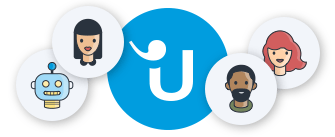 Looking for better customer relationships?
Test Userlike for free and chat with your customers on your website, Facebook Messenger, and Telegram.
Read more
Despite their humble personal demands, on the other hand the programmers did have a long wishlist of tools and equipment that they needed for their work. "They believed in my project, but wanted to see how serious I was. Whether I was willing to invest what I had."
While the development department was pretty sublime for a financially limited company, its first office perfectly matched that image. "We used the basement below my stationary pharmacy. Down there, it was dark and narrow. Moving out was among our first goals," Konstantin laughs.
Silencing the doubters
Unfortunately, they didn't have a license to sell medicines yet. "The responsible administrative bodies scrutinized what we were planning. After all, online pharmacies were at that time a mostly unknown phenomenon in Germany. So, the audit took time."
At that time, Aponeo already met all restrictions that German law had in place for online pharmacies, such as having an authorized pharmacist on board and belonging to a stationary pharmacy. The administrative bodies' audit took five months. Without a license, Aponeo was restricted to permission-free products, like blood pressure metres. With only such products they couldn't pose a viable alternative to physical pharmacies. Nearly half a year of meager revenue were the result.
When the license finally arrived they quickly expanded their stock. Now they were able to execute the initial plans they had for their shop: make it a large healthcare store on the web, with a wide assortment and good support. "Customers who need a thorough consultation talk on average over ten minutes with our pharmacists on the phone. They do so to the point of discussing the patient information leaflet together. Find me a local pharmacy where you get ten minutes when there's a queue forming behind you."
The long term goal was to become something like the premium option in online pharmacies. Simply offering cheap items, "anybody could do that", says Konstantin. "This leads to a price war, and being the winner of a price war, for us that's a questionable unique feature." They'd prefer to offer unique quality. "We wanted to be the shop with the best quality and the best employees, from programmer to druggist and pharmacist. To build genuine trust, which people search for in a pharmacy. You just don't accomplish that by constantly trying to undercut market prices."
Instead, Konstantin went looking for niches in which he could create added value. He found this in homeopathics, for instance. A field which is not occupied by many online sellers. "Again, we stressed good service and quality. If necessary, we compose globules in smaller quantities than usual. We cater people's needs. They thank us by becoming loyal customers. They become regulars."
To make loyal customers that stay. Providing supreme quality for them is our key to that. 80% of our customers are female. We adjusted our shop design and functionality to this traditionally more loyal customer group. That's the quality we strive for."
With their new, much broader product range, resulting from getting the license, and their approach of customer consulting and care, their revenue soon grew. Aponeo picked up pace immediately. After a relatively short time, the company was breaking even. The revenue goal of €21 million per year, which Konstantin had predicted the banks, grew to currently 200 percent - €42 million, and counting. Same goes for the workforce, which is growing as well. At the moment, Aponeo is hiring again, in all areas.
Looking back
A decade in business, Aponeo benefits from having bet on a visionary idea. 3,500 out of Germany's 20,000 (initially sceptical) pharmacies run a mail order. The later they entered the market, the more the first movers had already become established in the market.
Today, the administrative bodies turn to Konstantin's 80-employees-company as a reference. An example: their self-made, widely automated system for packaging and logistics is much sought-after among pharmaceutical retailers, many of them from outside of Germany. Teaming up with another company, Aponeo had developed a prototype for the acquisition and distribution of wholesale goods. It operates in highly confined space.
In 2014, Aponeo reached the top three in a listing of "Stiftung Warentest", a decade after Konstantin had declared this an objective. Considering Aponeo's overall success, it seems like a footnote. For the company's founder it's "not more than another starting point from which we'll go further. Even if the personal satisfaction is nice."