SAXOPRINT's Content Marketing Formula to Becoming a Printing Powerhouse
From starting out as your classic copy shop around the corner, Dresden-based SAXOPRINT has made its way to become Europe's leading printing house. Marketing director Stephan Strehlow and managing editor Robert Block, in the company since 2012 and 2013 respectively, let us in on how SAXOPRINT transformed from a modest SME to a big brand in eCommerce.
How did you start out?
Strehlow: It all started in 1999, when entrepreneur Thomas Bohn bought up a stationary offset print in Dresden. It was your typical copy shop around the corner, but he already had a vision for it. He immediately started building a sales network. He didn't only want to serve the local cab company with copies and the likes, he wanted to get the big customers, especially from the B2B sector. Drop-in customers kept coming in, but behind the scenes Mr. Bohn was building industrial and commercial partnerships.
Today still, a great number of our biggest customers are what I'd call 'hidden champions of the middle class', such as the global leader in dental drills — even though their name is completely unfamiliar to the public. Such companies have a huge demand for image brochures, office supplies, and product catalogs. That business model basically kept the company going until 2006. Then there was the first sea change.
What did that sea change look like?
Strehlow: This year, we celebrated our online shops 10th anniversary. In 2006, the company launched its first online portal, meindruckportal.de. The idea was to offer products and services Germany-wide. Our customers at that time were mainly interested in business supplies like stationery, brochures, and cards. With our new reach, the company also grew in its quality standards and the business model was changed.
From then on, the already internet-minded businesses became especially interesting for us. The ones already using the first smartphones back then. Naturally, many of those were creative agencies, which are still a reliable customer base to the day.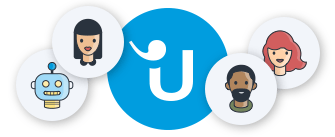 Looking for better customer relationships?
Test Userlike for free and chat with your customers on your website, Facebook Messenger, and Telegram.
Read more
Also, the stationary shop was discontinued and casual customers were no longer served. So, with the online portal the existing distribution network and visibility in the digital world shifted into focus completely. In 2007, the UK portal went online. In 2008, websites for France, Spain, Austria and Switzerland followed. Of course they'd look at what the big competitors were doing, and all of them were on a course of internationalization. That's why SAXOPRINT obviously wanted to be among those first movers in the industry. Moreover, these markets weren't as densely covered at that time as they are today.
Fairly soon after our initial launch, it became clear that the online industry was developing at a stunning pace, with scores of new competitors entering the market and supply continuously growing. A testament to this steady change is that we had three big website relaunches within the last 6 years.
You said that you looked at what competitors were doing to keep up. How did you set yourself apart from them later on?
Strehlow: I would say that especially in the last two, three years, a high level of self-analysis and reflection on the company culture has been introduced at SAXOPRINT. This included a real commitment to the brand SAXOPRINT. This process, which is still in the making, is supposed to eventually result in a complete corporate identity, visible at all levels — to employees as well as to the outside world.
In our communication, which includes our catalogue, our website, as well as TV ads, SAXOPRINT is represented by its own employees. With this, we add a personal note to the topic of online print. We show how all people in our company fully identify with what we do here.
Block: This development was definitely fueled by our site's relaunch in 2013. We overworked the whole appearance of SAXOPRINT. The look was streamlined and modernized, we established a corporate design and took it to the market, too. All of this enabled us to communicate in totally new ways as a brand.
What actual marketing measures did you take to make people aware of your new image?
Block: With the site's relaunch in 2013 we also wanted our blog, named Printblogger at that time, to move closer to our brand SAXOPRINT. So we renamed it to " SAXOPRINT-blog ". This suited our overarching development to a confident brand that could, with its know-how, appear as a communicative authority to the target group.
We were one of the first players in our industry to implement an elaborate content marketing strategy. By now, we've also had some considerable success in rather indirect campaigns. Like the "Creative Awards by SAXOPRINT", in which we teamed up with environmental organization WWF France to call up the creative industry of France to design material for a campaign against climate change, in 2016 particularly for the protection of the oceans. Again, this is a way to strengthen our public authority in industry-related areas like design, layout and environmental issues.
Strehlow: The blog is a great instrument to also feed newcomers and laymen with our content, and hereby strengthen the name of the brand. Of course, through the big SEO visibility of the blog, we can as well strongly reinforce our products and our SEO value.
This approach is flanked by high activity on social channels. That's essential to be visible as a human company. Even when there are many individual customer support inquiries, we want to answer all of them. But we obviously prefer questions inside our areas of expertise that carry value to other followers — like a public discussion about this year's hippest color. So we don't consider social channels as much as an extended arm of our customer service as we view it as a platform for interaction about topics that engage our target group.
How do you make sure your marketing activities eventually connect to your economic goals?
Strehlow: Of course, our marketing strategy must reflect in our main goals as a business: sales increase and acquisition of new customers. We don't want to just sell products come hell or high water. We want to take our new customers' hands and accompany them on their way to the perfect product. Our marketing strategy is meant to highlight this and connect it to the brand SAXOPRINT. Which only works in connection with clear KPIs, measurement of success and knowledge about what engages and drives the target group. We work systematically at any point in this.
In fact we have always had an eye on things like how many backlinks were generated, do we see traffic variations on our website, how many users visit via mobile, how many don't, and what does this all tell us about our potential target group? It's a point that's tremendously complex in the digital context. But quite a few times, we definitely managed to draw the right conclusions and deduct the right decisions.
Do you remember cases when you drew the wrong conclusions?
Strehlow: By the dozen! Obviously, that's part of it. You just have to learn from it. Especially in the UK and in collaboration with external partners, we often experienced that our needs as entrepreneurs weren't sufficiently represented. Or that a partner failed to keep up with our development pace. We usually part fairly quickly in such cases, because we simply don't have that time.
It's normal that 50 percent of things go wrong. But the next attempt has to be better and issues can't repeat endlessly, so that they ruin you over time. Then you'd break the measure's neck in terms of effectivity.
How do you find talents, how do your marketing measures contribute to that?
Strehlow: A lot in this depends on the area. We don't have any problems finding talents for production, financial accounting, and human resources. Dresden is well-positioned in the IT area as well, with its renowned universities. But looking for someone with experience in digital marketing, who's also a Spanish native speaker, that poses a challenge. We have an office in London, which is especially helpful when it comes to attracting international talent.
The name SAXOPRINT is a good name within the industry though. With around 500 employees overall, we're certainly one of the top players in Europe. Apart from the size of our company, we notice our standing when we see how competitors copy us, often audaciously. There's this Algerian printing house, for example, which complete copied our frontend! We often see things like that. Anyway, we're being eyed, and so is what we're doing.
Block: Obviously, campaigns like the one with WWF make you more attractive as an employer as well. Visibility measures in our region also help. We established partnerships with sports clubs in Dresden, covering the most important sport types — football, American Football, basketball, etc. Furthermore, we're active in cultural organizations to strengthen our bond to the region. We also invest in our employees and allocate a certain budget to further training.
What will be your next steps?
Block: In marketing, we are considering launching blogs in more languages than English and German. Our priority will remain on publishing well-researched posts on all platforms, but maybe we'll expand our content variety topic-wise while also being active on social networks like Facebook. As a company, we obviously want to maintain and reinforce our great position on the market.