9 Digital Recruitment Tactics to Win the War for Talent
Just as the internet has changed peoples' buying habits, it has also changed how people make their employment decisions.
Exploring a business's website, reading online company reviews, checking a potential employer's social media - these are just a few examples of the actions that most everybody now takes during their job search. This has profound implications for companies in every industry. Companies that adjust to this new era of digital recruitment, that actively shape their online persona and adopt the right tools, will win the war for talent.
As for the companies that fail to adapt? They will look stale and outdated in comparison, will increasingly fall behind the competition, and will be left with...well, the leftovers.
Read on to prevent that from happening to you.
Digital recruitment: what you need to know
First, what is digital recruitment?
While there are numerous ways of defining it, here's our own view at Userlike: digital recruitment is all about using digital technologies to attract and hire candidates for a job opening.
This definition differentiates digital recruitment from the recruitment of the pre-Internet, which was slow, inefficient, and generally limited to employees already in the area. Setting up a systematic digital recruitment process is important for three main reasons:
1. The majority of your future employees are looking for their next job on the internet
Over 80% , to be exact. That's not to say that old recruitment tactics can't still work. Job fairs, referrals and even cold calling still have their time and place.
But the days of people deciding purely on analog inputs are long gone. The fact is, recruitment in the modern world is digital. Your future workers are online; it's your job to find them – or be found by them.
2. Your prospects are constantly interacting with your company online
Just as a lead goes through a specific process before becoming a customer, so do your potential hires when interacting with you.
Whether you're actively focused on it or not, people are collecting information online to assess whether your company is a good place to apply. For example, the majority of candidates will visit your website before applying for a role, and one of the first steps of researching a new role includes reading online reviews of the company.
A digital recruitment strategy embraces this reality. It allows you to better meet your prospects where they are with the message that they need to hear before engaging with your job advertisement. For more background on how you do this, check out this piece on the "recruitment funnel."
3. Following this checklist removes bottlenecks that prevent you from building the right team
Digital recruitment is both faster and cheaper for your organization compared to methods of the past. In addition, with the greater reach that digital affords you, your company can bring in higher quality candidates better suited to the role you are trying to fill.
Plus, with a few tactics in place, you are no longer overly reliant on headhunters. And let's be honest: while headhunters can be good for your organization , they are only valuable for a limited time and rarely understand your business (and who would be a good fit for it) as well as you do.
Of course, before you go about implementing this checklist, here's a very important reminder: you're dealing with people. As important as digital recruitment is for your company's success, these are still real people with real lives behind the screen. They have needs beyond just a paycheck. This includes certain "intangibles" like autonomy, purpose, and feelings of self-esteem and belonging.
In short, your workforce needs to be happy. Keep this hierarchy of needs in the back of your mind as you are going through these actionable digital recruitment steps.
Tactics for digital recruitment mastery
1

Write blog articles about your company culture
People want to know more about your company. They want to get a feel for what it's like to work for you, as well as what they can expect from a position. Depending on the kind of posts you create , they can give interested prospects a viewpoint they don't often get during a digital application process.
Our own example at Userlike is our post on company values , which is an article that creates thought leadership. It also conveys to applicants that Userlike works deliberately towards creating a good work culture and that this is supported from the top (it's written by our CEO).
2

Keep an Instagram wall for behind-the-scenes

In one study, 79% of job seekers said they were likely to use social media to find their next job. This makes it a huge missed opportunity if your company isn't active on at least one platform.

Instagram is a great opportunity to do just that. The platform's focus on pictures gives potential candidates a chance to see a different face of your company. It's also a great chance to influence the public's view of your brand.
We know this from our experience with Userlike applicants. They often tell us that they checked us out on Instagram and got the impression that we were a nice place to work at.
3

Be transparent about your application process

Not only is a transparent application process respectful to candidates, but it's a way of managing your online track record. After all, 75% of applicants will research a company's reputation before they apply for a specific opening. Negative reviews based on an unprofessional or unclear application process are one of the quickest ways to ruin yours!
What does this mean in practice? For one, people should always know what happens next when applying for a position with you. This keeps expectations clear and wins you respect in the long run. You should also clearly state in the application the things applicants are most likely to care about like salary range and ay-to-day responsibilities of the role. Not only are you being honest with your applicants, but you're doing yourself a favor by avoiding hiring the wrong candidates!
4

Be gentle with rejections

Application rejections are inevitable; how you handle them as a company is essential. People receiving a rejection can become agitated or even angry, and this is the time they are most likely to leave a destructive review of your company online.
That's why we make it a point at Userlike to always use the phone when terminating somebody's application. It lets us answer any questions the applicant has about their rejection in real time and allows us to part ways kindly. Take it from me: there's nothing worse than an email that looks like it came from a heartless robot - especially if it's a rejection email!
We always keep a good relationship with rejected applicants. In the tech industry, we are open to re-interviewing them after six months. Down the line, they may have developed the skills we are looking for in the right candidate. We add them to our newsletter so they can reapply for job posts after upgrading their skills.

Vipin Nayar, Digital Marketing Consultant at Acodez IT Solutions
5

Create a powerful 'About Us' page

Your About Us page is a great opportunity for you to introduce yourself and win the trust of potential applicants. The internet can be a very anonymous place. Unless you are a well-known company, it's likely that many people interested in applying don't know a lot about your company. Your About Us page is where you change that.
A great example comes from Lime, our parent company. They use a video on their "About" page. This is more engaging than your typical written format, and even uses a bit of humor to better connect to people wanting to know more about them. This creates a great first impression for any interested applicants.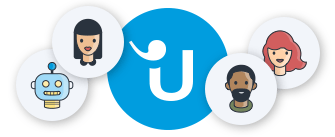 Looking for better customer relationships?
Test Userlike for free and chat with your customers on your website, WhatsApp, Facebook Messenger, Telegram and SMS.
Read more
6

Open up messaging channels

There are many benefits to using messaging channels for your digital recruitment. Take WhatsApp as an example. Compared to average email open rates, which can be as low as 12% , WhatsApp provides open rates as high as as as high as 98% . This almost guarantees your messages get read.

Plus, not only does WhatsApp make it easy for talented candidates to respond to job opportunities - it adds to the image of your company, too. Using messaging platforms for recruitment is a relatively new trend. By embracing it, you are showing candidates a company that is both modern and practical.

Take our customer Avenga as an example. As an IT company focused on digital transformation, they know what they're doing when it comes to digital recruitment. Avenga implements the Userlike product to help with their hiring processes, and have had great results from it.
While digital recruitment can be hard without the right tools, website chat and mobile messaging make it easier. Check out our post on using WhatsApp for recruitment for more specific strategies.
7

Get started with outbound

Your best employees are often the ones that already have a job. This means they are often not actively searching for new employment and likely won't come across your opening.

That's where outbound comes in. This typically includes some paid form of advertising on a platform like LinkedIn or Xing . With their targeting options, finding the right fit for your open position has never been easier. Of course, your messaging (especially with somebody already gainfully employed) has to be effective. It's our experience at Userlike that for critical positions, e.g. Senior Developers, it's useful for our CEO to reach out personally.
8

Maintain a pipeline of applicants

In many ways, the recruitment process for your company is a numbers game. That's why setting up a recruitment pipeline is so important. By establishing a clear process that candidates go through and constantly bringing in new leads to fill your pipeline, you turn your hiring process into a system. This makes it easy to reliably hire new talent in a timely manner.

After all, as the number of applicants increases, so does the chance of disorganization. A pipeline lets you organize the process so that you can keep track of all candidates, understand where each is in the application process, and get an overhead view of your organization's hiring needs. We use Pipedrive to manage our pipeline at Userlike, and it's allowed us to keep our hiring efforts efficient.
For Lime to build and maintain a pipeline of relevant applicants we work actively with our employer brand to increase brand awareness among student. We build long term relationships with universities and student organizations, give guest lectures at relevant academic courses, participate in various job fairs, host events at our offices, organize Easter egg hunts and Trick-or-treats at campus, and post recruitment ads on relevant social media platforms.

Eva Boynton, Technical Recruiter at Lime Technologies
9

Ask your employees to leave ratings on platforms like Glassdoor
This is a proactive way to manage your company's public image. Assuming you are a good company to work for with a pleasant working atmosphere, it's only natural that people should hear about it. After all, rating sites like Glassdoor are one of the first places people will look before applying with you.
But how do you effectively encourage employees to leave you ratings in the first place? Check out this guide by Glassdoor . In it you'll find a range of templates you can use when asking your workers for ratings.
Ready to step up your digital recruitment game?
Effective digital recruitment comes with transparency. You need to show people what it's like to work at your company and what they can expect once landing a role.
Remember this: information you provide as a company appeals to workers' desire to make an informed decision about their future. By implementing the checklist above, you also have the chance to confront your company's shortcomings in a healthy way. Whatever they may be, your digital recruitment should center on your company culture and how to build one that people want to be part of.
And if you need help quickly reaching your dream team in a way that no other tactic compares to? Get started with the WhatsApp API by contacting us via chat.