The Ultimate Guide to Digital Lead Generation
Digital lead generation is the process of attracting online users to your business and nurturing them over time until they become a customer.
Generating leads is one of the most important processes for a business to get right because it's the first step in making sales. Fail here and it's all an uphill battle to stay profitable.
This guide will cover everything you need to know about digital lead generation and the most important strategies to implement right away.
​
1

Effective lead generation is online, inbound and funnel-based
Modern day lead generation is usually synonymous with "digital lead generation." While there are a few offline tactics you might consider like in-person events, phone calls and direct mail, our focus in this guide will be online tactics.
Generating leads online is often easier and more profitable than offline methods. It's also smarter because it focuses your efforts on where your prospects actually are.
First, it's important to remember that your website is essential to succeeding in lead generation. This is often the first impression potential leads will have of your business, so it needs to be clean, fast and mobile-responsive.
Second, effective lead generation requires understanding the difference between outbound marketing and inbound marketing. Outbound marketing focuses on actively finding customers and is most often associated with paid ads. Inbound marketing, meanwhile, focuses on getting customers to find you.
Some businesses prefer outbound marketing because it can produce instant results, while inbound marketing is more of a slow burn. Still, we recommend inbound marketing for businesses. It earns more loyal customers over time - not disruptive (and unpredictable) quick wins.
By earning the buyer's trust and shaping their thinking by providing free value (usually education) during their research phase, you can greatly increase your conversion rates.
Finally, before you get started with lead generation, you need to understand the modern buyer's journey. This can be easily visualized through a lead generation funnel .
At its most basic, a lead generation funnel is split into three stages:
Lead attraction, in which you make a potential lead aware of your business.
Lead capture, in which you convert this new prospect into a lead.
Lead nurturing, in which you engage with them, deepen your relationship and move them closer to becoming a customer.
The value of looking at your lead generation like a funnel is that it lets you strategically provide your audience with what they want based on where they are in their own journey. The way you approach a new site visitor, for example, should be different than how you treat someone that's asked you about a product trial.
Effective digital lead generation requires a customized approach; organizing your strategies across these three stages makes this easy to do. Let's now take a look at these strategies.
Relevant articles
2

Lead generation at the attraction stage
In the attraction stage, your objective is to introduce yourself to new prospects. This usually happens on your website.
It's useful to point out here the difference between qualified leads and unqualified leads. Before a prospect actually becomes a lead, you don't know anything about them. They are an "unqualified lead" and need to be educated about both their problems and how you can help them.
Content marketing
For inbound marketing, content marketing is king. In fact, the Content Marketing Institute considers content to be the single most important part of lead generation. While "content" is most often associated with blog posts or videos, it can really be anything that is somehow valuable to your audience.
Typically, a good content strategy not only educates new prospects but also wins their trust regarding your value as a company. This is what "10X" content is all about: providing the value your audience wants. Not focusing on your company first and how you can help them. It's also important that you match the content that you create with each stage of the funnel.
As for how you actually make great content? The first step is to understand your audience and what they need. You learn this by researching your audience via keyword research, looking at their activity online with a tool like Answer The Public and simply spending time with them.
Of course, make sure you don't lean on cheap tactics like keyword stuffing or low quality articles from content mills like Fiverr. High quality content is exactly that. Solve your reader's problem and do it better than any other article they can find on the internet. This will put you well on your way to content that converts.
Still struggling with the right kind of content to post? Remember the 80/20 rule: 80% educational content, with only 20% self-promotion. This ensures you are providing value first and foremost.
Search Engine Optimization
SEO is important because it allows you to be found by more people who otherwise might never discover what you have to offer. More importantly, though, SEO also speeds up your lead generation results. By getting potential customers to come to you first, you establish yourself as a trusted resource on a topic and warm people up to a potential offer down the road.
The most important aspect of SEO is creating content that accurately addresses the audience's search intent. Well-researched, relevant content not only drives targeted traffic to your website, but makes you easier to find over time as you establish yourself as an authority on the topic.
Of course, SEO is not just about making good content. For useful background information, be sure to read up on the different kinds of SEO as well as some best SEO practices. You should also check out our post on SEO-based lead generation. In it we cover the six different steps you need to go through to generate leads naturally through SEO.
If you are looking for a tool to help plan your SEO strategy, consider Ahrefs. This is your one stop shop for conducting keyword research and planning a content strategy that is in line with what your potential leads want. It's what we use at Userlike and is fundamental to our SEO.
Social media marketing
With billions of active monthly users, it's virtually guaranteed that a big part of your audience is on at least one social media platform, regardless of your industry. While there are several social media platforms that you might consider for digital lead generation, you need to determine which one is right for you.
Just like your normal content plan, make sure you aren't only self-promoting on social media. It's perfectly fine to post information on your paid products, but the first rule is always value. Focus on educating your reader and providing them with information that they might find useful.
Paid advertising
While I did mention that this guide to digital lead generation would focus mostly on inbound, paid advertising can be an effective tactic if you have the budget for it. Plus, certain forms of advertising (like Google Ads, which show ads relevant to what the person is searching for) actually are considered inbound.
The reason paid advertising is good at the attraction stage is that it can drive awareness of your brand. People that have never heard of your company before present a big business opportunity, and organic methods like SEO typically take a long time before you start to see the benefit.
Another positive aspect of paid advertising is that you can see an immediate influx of leads. The drawback, of course, is that you need to constantly pay to keep seeing results.
Relevant articles
3

Lead generation at the capture stage
In the capture stage of lead generation, your job is to actually turn someone into a lead. This typically happens by asking a site visitor to leave their email address so you can continue communicating with them.
How soon somebody is willing to give you their contact information varies, but the common denominator is the perceived value you can provide them. Just like the most successful strategy for attracting an audience, the best way to earn contact information is to solve their problems over time through the content you provide.
The difference is that at this point your audience trusts you more and highlighting the paid solutions or products you can provide will be more effective.
Lead magnets
After driving more traffic to your website or appealing to your audience with paid ads, it's time to get your audience's contact information. You can do this by using lead magnets, or premium pieces of content that are only available to people who give you their contact information.
Effective lead magnets address your audience's pain points. One of our strategies at Userlike is to provide lead magnets that match with our blog posts. For example, if you are reading one of our posts on the benefits of chatbots for your business, you will likely come across our lead magnet explaining everything you need to know about them.
One great strategy for this is to match your lead magnets to the topic of the landing pages you put them on. This ensures you are meeting the demonstrated interests of whoever lands on that page.
Struggling for your own ideas? Check out OptinMonster's guide to 69 different types of lead magnets for more inspiration.
Content marketing
Content at the capture stage should not only go above and beyond what your audience can find elsewhere, but should position them as a hero. Using customer-centric language makes it more likely that they will convert to a lead for further information.
Remember, people at the capture stage know who you are, but don't yet understand why they should follow you yet. Continue to create content that separates yourself from the competition through the value you provide.
Website chat
Chat is simply a great way to engage with people and turn them into leads. It is a natural way to keep visitors on your website, engage with them in real time and is even preferred by many of your customers.
In fact, what we've seen at Userlike is that the majority of our customers start with our product as a way of getting closer to their audience. Indeed, a tool like website chat that makes it easy to connect with potential customers is one of the most valuable assets you can have.
Not convinced? Check out our post on generating more leads with website chat for more information. And while you're at it, why not try a free Userlike trial to see for yourself?
Relevant articles
4

Lead generation at the nurture stage
In the previous two stages of lead generation, you have attracted an audience and captured them as leads. It's now time to begin building a relationship and warming up your leads to the idea of purchasing. Your audience has already demonstrated interest in what you have to offer - this is where you turn them into a customer.
Assuming the end goal of your digital lead generation process is to create revenue for your business, this third and final stage is vital. Get it wrong and the people you have spent so much time and effort converting to leads will never turn into paying customers.
The best approach for lead generation at the nurture stage is to further develop your relationship until they're convinced that buying your high quality product is a natural "next step" to solving their problem.
Email marketing
This is the backbone of turning leads into customers. Email is the only channel you have complete control over and gives you leverage like no other platform can. Build up a list and you can email them however often you want with a higher ROI than most marketing channels.
Here are some email fundamentals to keep in mind before getting started:
Value. Just like the rest of the digital lead generation process, you need to offer something valuable in your emails. This can be anything from new blog posts to insights you think your audience would benefit from knowing.
Segmentation. Your audience shouldn't be treated with a "one size fits all" approach. Only send them material you know they're interested in consuming. This is done through segmentation, which you can read about in MailChimp's segmentation guide.
Automated flows. Automation saves time and puts relationship building on autopilot (in a good way, of course). If you want the best results with limited time, set up a welcome flow and abandoned cart flow. These are two of the most valuable flows.
We use MailChimp at Userlike for our email marketing. While it's one of the more robust email service providers, it also provides a lot of features that most businesses don't need. Check out this TechRadar guide to choosing the right tool for your own goals.
Content marketing
Content at the nurture stage is fundamentally different than earlier in the funnel. Your leads are close to making a purchase decision and it's your job to show them how your product can help. This is done with highly targeted content like customer success stories and case studies, which give your future customers the social proof that they need to see before buying.
Creating customer success story videos is also a fun and creative way to get to know your existing customers better.
Another effective content type for lead nurturing is a product demonstration. This calms the natural hesitation people have before buying and addresses their objections.
Lead scoring
Just because leads reach the nurture stage doesn't mean they are destined to become customers. Depending on your industry, you'll be lucky to convert a fraction of leads at this point.
That's why lead scoring is so important: it lets you rank your leads in terms of value. You can then spend your time and resources on the ones most likely to buy and distribute your sales efforts to the right people.
While there are many tools out there that allow you to score your leads, we use Pipedrive. It's user friendly and allows us to see exactly who is most likely to buy and ready to chat with our sales team.
Relevant articles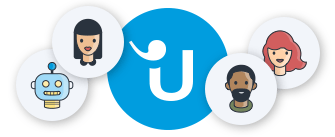 Looking for better customer relationships?
Test Userlike for free and chat with your customers on your website, WhatsApp, Facebook Messenger, Telegram and SMS.
Read more
5

Your tool for all stages of digital lead generation
If you want a tool that can help at all stages of your digital lead generation, look no further than Userlike. With our customer messaging solution, generating leads has never been quicker or more natural.
In fact, we've already helped thousands of businesses with their lead generation, including companies like Mercedes and Allianz. Lead generation is simply easier, faster and more enjoyable for your customers when you use website chat.
Sign up for a free Userlike trial today and experience the difference yourself!
All Userlike articles on lead generation