3 Ways to Deliver Great Phone Support
Delivering outstanding phone support is more important than ever. According to a recent Forrester report , excellent customer service in 2016 will take the form of a mobile-first mindset.
91% of adults in the United States own a mobile phone. It is then no wonder that analysts point to the growing importance of delivering great customer experiences over the phone.
Even so, poor phone support experiences abound. Whether it's an understaffed, 1950s-style call center or an unfortunate call queue experience with a certain airline, phone support has an often-merited bad rap. Fortunately, there are modern businesses like American Express, Nordstrom and Virgin America that are taking the lead on offering the kind of real-time, personalized phone support that modern customers want.
Here are three ways that your company can stay ahead of the game by delivering an effortless, modern customer experience over the phone:
1

Empower your team

Every company's most important asset in seeking customer service success is their team. Your call center agents serve as the voice of your company when your customers reach out. Bestowing this tremendous responsibility deserves careful thought;
Hire your staff prudently and take the time to effectively train new agents.
Empower your team to use their best judgement in customer interactions.
Use workplace best practices to motivate and engage them in what can sometimes be a high-stress work environment.
Remind your agents that every time a customer calls in, your business has an opportunity to not merely solve a problem, but an opportunity to deliver a fantastic experience.
2

Thoughtfully design your IVR

No one likes being stuck in a seemingly never-ending Interactive Voice Response system (IVR). Customers reach out to phone support because they want their issues to be resolved in the easiest and quickest manner.
Free Guide to Professional Communication in Customer Support
Download our free guide and master professional customer communication across channels.
Get your guide
The whole purpose of an IVR is to help route customers to the most appropriate agent or resource so that their questions can be answered without transfers and repeat calls. Mystery shop your IVR to determine whether it is adequately configured to suit the needs of all of your customers."
3

Integrate with your business tools

Today's customers expect a personalized experience catered to their unique needs. Integrating your call center software with other business tools, like your helpdesk, CRM, or live chat system, gives your agents a more complete view of each customer as they ring in. Viewing their transaction history or record of recent technical issues gives your call center agents the extra information they need to offer the kind of world-class experience that helps customers see that they are more than just a number to your business.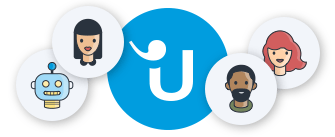 Looking for better customer relationships?
Test Userlike for free and chat with your customers on your website, Facebook Messenger, and Telegram.
Read more
Great phone support is best complimented with omnichannel support. Find out how to maximize your live chat and phone support combination in our upcoming webinar, How to Combine Live Chat with Phone Support , on Wednesday, February 3rd, 2016, co-produced by Talkdesk and Userlike.