The 9 Ingredients of a Successful Customer Success Program
Customer success is about helping your customers get the most value out of your product. When your customers achieve their outcomes, your business also reaps the benefits with long-lasting relationships that drive customer loyalty, retention, and growth.
For your best chances of success, you need to focus and coordinate your efforts in an actionable and measurable way, so you know you're on the right track. Here are the key ingredients for a customer success program:
1

Customer onboarding

Onboarding sets the tone for your relationship with your customer. When done well, customers achieve early success with your product and stay in the pipeline. However, when customers have a poor onboarding experience, many will simply abandon your product.
What success looks like will be different for each customer. That's why it's essential to understand each of your customers' goals and objectives, and what has to happen at each stage of the journey.
You could gain this insight, for instance, by interviewing newly converted customers or setting your key accounts up with account managers (more on this point later in the post).
But success isn't just about achieving long-term goals. In fact, it's the early moments that determine whether a customer stays the course or drops off. By making account registration effortless or gradually introducing new features with in-app tooltips, you give customers the feeling that they're making progress, however small.
One of the most valuable lessons I've learned as a customer success manager is that there is a sweet spot in the customer journey – the activation period, the first 13 days after a user purchases your product or service – and this is exactly where a new customer success team needs to focus.

Shira Hasha, Customer Success Manager, Opinion Stage
2

Ongoing training

Onboarding doesn't stop once you've introduced your customers to your product. You need to keep the momentum going to drive adoption and to make sure that customers don't drop off in the process.
Getting customers to the next level also opens up upselling opportunities. Your customers may have grasped the basic features of your product, but they'll need a boost to adopt additional features.
Customer education helps your customers to update their skills and gives them the tools (knowledge base, FAQs, self-paced learning academies) to find solutions to their problems. For your most valuable accounts, you could offer customized training with product demonstrations, whether in person or online.
As customers will have different needs, it's best to offer a variety of training resources available at each stage of the customer journey (pre-sales, sales, product adoption).
3

Account management team

According to the Pareto Principle, 80% of your business will come from 20% of your accounts. These accounts will require more attention due to the number of stakeholders involved and the complexity of issues faced. This is where key account managers come in.

Unlike regular support teams, key account managers take a more proactive approach with customers. By continuously checking in with them and resolving any issues before they arise, key account managers build trust and foster relationships.

The benefits of this are multifold. Your most valuable customers feel understood which makes it more likely that they'll stick with your product and be open to upselling opportunities. Your business protects its revenue margins, helping you to remain more competitive.
4

Open line of communication

In customer success, communication is the glue between your customers and your business. Having communication mechanisms in place makes it easier to identify issues early on and make improvements before it's too late. Transparency is crucial for building trust.

Website chat and messaging. As a customer success tool, website chat offers tremendous potential for supporting your customers throughout their journey. Customers may need additional information before they upgrade to a higher plan or help navigating your website. With website chat, you can quickly offer support right when customers need it.

For ongoing customer engagement, messaging support over channels like WhatsApp and SMS is ideal due to its dominance in private communication. Both live chat and messaging allow conversations to be documented, making it easy for you and your customers to resume conversations.

Feedback. Collecting feedback is integral to customer success. Without your customers' voice, your product team could keep developing features that are difficult to use or your marketing team could create tutorials that are hard to understand.

You could gather feedback via surveys, interviews, focus groups, etc. or in-app for instant and actionable insights.

Updates. Keeping your customers in the loop is crucial for maintaining good communications and building trust with them.
For customers experiencing difficulties with your product, unknown waits can feel torturous. A ticketing system can help keep your customer updated throughout the process and allow you to stay on keep track of the status of issues.
When feature requests are implemented, you could follow up with customers personally. Even if the request was on your roadmap, the customer will feel as if the feature was especially designed for them.
5

Customer representation

One role your Customer Success Team will fulfill is to consolidate customer feedback and provide insight into the needs of customers to other departments.

Customers will undoubtedly have a lot of complaints, concerns, and suggestions on where to take your product. Customer Success agents need to consolidate this feedback and share it regularly with the whole company so that all departments are working towards the same goal — to solve customers' pain points.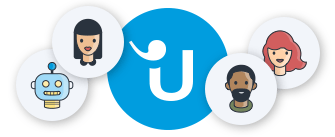 Looking for better customer relationships?
Test Userlike for free and chat with your customers on your website, Facebook Messenger, and Telegram.
Read more
You could take this further by adopting an 'all-hands support' approach to support. It's hard for product managers, for instance, to emphasize with customers when they're not dealing with their questions on a daily basis. Working a shift or two in support can help to bridge the empathy gap and identify improvement opportunities.
We all benefit from being in touch with customers. For example, as an engineer, it can be very powerful to see first-hand a customer struggling with a bug.

Joel Gascoigne, Buffer
6

Fire-fighting

Dealing with customer complaints will inevitably make up a good part of your customer success team's work. Unforeseen events can regularly occur, either on the part of the company or your customer and your customer success team needs to be prepared to solve such issues — and fast.

Having adequate staff and a business continuity plan in place can help your business to cope with unexpected challenges:

Adequate staffing. For large amounts of traffic, you'll need enough staff available. But it can be difficult if you have new hires on board who may not be equipped to handle the volume of incoming conversations or the complexity of issues.
This where 'all-hands support' can pay off. Members from different teams can jump in to lighten the load for regular customer success team members. If you're using a channel like live chat, you could also adjust the availability of your chat slots to allow you to handle a larger number of chats.
Business continuity plan. In the SaaS world, crises can happen without warning. Servers can crash or hackers could bring down your system. Such events can not only cost your business a lot of money but your customers as well. Your reputation could also suffer if customers don't think you've handled the crisis very well.
Having a business continuity plan in place means that you can keep operations running in the event of minor disruptions (outages, bugs) or full-blown threats (hacking, pandemics) and maintain good relations with your customers.
While a disaster recovery plan aims to minimize business downtime and restore technical operations, a business continuity plan is broader in scope and takes into account how you'll manage communications with key stakeholders as well. Here are some points to consider when drafting a business continuity plan:
the types of risk(s) your business is likely to encounter (technical, security, environmental, etc.)
the impact of the risk(s) on your business and your customers
workarounds or backup options in the event of a disaster
communications procedures (the key messages to be conveyed to internal departments and the outside world)
7

Customer health monitoring

It's well-known that keeping your existing customers is cheaper than acquiring new ones. Monitoring your customers' health allows you to predict future behavior (whether a customer will renew or churn) and prioritize support for those who most need it.
How you define health will depend on the type of business you are and the types of customers you have. At Userlike, for instance, we track metrics related to feature adoption and chat activity because chatting is at the heart of our business.
For tips on managing your Customer Health Score (CS), check out the article 5 Quick Tips for Building a Customer Health Score .
8

Manage churn/customer retention

A core function of customer success teams is to manage churn — making sure customers derive enough value from your product so that they don't leave. But, many companies react to churn by offering discounts or upgrade at the point it's too late — just as a customer is about to leave.

At that point, doubt will have already set in and customers will be harder to budge. That's why it's most effective to monitor churn and acting on red flags (e.g. low product adoption, late payments, or even plain silence) as they appear. In a previous blog post, we shared some retention tips to prevent last-minute churn .

When customers do leave despite your best efforts, you'll still want to find out their reasons for churning and whether they've fully understood how your product fits their needs. Open-ended questions like 'what made you decide to leave?' or 'is there anything we could have done differently' encourage transparency and avoid bias.
9

Team building

Ideally, customer success should be baked into everything your company does, but you'll still need a dedicated team to provide day-to-day support for product-related issues, oversee the onboarding process, and to guide customers to appropriate solutions.

Intercom shared 3 tips for building a customer success team:
Define your mission. This can be taken from your company's mission. For example, for Userlike, it's to fundamentally improve communication between businesses and their businesses.
Create a framework for success. To direct your efforts, create a success framework that each account needs to follow. This will help you stay focused and prevents you wasting time on low-value tasks.
Prioritize people. Relationships are the bedrocks of customer success. Maintaining good relations with other teams in your company makes it easier to collaborate with them on complex customer issues.
Having the right people in your team also helps. While technical skills and product knowledge can be taught, it's much harder to train empathy, patience, and all the key skills and traits that help make your customers successful.
Set your mission and your values and hire well! Pipedrive is known for its multi-level hiring process for any position in the company. This ensures that any potential employee resonates with our mission and fits with company values.

Mara Vicente, Head of Customer Support at Pipedrive
Customer Success isn't just another way of thinking about customer support. In contrast, Customer Success is about proactively engaging with customers to help them identify and reach their goals. This involves working with them to anticipate and resolve issues before they arise.
What's more, Customer Success isn't just the responsibility of a single department. For your customers to be successful, everyone in the company needs to be aligned with and working towards the customers' goals.