The 6 Crucial Customer Service Tools (And the Platforms to Compare Them)
Customer support is tough. Without the proper tools, it's downright frustrating.
I love the analogy UserOnboard made about selling features versus benefits, and I want to reuse it here because it fits the service context.
Inadequate tools limit your service setup. Not only do they allow you to reach your customers in new areas – the right tools reduce the friction and frustration of your service reps' day to day work.
Time and mental energy are your service reps' main assets. Bad tools drag both of these down. This is one reason for the great number of service software suppliers in the market – which has grown especially fast since the dawn of Software-as-a-Service.
The downside of all this supply is decision fatigue; choosing the best service tools for your business has become a fulltime job.
This is where software comparison platforms offer a solution. On these third party platforms, users of these tools share their experiences with reviews and ratings – making it easier for you to choose.
Here's a definitive overview of the most important types of service tools you can use for your business, and links to the top comparison platforms to help you with your choice.
Note: not all platforms are equally complete for all tool types. We've picked out the best platforms for each tool.
1

Ticket / Helpdesk Software

Although the promise of conversational commerce predicts that this will change soon, email is still one of the most used support channels.

Email contact doesn't force customers to wait in a queue; they send their question, and get the answer in their inbox minutes, hours, or days later. Email is the cheapest form of service, because the variance of incoming requests can be spread out. In this way, employee idle time can be minimized.

The downside of email is that it doesn't allow for instant support, which may be important for online shops.

According to a 2008 research by Forrester, 41% of consumers expect an e-mail response within six hours. Only 36% of retailers can live up to that expectation, however (Source: Forrester Research Inc., 2008 ).

Companies often start out with an ordinary email inbox for their service requests. When they grow, however, they soon discover that processing a high quantity of service requests via Gmail becomes a real pain in the gluteus.

A ticket or helpdesk software is thus typically the first service tool businesses adopt. Through features like ordering, labeling, routing, and team collaboration, such systems allow companies to improve both the quality and the efficiency of their service interactions.

Comparison Platforms:
2

Call Center Software

When customers require an immediate answer, they typically reach for the phone. Phone is the most personal of service channels. According to Forrester Research , voice is still the most used communication channel for service.

It's a bliss to able to get a well informed employee on the line right away. The company-side costs to support such an excellent service, however, are high.

Because a phone call (a) is instant, and (b) demands the full attention of a service rep (no multitasking possible), it's impossible to spread out the variance of incoming requests.

To offer truly instant phone support, this means that a service workforce must be maintained based on peak demand. Which means that in times of low inquiries, many of your service reps will be idle. The more educated those idle phone agents are, the higher your costs.

So the costs of phone are much higher, even when the arrival distribution and average number of inquiries are the same as email. Queueing is one measure to mitigate this effect. This can successfully bring down the costs, but the quality of the service will also suffer from it.

In a path similar to email, startups can initially get away with one regular phone in the office. But when the business, inquiries, and service team grow, a structured phone support tool becomes necessary.

Various web-based tools have made setting up a professional phone service desk a lot easier.

Comparison Platforms:
3

Live Chat Software

Both a sales tool and a service tool, live chat is implemented on websites and escapes the traditional tradeoff between efficiency and quality.

It does so by being instant like phone, but allowing for agent multitasking. Most live chat suppliers allow support agents to chat with up to 10 customers at a time. In practice, though, it does take considerable training and multitasking skills to get to a level of 6 simultaneous chats. But that's still a big advantage compared to phone.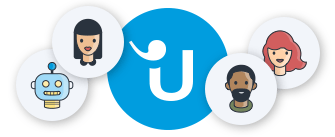 Looking for better customer relationships?
Test Userlike for free and chat with your customers on your website, Facebook Messenger, and Telegram.
Read more
Combined with its low-barrier character, this makes live chat the perfect service solution for E-commerce – answering quick web visitor questions that could stand in the way of a sale.
A survey based research by Software Advice showed that 49% of the respondents prefer to use live chat for online-shopping questions . They also asked for the reasons why they prefer live chat over phone. They showed age was negatively correlated with the use of live chat, with the younger respondents making much more use of live chat than the older ones.
There are plenty of live chat suppliers on the market, which is why these comparison platforms can be of help:
Comparison Platforms:
4

Social Service Tools

Social has played a hugely important role in making customer service cool and important.

Where before a service delivery's word of mouth potential was limited to a smaller circle of family and friends, Facebook, Twitter, and YouTube have expanded that to the entire world.

This makes social service as much about marketing as it is about customer support. A multitude of software tools have jumped in this void to offer a solution for the pain of delivering support over multiple social platforms.

Comparison Platforms:
5

Self Service Tools

Many customers prefer to figure things out themselves. Great service in this case consists of making that as easy as possible. As the self-help industry maxim goes: "Let me help you help yourself".

In a 2014 report , Software Advice showed the adoption rate of the different types of self-service channels (graph below). Knowledge databases and (dynamic) FAQ's are the most used solutions, and you can find plenty of tools that support this.
The research also shows the effect of implementing a self-service system on the overall customer service performance. It suggests that even when customers follow up with an outreach via email/phone/live chat, the fact that the self service has made them more knowledgeable results in an array of efficiency improvements.
Comparison Platforms:
6

Satisfaction Survey Tools

Measuring service quality is crucial to reach a path of continuous improvement. By measuring we can compare and improve.

Customer surveys are the standard approach, but there exist a wide range of approaches for taking them – supported by a plethora of service tools.

Comparison Platforms: