The 6 Ingredients for a Customer Service Oriented Company
The path to being customer service oriented isn't always a clear route. If you're feeling lost, we'll help point you in the right direction.
Being customer service oriented isn't a task you can check off on your to-do list. It's a frame of mind, a way of life for businesses focused on helping customers to the best of their ability.
Ultimately, customer service orientation should be a company-wide philosophy. And to transform it into a reality, it works best when the entire team is dedicated and motivated to upholding this culture. Whether it be the CEO, a customer service agent or anyone else on the team, everyone's top priority should be geared towards making sure that the customer is getting quality service.
Customer service shouldn't just be a department, it should be the entire company.

Tony Hsieh, CEO of Zappos
So how can you navigate your way to being customer service oriented? I've collected the fundamentals that will steer you in the right track.
1

Put your customers first

If you're in need of some reorientation, here's a good place to start. I'm not saying that to be customer oriented, businesses should practice the old adage, "the customer is always right." Putting your customers first is all about prioritizing focus and effort towards the customer so that you can be on the right path to providing top quality service.

This starts by getting to know who your customers are, how they use your product and what they frequently need help with.

Once you know your customer persona , it'll be easier to understand their needs and learn how to help them, which is the core of being customer service oriented.
2

Nurture empathy
With empathy , you can build stronger relationships, tap into creativity and find solutions to complicated problems. When it comes to being customer service oriented, these are essential skills.
Our previous research on customer service preferences showed that customers want to be shown empathy when contacting customer service. When we asked, "If you could give a tip to the average customer support department out there, what would it be?" , we received so many responses about empathy that it merited its own section in our post. One respondent answered,
"Put yourself in the shoes of the person making the complaint. Make an effort to describe your thought process as you go along."
It's clear that customers want more than just a robotic response from a company when they're seeking help. In your pursuit to being customer service oriented, don't be afraid to show some empathy.
3

Be proactive

In any situation, waiting until something goes wrong is just not a great idea. It's best to be proactive and catch a problem before it arises. While being proactive requires more effort at the start, it essentially saves you the trouble of having to undo whatever could have been fixed beforehand.

Being customer service oriented means always searching for ways to create better experiences for customers. That entails looking out for possible situations that customers might need help with so that it can be fixed early on.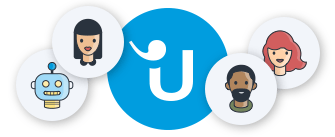 Looking for better customer relationships?
Test Userlike for free and chat with your customers on your website, Facebook Messenger, and Telegram.
Read more
Resources like FAQ pages are a good example of being proactive; you anticipate the customer's questions and collect the answers in a fairly straightforward place. Another great example is live chat because it allows you to be there for your customers through proactive chat . When customers have been lingering on a page for a while, but don't want to directly ask for help, the support agent can make the first move and message the customer.
Proactivity can be shown also in other ways, like by asking for constructive criticism. The most popular way to do this is by tracking and measuring customer satisfaction KPIs through surveys like the customer effort score and net promoter score. What are your customers loving and what things could use a bit of work?
4

Prioritize communication

Communication lies at the heart of customer service. But not all communication is considered equal. A customer service oriented company also takes into account what good communication means and what steps are needed to get there.

It's important that customers know how to easily contact your business. By offering them various and easy ways to get in touch, like live chat and messaging support , you show that your company wants to hear from them. For more tips on professional communication for live chat, check out our video.

For customer service, responding quickly is critical , but not if that means sacrificing quality. Instead, be transparent when communicating with a customer. Explaining why something is taking a bit longer than expected will ease the situation and make for a more positive outcome.
5

Boost training

When it comes to providing good quality service, a lot of it comes down to training and how comfortable agents are with the product that they're helping customers with. From a customer perspective, it's frustrating to be forwarded to new agents over and over again, repeating the issue because no one knows how to solve the issue.

To avoid this, prioritize training so that support agents know the product inside and out. Here at Userlike, we want to make sure our support team members have studied our product thoroughly and feel well prepared.

I asked Kristina, a member of our customer support team, what she found most helpful when she was training here at Userlike.
It's most helpful to not just watch how others do it, but to do it yourself. Here at Userlike, I was able to chat after only two weeks. A colleague always sat next to me and told me the answers to our customers' questions in the beginning, but I was the one who was in touch with our customers.

Kristina, Customer Success Agent at Userlike
Having a complete and reliable knowledge base about the product, especially for the more technical aspects, can be extremely helpful to use throughout training. Post-training, customer support agents can also be the ones to update and edit those articles, which will help them and those who will read it later on.
Consistency is also key to make sure customer support agents are at the top of their game. Just like going to the gym once, going through training isn't going to be effective if you don't keep up with it. The product changes, people forget, and when you don't use it, you lose it. Brush up on skills by getting the team together for recurring training, however often it's needed.
6

Practice patience

They weren't lying when they said patience is a virtue. While it's tempting to try to help as many customers as fast as possible, good service isn't all about speed. Instead of an assembly line approach to handling the service ticket , exercise your empathy and communication skills with each and every customer.

To give each customer the support they deserve, take time to understand their questions and requests. It might take a little more time initially, but you'll be saving time in the long run.
You're in the right direction
Today's consumer culture isn't about buying whatever wherever anymore. Instead, customers are looking for personal service (and are actually willing to pay more for it, too). It's the quality of the interaction that counts.
I learned that people will forget what you said, people will forget what you did, but people will never forget how you made them feel.

Maya Angelou
In essence, that's what being customer service oriented is all about. It's not a means to an end, but rather the aim to build valuable relationships with a company's greatest resource: its customers.