4 Customer Satisfaction Metrics That Will Expose Reality
"Customer satisfaction is the lifeblood of your business" . "You can't manage what you can't measure" . Two well-known business maxims. Combine them and the path forward seems clear: you should measure your customer satisfaction.
As described by Landingi , customer satisfaction "is about whether or not you succeeded in making your customers happy and [if] they continue being your customers in the future."
Seems pretty important, indeed. Here are the four key metrics to keep on revisiting, guiding your product, service, and business development.
1

Customer Satisfaction Score (CSAT)

The CSAT is a 5-point scale measuring overall customer satisfaction. It's best to use this metric directly after a customer's interaction with a company so the experience is still fresh in her or his mind.
On the positive side, the CSAT is simple to use and straightforward for customers to answer. You could also have your customers select a point on a percentage scale from 0 to 100%, but this might make things more complicated from the customer's side. "I'm satisfied with my purchase and customer service was pretty helpful, but delivery could have been quicker. I'll give them 85%. Or 72—no that's too low, maybe 76?"
On the downside, the metric isn't very precise since it measures overall satisfaction. So, it won't let you know exactly what went right or wrong. To make sure you and your customer are talking about the same thing, it's good to specify your question. Not "How satisfied are you?", but "How satisfied are you with our service / your purchase / your website experience?".
If you have international customers who speak different languages, no problem. Just swap out questions for an emoji scale or star-rating.
2

Net Promoter Score (NPS)

The Net Promoter Score measures how likely your customers are to recommend your company, product, or service to others. Customers vote on a scale from 1 to 10, very unlikely to recommend to highly likely to recommend.
Promoters vote a score of 9 or 10. They were satisfied with their experience and are highly likely to recommend your service or product.
Passives give a 7 or 8. They were satisfied with their experience, but it was nothing they would go out of their way to recommend. Passives aren't dangerous, but they also aren't loyal customers. There's a chance that as soon as they find a cheaper alternative, they'll make the switch to another company.
Detractors have voted 6 or below on the scale and will not promote your brand. You should watch out for these voters because they are also likely to speak poorly about your business .
To calculate your score, just subtract the percentage of detractors from the percentage of promoters.
NPS is the international standardized way of getting a sense of how much people are digging what are you doing.

Mark Patchett, Founder at The Ecom Academy
The NPS is also beneficial to measure because it reminds customers to promote your brand to their friends and family if they haven't thought of it already.
Unless you ask your customers follow up questions, the NPS doesn't necessarily answer the WWW question (what went wrong?). Are they unlikely to promote your brand because they were unhappy with the product? Did something go wrong when they contacted customer service? Did it take too long for them to receive their order?
Short surveys will never be fully comprehensive, but just like with any other metric, it's important to understand why the customer voted like she did.
3

Would You Miss Us? (WYMU)

Telling from the title, the "Would You Miss Us?" metric is pretty self-explanatory.
You're asking customers if they would miss your company, service or product if you no longer existed. Similarly to the NPS, you'll have your customers vote on a scale from 1-10.
More than being a customer satisfaction metric, this question really targets how uniquely your customers perceive you. Do they see you as easily exchangeable with other suppliers, or they think you are unique? Your customer's perception is your reality.
4

Customer Effort Score (CES)

The CES takes a different approach at the customer satisfaction metric. Instead of asking how happy the customer is, it measures how much effort the customer needed to accomplish what she wanted to do.
On a scale ranging from highly agree to highly disagree, you might want to have your customer vote on statements such as, "It was easy for me to find what I was looking for" or, "It was easy for me to get help from customer service."
In a popular article from the Harvard Business Review , they found that rather than trying to create an over-the-top, amazing experience for your customers, you should make the experience as easy as possible for the customer instead.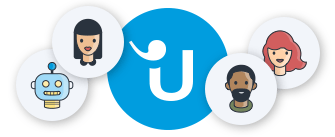 Looking for better customer relationships?
Test Userlike for free and chat with your customers on your website, Facebook Messenger, and Telegram.
Read more
As consumers, we're more likely to remember pleasant experiences because they went smoothly and it was easier than we thought it would be. The average person has so many things to do that ease is replacing the wow factor . Especially online, customer effort should be kept low since that customer is probably looking for a quick and easy way to shop — the reasons why we love online shopping, afterall.
This metric will give you clearer ideas of what you can do to make things simpler for your customers. Maybe the navigation on your website isn't too clear or your customers couldn't find a quick way to speak directly with your customer service team.
Collecting customer satisfaction metrics
E-mail Surveys. E-mail is helpful to use when you want to send out longer, more in-depth surveys. You won't necessarily achieve a high response rate this way, but the completed surveys you get will be valuable.
Some senders have started to add thumbs up/down or smiley-scoring at the bottom of their newsletters. Of course the trick is to then lead them to a feedback form and ask them the reason why they give that score. It's an additional way to spot Promotors and Detractors. Often you will get feedback on the email, but also other customer or product related requests so you can act on them.

Jordie van Rijn, email marketing consultant at Emailmonday
There are tons of great tools to use to create your surveys. Google Forms isn't only easy to use, but free to collect as many responses as you need. If you're willing to spend some money, SurveyMonkey is also easy to navigate and has a free basic plan if you want to try it out with no risk.
Live Chat Rating. The main advantage of live chat is that it allows for support on the spot. A side advantage is that collecting customer feedback on that service is way easier than with any other channel.
With Userlike , for example, we've built the chat feedback options in a way that it doesn't interfere with the customer experience. Once the chat is over, a star rating appears – with an optional text field for the customer to add explanation.
An especially great feature for the support reps, is that this rating and feedback becomes immediately visible to them through a notification in their browser or configured integration – like Slack .
The downside of this method is that it only allows you to collect metrics for your chat support. It's less suited for more general satisfaction measurements, e.g. relating to the product quality.
In-app Survey. It's a quick way to get immediate feedback from customers using your app. Though pop-ups can be kind of annoying, it doesn't hurt to ask that way if it's just a single rating question. Many apps use it to pop the NPS or WYMU question.
Social Media. Social media has become the new go-to to review businesses and find recommendations for just about anything. It's important to monitor social media accounts like Facebook, Instagram, and Yelp! to know what customers are saying about you.
Remember that it's completely voluntary for customers to leave reviews on social media, so if they go out of their way to do so, it's a good idea to keep on eye on it. Make sure you address any negative complaints because future customers might spot them. And don't forget to thank those who leave positive reviews!
Turning Metrics into Actions
The most important thing to keep in mind if you'd like to start measuring customer satisfaction is the after- step: taking action. Collecting data is great for seeing what your customers are thinking, but don't let that be the last step. Always use the information as direct insight into what your customers think to find new and effective ways to improve your business and increase customer satisfaction.