How to Get Started With Customer Interviews
Customer interviews are something that many know they should be doing, but aren't.
It was like that inside our marketing team here at Userlike. We heard in plenty of podcasts and articles: "You need to talk to your customers!" This year, we finally made the leap.
With 50+ interviews under our belts, we're far from experts. But we've settled on a process, made it a habit, and learned a lot along the way.
Why do customer interviews?
There are many potential purposes for conducting customer interviews, but they all boil down to this: facing reality. In the end, your customers' thoughts and actions are the reality that determine the success of your company.
There is nothing more important than understanding how reality works and how to deal with it.

Ray Dalio
Before starting with customer interviews, our marketing team was in a bubble. Out of touch with reality. Unlike our colleagues from sales and support, we didn't talk with customers on a daily basis.
These colleagues did pass along insights about our customers, of course. But a lot is lost along the way. And support interactions also don't offer the same insights as interviews. Just imagine a service interaction where the rep asks you "why" five consecutive times.
For our marketing team, interviews have given us that direct line to customers – a lifeline to reality. They help to become better informed on a wide number of fronts. For example, they can help you understand:
Your customers' buyer persona
Your customers' buyer journeys (decision-making)
Your customers' motivational drivers
What words your customers us to describe your products
Where your customers consume their information
Whether your messaging is coming through as intended
How your customers found you
How they think about relevant topics
etc.
Our first reason for getting started was because we were looking for ways to improve Userlike's onboarding process, but we've mined countless serendipitous insights along the way.
For example, our customer interviews have made us realize that the way that we were describing our new software version was confusing our users. Also, we found that the people who use our solution on a daily basis –those we had been targeting with most of our marketing efforts– typically aren't the ones who make the decision about getting started with a solution like Userlike ( **ouch** ).
On a positive note, the interviews allowed us to identify a few 'catalyst' moments that set companies on a course to adopt a solution like ours. Which is invaluable for focusing our marketing efforts.
You might think you know what's beneath the surface – or what you're looking for. But you don't. The only way to find out is to put on your goggles and dive in.
The process
One customer interview is pointless. You need to do many of them to gather a broad perspective, to distinguish patterns from one-offs, to discover new trends, and to simply get decent at conducting them.
That's why, as with so many things, it's all about setting up a good process. Let's go through the seven steps that we've settled on.
1

Distribute responsibilities

I consider this to be crucial to our "success". Interviews are high on importance, low on urgency . Which means that there's always a better time, some day next week.

In our process, we've distributed the responsibilities in such a way that one person is responsible for scheduling the interviews, and others are responsible for conducting them.

This works, because it takes away any excuses. Once an interview is scheduled, it jumps from low to high urgency. You're not going to keep a customer hanging.
2

Setting up the outreach list

The next step is defining who to interview. Not all customers are created equal. Who is the best person to talk to, depends on your questions.
At Userlike, the catalyst for getting started with interviews was that we wanted to improve our onboarding experience. For this, we decided to reach out specifically to newly-paying customers. These tend to be more engaged and responsive than our average free user. What's more, their onboarding experience is still fresh in their minds.
What customer you should reach out to depends on your project. If you're more interested in tackling churn, for example, it makes sense to reach out to customers who recently canceled their subscription.
Whoever you decide to interview, you'll need to maintain an outreach list to keep track of who you contact, who's responded, and who isn't interested. We maintain such a sheet list in Google Drive.
Do note that you do need permission to reach out to your customers, i.e. they will need to have opted in to receive communications from your company.
3

Reaching out

The next step is reaching out. How many to reach out depends on how many customer interviews you'd like to conduct per week.

For us, we wanted to get started with 1-2 interviews per week. We found that about one in ten customers agreed to an interview, so our teammate Francesca reaches out to around 20 customers per week.

At the start, we considered whether we should offer some sort of incentive for our customers to participate. But we soon realized that plenty of people are happy to share their insights just for the sake of it.

Here's the template we use to reach out to customers:

Hi,

My name is X and I'm part of the team at Userlike. I hope you're enjoying your Userlike account!

Our resolution for 2020 is to listen more closely to our customers so we can make Userlike work even better for you. For that purpose, we'd love to hear about your experiences with our software.

Would you have 15-20 minutes for a quick chat? You can book a time directly that is most convenient for you:

[Calendly link]

We're looking forward to chatting with you!

Best regards,

To avoid the back-and-forth of scheduling, we make use of Calendly . Our email template contains a Calendly link, which is connected to the calendar of Pascal, our team lead who does most of the interviews. The customer can pick an available time slot that works for them.
We started out with the free Calendly version, but we quickly switched to paid. The free version doesn't support email reminders, and it doesn't allow you to ask the person to leave their phone number. Instead, it automatically creates a link to Google Hangouts for the meeting. Because Pascal would often find himself waiting in the meeting room in vain, we switched to paid.
Since switching, we simply give the customer a call at the agreed time and no-shows are a thing of the past.
4

The interview template

Interviewing is the art of asking questions. Good questions can reveal valuable insights about your customer's motivations, problems, and pain points.
To make best use of our interview time, we use an interview template with prepared questions. It makes sense to rework this template over time, as you find that some questions can be sharpened, or just don't work. Or new, interesting ones pop up.
If you're like us, you will have different areas that you'd like to ask your customer about. Like I said, our first project was customer onboarding. But if you have the customer on the line anyways, you might as well ask further if time permits. That's why we divided our template into multiple sections, from most (onboarding-related) to least important (information-consumption).
Each interview moves at its own pace. When moving fast, you might be able to get through all the questions; when moving slow, you might only get half-way until the time runs out. Setting up your template with such a section hierarchy ensures that your most important questions are always answered.
A general useful tip is to ask open-ended questions and avoid close-ended ones. Open-ended questions encourage interviewees to answer with context, thus deeper insights. Close-ended questions, on the other hand, limit answers and can 'lead' people into giving a limited range of answers.
5

Preparing the call

Your interview time is scarce, so you don't want to waste it on questions that you could figure out on your own. That's why we already pre-fill as much information as possible in our doc, such as industry, use case, etc.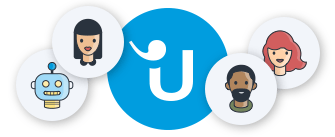 Looking for better customer relationships?
Test Userlike for free and chat with your customers on your website, Facebook Messenger, and Telegram.
Read more
We also look whether there is anything unique about this customer that might prompt a new question. Some weeks ago, for example, we interviewed a customer that we knew had used a competitor before. In the preparation, we made sure to add some questions in there about why they made the switch.
6

Conducting the interview

So, now it's time to pick up the phone and start talking to your customers!

We use Sipgate as our VoIP solution to make the call. It offers a Webphone app, which has been useful especially since during home-office times. We had some issues calling to other continents, however, so for this we now use Skype.

From here, how well the interview goes will depend on how talkative the customer is as well on your personality and interviewing style. Here are a few pointers that we try to keep in mind:

Avoid interviewer bias. This is where you influence interview questions with your tone of voice, opinion, or word choice. Being aware of interviewer bias helps as well as adopting the role of an impartial outsider.

Dig deeper. If the customer makes an interesting point, you can dig deeper to get more insights using the Five Whys technique .

Use silence to encourage non-talkers. If someone's not very talkative, you can prompt them with additional questions, but then it's important to let the silence linger. This gives them time to think about the question. People also abhor silences and are inclined to fill long moments of silence by talking.

Focus on the interview and not notes. Naturally, you'll want to take notes, but your main focus should be the conversation at hand. If possible, record the interview (with the customer's permission, of course). You could also rely on shorthand and write up detailed follow-ups notes immediately after the interview while it's still fresh in your mind.

Rephrase or repeat back points to clarify. This makes sure that you correctly interpreted what the customer said. This will also encourage them to elaborate on any points.

Let customers ask questions. Finally, leave some time at the end of the interview for customers to ask questions. This allows them to bring up any points which you might not have thought of.
7

Following up

The work isn't finished when you hang up the phone. We take four follow-up steps:

Write out the most important insights. You either made notes or recorded the conversation. Either way, you should now summarize the most insightful points. If you're a note-taker, then it makes sense to work these out right after the interview – while it's still fresh.

Follow up on open questions. During the call, follow-up points will often emerge. Mostly, these will be questions or issues that we as marketers can't answer on the spot. So, we either follow up in an email or connect them with a member of the Customer Success team.

Share insights with the team. We share the main insights from the interviews in our weekly team meeting. This extends customer understanding to all team members, not just the ones doing the interview. It's also valuable to collectively reflect on these insights, as it often sparks new ideas.
Connect on LinkedIn. When there was a good 'click' during the interview, our interviewing teammate reaches out to the interviewee on LinkedIn. It's a nice way to establish the connection and stay in touch.
One follow-up improvement we'd like to make in the future is to set up one large Excel sheet in which we see and compare the answers. It's a good way to spot emerging patterns.
There is an important point to make about patterns: Don't place too much value on one interview. In the words of Ray Dalio, "Don't over-squeeze a dot." Each interview, each observation, is a dot. By itself, it doesn't mean much. Only when you put the dots together, you can see patterns emerging.
So, what are the results?
It's natural to want to know the approximate ROI of all our actions. With customer interviews, that's a bit difficult. The benefits are indirect. There are no direct numerical outcomes.
Instead, conducting customer interviews is a foundational activity. You're building the foundation of customer understanding, which allows you to do a much better job in all your other activities.
In our case, it allowed us to improve our onboarding, to write better copy that resonates with customers, to identify new channel opportunities, and to create content that better targets our customers' questions and struggles.
If you haven't started with interviews yet, I can assure you that there are some real gems out there waiting to be discovered. Invaluable insights that you did not realize you were looking for. I hope this playbook helps you to make the leap!