Why and How to Guide Customers to Your Messaging Channels
For a variety of reasons , mobile messaging is 10x more convenient than traditional support channels like phone and email.
But when companies start with a messaging channel like WhatsApp , we often see them struggling to get their customers to adopt it.
One explanation is the "default effect" . When presented with a choice, most people stick to what they know. The other explanation is that, unlike website chat , messaging apps are not a natural part of the customer journey.
You get started with messaging because you want to get your customers, employees and your bottom line to experience its benefits. That's why it makes sense to integrate your new messaging channel into the customer journey and prioritize it as a customer communication channel.
Here are 9 ideas and best practices to guide your customers to your new messaging channel(s). We will use WhatsApp as an example, but it works the same for FB Messenger, Telegram, Threema, etc.
1

Make the channel prominent on your contact page

Many companies treat their contact pages like an afterthought. But, this is a missed opportunity. Since your contact page is where your visitors go when they have a question or a problem, it's the perfect spot to highlight your messaging channel.

Add a WhatsApp button. To start with, add a WhatsApp button on your page. You can see an example of this on our own support page.
When you click it while on a mobile device, your WhatsApp app opens a direct conversation with our number. When you click it while on a desktop device, WhatsApp's browser version opens in a new tab.
Prioritize channels with above- and below-the-fold placement. It's good practice to prioritize the most enjoyable and efficient channels (messaging & chat) over the most frustrating and expensive ones (phone & email). A straightforward way to do this on your contact page is to position your messaging channels above-the-fold , and your phone and email options below-the-fold
Remember the "default effect" . By moving WhatsApp above-the-fold, you make it your default contact option. Only customers with a strong attachment to the type of contact channel (approximately 16% ) will take the effort to scroll down. With this move you could significantly lower the number of calls and associated costs.
Rename your contact page. The page name itself is a call-to-action. While it's the standard name for, well, "Contact Us" pages, the name doesn't exactly inspire customers to message you. Instead of "Contact Us" , you could change your page name to "Chat With Us" to reinforce the message that you're available via chat, WhatsApp, Facebook, etc.
The wording may seem trivial, but it can lead your customers to see your support options in a new light.
2

Add website buttons for your messaging channels

As said, website chat has the advantage of being naturally integrated into the customer's journey. But you can achieve something similar by adding a subtle WhatsApp button to your website that accompanies your visitor on whatever page they visit.

For this to work, you just need to implement an HTML element and link it to your WhatsApp number .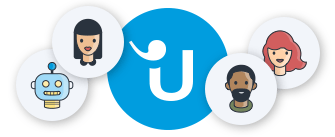 Looking for better customer relationships?
Test Userlike for free and chat with your customers on your website, Facebook Messenger, and Telegram.
Read more
If you combine website chat and mobile messaging , you can also programmatically define your website chat button to show when your customer is on a desktop device, and your WhatsApp chat button to show when they are on a mobile device.
3

Offer transactional confirmations via messaging

This is a way to naturally integrate your new channels into the customer journey as every customer that buys from you will receive transactional confirmations, i.e. receipts.
At the point of service or when the customer first signs up, you can offer the option to receive order updates or confirmations via messaging apps. That way, you incentivize customers who may not otherwise message you.
KLM, for example, allows you to receive relevant flight information and your boarding pass via Facebook Messenger .
For this to work with WhatsApp, you need to make use of template messages approved by Facebook. If you use Userlike, you can set these up within your account. We explain more in this article, "WhatsApp Business API – All You Need to Know" .
4

Phone queue messages

One of the most common frustrating things about phone support are the long waits. Instead of testing your customers' patience with hold music, you can use this time to educate them about the fact that there's a better way to reach you:

"Thank you for your call. Our phone lines are currently busy. You are #x in the queue. If you prefer, you can also reach us via live chat or WhatsApp, which tend to be faster for resolving your questions. You can visit our contact page or send a WhatsApp message to [your-number]. I repeat: [your-number]."
5

Email signatures

When replying to an email from your support team, your customer's reflex action will be to click 'Reply', resulting in another email in your inbox.

Instead, you can also suggest the channel(s) where you want to receive a reply, e.g. on WhatsApp.

You have a few options here. You could simply add the WhatsApp number to your email signature; once you've made it onto your customers' contact list, they'll be more likely to reach out to you in the future.

Another option is to add a WhatsApp link which will allow your customers to start chatting with you as soon as they click it. The benefit of this option is that they don't have to save your number in their phones.

One thing to keep in mind is that when your customers make the switch from email to messaging, the context of the preceding email thread will likely be lost. To fix this, your chat agents can ask your customers to copy, paste and send that email thread as a message.
6

Automatic email replies

Auto email replies are about setting expectations and letting your customers know when they can expect a reply, e.g. "We'll get back to you in 24 hours."

They're also an opportunity to let customers know they can expect faster replies via messaging.

As with signatures, you can add a link to live chat or add your WhatsApp number.
7

Integrate QR codes

When it comes to contacting your business, your customers don't want to have to jump through hurdles. This makes QR codes ideal for announcing your support options. Instead of searching around for your contact information or manually entering a phone number, customers can simply scan the code with their smartphones.
Here are a few ideas for implementing QR codes:
Invoices. Speed up the payment process by placing a QR code next to payment details. If your customer has a doubt about the invoice, they can get their question quickly answered by scanning the QR code. Which means you won't have to chase delayed payments.
Physical products. QR codes can help optimize space on product packaging by allowing you to list all your messaging options in one go while freeing up space for everything else - product information, benefits, dimensions, etc.
You could customize your QR code by selecting colors to match your brand identity or make it blend in with the packaging design. So that customers know what to expect, include a note with the packaging slip. Alternatively, you could write 'Chat With Us' directly above the code.
Packages. If you're delivering a package, you could place the QR code on the box. It's best to place it on the inside, so it only appears for the receiving customer and cannot be confused with the code that couriers have to scan.
Print advertising. A QR code with your contact information can bridge the gap between the physical and the digital world by turning your ad into an interactive one. Include a call-to-action such as "scan this code to get your special offer" so that it's clear what the QR code is for.
8

Inform customers via marketing channels

Of course, you can also use your standard marketing channels to spread the word about your new messaging channel(s).

Newsletter. By mentioning your new contact channel together with its benefits for your customers, you can notify your customers while adding some context.

Blog article. A blog post is a good way to notify your most engaged customers up to date. It gives you ample space to explain why you are offering this new channel, what the benefits and your intentions are. Klaviyo, for example, published a blog article when they started offering live chat support.

Video. Instead of telling your customers about your new channels, why not show them with a video? For instance, KLM made sure that its messaging support took off with an active campaign. The result was over 100,000 mentions every week .

Facebook ads click-to-message. Send people who click on your Facebook ads directly into a conversation with your business in Messenger or WhatsApp with a "click to Messenger" ad. This allows you to reach your customers where you want the conversation to happen.

Facebook page. With Page Messaging , you can engage with customers without needing to switch platforms. You can choose for the messages to be sent to your Facebook inbox or your WhatsApp number. You can activate this feature in your settings .

Instagram. While you can't place clickable links in Instagram posts, there are ways around it. The easiest (and most basic) way to announce your messaging channels is to post a link in your bio. You could also use a link landing page such as Campsite or Linktree if you don't want to be limited to a single link in your bio or you want to track engagement.
9

Phase out phone and email

When they get started with Userlike, many customers ask us: "Will Userlike drive down phone calls?" A logical question, as the phone is the most expensive channel for serving customers and also associated with a lot of frustration.
The truth is that Userlike can drive down phone calls, but that the effects won't be significant if you simply add website chat and/or WhatsApp next to your existing channels. This goes back to the "default effect" described in the intro.
There is, however, one awfully simple and effective way to drive down phone requests: stop offering phone support.
This isn't as crazy as it might sound. Plenty of prominent companies, e.g. Wistia and Moz , have removed their phone numbers from their websites.
Others, such as Squarespace , have deliberately never offered phone support in the first place:
We don't offer phone support because we truly believe it wouldn't be possible to provide the same effective help over the phone.
So if you want your customers to stop calling and to start chatting, it's a good idea to scale back your phone support and eventually phase it out altogether.
You don't have to quit cold turkey. You can start by prioritizing your messaging channels (website chat, WhatsApp, etc.) by, for example, placing those above the fold and phone and email below, as described above.
You can then gradually pull them back further, by placing your number on sub-pages on your website. At a certain point, your customers will have grown accustomed to reaching out through messaging and phone will make up only a tiny piece of your communication pie. That's when you can take the final step and cancel phone support altogether.
Canceling your phone support doesn't mean you won't be calling with your customers anymore at all – it just means that it will be happening in your terms. In our own live chat solution Userlike , we offer an audio calls feature, which allows you to escalate chats to phone calls if the situation requires it – for when there's too much back-and-forth or you need to build rapport with a lead.
---
Guiding your customers to your messaging channels takes conscious effort, but yields great benefits. May these ideas help you get started.
Happy chatting!