The 6 Building Blocks of a Customer-Friendly Business
Customer friendly is an elusive concept. It's entirely within the perception of your customers, after all.
Yet it makes absolute business sense to reach for it. Ninety-five percent of your customers' purchasing decisions are made subconsciously, much of which based on how "friendly" they perceive your company to be.
What's more, the friendliness of a customer experience influences our perception of the company's products and services as a whole, as explained by the Halo Effect .
Especially for businesses that rely on returning customers, like coffee bars or subscription services, creating friendly experiences should be a top priority. Would you return to a coffee bar if the barista had been rude to you? Or would you rather retaliate with a bad review on Google and switch to the competitor?
You aren't in the coffee business serving people. You're in the people business serving coffee.

Howard Behar , ex-senior executive at Starbucks
"Customer friendly" covers the entire customer experience, but can be broken down to the following areas:
Products. Empathic products that are easy to use and that take customer pain points into account.
Services. Service deliveries that are friendly and respectful to the customer while also covering the customer's needs. Think of a friendly hairdresser that offers a cup of coffee.
User interfaces. The space between human and computer interactions. A friendly user interface is intuitive and easy to use, minimizing the mental bandwidth for the customer.
So that's what the surface of "customer friendly" looks like. But how do you get there? Here are six building blocks for a customer-friendly organization:
1

Understanding

To be able to offer customer-friendly experiences, you need a deep understanding of your customer.

While you may think you know your customer (demographic, preferences, etc.), this is not the same as understanding them (why they buy your products/services).

Start with your customer. Rather than developing your product/service first and then working out to who to market it to, start with the customer's needs . What problems does your business solve?

One way to do this is to map out the customer journey and anticipate the possible pain points at each stage, e.g. a grocery shopping trip:
The store doesn't have everything the customer needs in stock.
There are no parking spaces left or she will have to pay to park.
She will have to queue for a long time.
She can't pay with her payment method of choice.
She can't carry her heavy shopping bags to her car.
She can't redeem her loyalty points online due to account/technical issues.
Each of these touch points is an opportunity to identify the customer's needs and offer solutions for a frictionless customer journey.
Collect feedback. Customer feedback is one way to increase your understanding. Two ideas on how to do this:
Open innovation. " My Starbucks Idea " allowed customers to collaborate with fellow customers and customer service representatives to create fan favorites such as hazelnut macchiatos. What made this unique to the average suggestion box was the active involvement of the customers, which made them feel like a part of the company.
Meet your customers in person. At Userlike, we break bread with our customers during hosted dinners. The relaxed informal setting allows the conversations to flow as easily as the wine, and it provides us invaluable insights into the wishes, struggles and ideas of our customers.
2

Accessibility

"A man without a smiling face should not open a shop." This famous Chinese proverb is backed by research that claims companies have 50 milliseconds to make a first digital impression .

User interfaces. When you decide to buy from a company, the first thing you do is look at their website or app. If the website is hard to navigate or you come across the dreaded 404 error page, you'll likely give up and go to another website (although a nicely designed 404 error page helps).
First impressions are not only formed on functionality but also on aesthetics: structure, colors, spacing, symmetry, amount of texts, font. All these demonstrate that care has gone into the presentation.
AirBnB 's website, for example, invites you into their home with the conversational greeting, "What can we help you with?" After the straightforward process of booking an overnight stay, you're prompted to "say hello to your host and let them know why you're coming," which adds a human touch to the whole experience.
Contact channels. Research shows that the majority of customers don't care so much about the medium of communication as long as their issue is resolved easily. As this survey demonstrates, when a company tries to offer too many channels, they become a "jack of all trades, master of none".
Many channels means the customer often has to repeat their issue, which means increased effort . Have you ever experienced the frustration of sending an email and following up with a phone call only to find that the customer service rep doesn't know what you're talking about?
Instead of offering all channels, guide your customers to the channels that work best. Here at Userlike, we firmly believe that the best channel is messaging – but we might be a tad biased ;)
3

Compassion

Compassionate customer service means wanting the best for all your customers .
The Japanese word omotenashi , loosely translated as "to wholeheartedly look after guests," encapsulates this concept. It's a cashier, greeting you nicely rather than chatting with colleagues and tossing your purchase across the counter. Or it's being able to walk into Starbucks to use the free Wi-Fi or restrooms without having to spend a cent.
A while ago, I broke the frame of my glasses by cleaning the lenses too rigorously. As I had no insurance, I was prepared to shell out for a replacement frame. To my surprise and delight, the optician repaired the frame for free, assuring me that it happens to everyone.
Going the extra mile for your customer by putting yourself in their shoes shows that you genuinely care, which makes them more likely to be loyal to you.
4

Inclusivity

According to the Self-Determination Theory , we need to perceive that we have choices. If we are locked into a two-year phone contract that doesn't meet our expectations, we feel a lack of control, resolving to go to a competitor at the earliest opportunity.
This is why it is important to be flexible , so that your customers don't feel trapped.
I was once stuck at an airport when I took the wrong flight (long story!), but I needed to get to my destination on limited funds. Not only did the airport staff book me on the next flight for a small fee, but they also arranged for my luggage to reach my destination at no extra cost.
Such gestures cost little but go a long way toward improving the perception of your company.
Global reach also plays a part in inclusivity. Sometimes I'm shopping online and I fall in love with a product – only to find they don't deliver to Europe. This is obviously not always easy, but for the sake of inclusivity it would be good to offer shipping even if the costs are much higher. At the minimum, the website should indicate its delivery limitations at an early stage.
5

Trustworthiness

In a world of choice, brand trust can be a key competitive differentiator. According to research by Edelman , the reasons why customers trust brands can be categorized into the following areas:
Product/service concerns. A product/service meets our expectations.
Customer concerns. We have been treated well as customers.
Societal concerns. A company is socially responsible.
As customers, we have basic expectations . We walk into a grocery store, we expect a basket or a shopping cart to be available for transporting our goods. In his book The 10 Principles Behind Great Customer Service Matt Watkinson divides these basic expectations into three categories:
Dissonance. Our basic expectation of not finding a basket or shopping cart, in the above scenario, is not met.
Absence. The company sets no expectations, e.g. a website/app provides too little information for us to make a purchase, so we abandon our shopping carts.
Inference. What we think we're getting, e.g. unlimited data on a mobile plan, when in actual fact, there is a fair usage policy disguised in the small print.
As we can see from the above examples, if expectations are not set or met, this can lead to dissatisfaction.
Social proof. If you think about the last time you received poor customer service, you probably vented to your family and friends, if not on social media. Such is the power of word-of-mouth: Eighty-three percent of consumers say that recommendations make them more likely to purchase a product or service.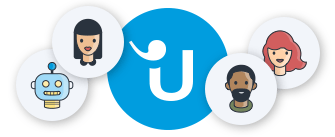 Looking for better customer relationships?
Test Userlike for free and chat with your customers on your website, Facebook Messenger, and Telegram.
Read more
The effect of online reviews is widely recognized. For example, on Amazon, we don't get to touch or taste the products, so we filter out undesirables via the four or five-star rating filters.
Values. Our beliefs and values shape our customer experience to such an extent that some of us vote with our wallets when brands don't behave responsibly.
[...] It is a new relationship between company and consumer, where purchase is premised on the brand's willingness to live its values, act with purpose, and if necessary, make the leap into activism.

Richard Edelman, President and CEO of Edelman
Linking your values (what you believe in) to your value proposition (how your product or service benefits your customers) is how your customers see you stand for something.
In Ben and Jerry's case, for example, their mission is "to make the finest quality ice cream using natural ingredients while respecting the earth and the environment."
6

Courtesy

In the Customer Experience Impact Report by RightNow, researchers found that the No. 1 reason customers abandoned a brand was due to poor quality and rude customer service. It goes without saying then, that to be considered customer friendly, you actually need to be polite and friendly.
How customers feel when they interact with an employee determines how they feel about the company itself. In a psychological sense, the 'company' as experienced by the customer is a sum of these interactions [...]

Daniel Goleman, Working with Emotional Intelligence
Case in point: In 2015, Comcast was forced to issue an apology when one of its customer representatives changed a customer's name from Ricardo Brown to "A**hole Brown" on his account when his wife wouldn't renew their cable contract. Despite the apology, the incident left a bad taste in the customers' mouths - even to this day.
Staff. Hire people who want to work for your company and care about customer service. We've all experienced the bored tones of customer reps who sound as if they'd rather be watching paint dry than helping you upgrade your phone contract.
Zappos' commitment to hiring the right staff involves weeding out the unmotivated from the onset by offering all trainees $2,000 to quit at the end of the first week - an offer that stands until the end of the fourth week.
Skills. For many businesses, staff in customer service roles are the face of the company and the first point of contact for a customer. Despite technological advancements, customers still prefer human interactions .
Customer service skills equip service reps to create a positive dialogue with customers, so that they feel as if they are interacting with someone who genuinely cares and wants to solve their problems.
What makes a business customer friendly?
Customer friendly is a mindset where you care about your customers and view them as the most important people in your business. Beyond the warm smiles and friendly greetings, it's about making every customer interaction as pleasant and smooth as possible by caring about them as humans and not just customers.