10 Realistic Tips for Customer Excellence
Excellence is a noble pursuit – especially in customer service where it has a very direct impact on people's emotional states.
Defining customer excellence is tricky. It's more of a path than a destination. Like tending for a Bonsai tree , the work is never done. Excellence is defined by the aim towards perfection, rather than the reaching of it.
Excellence is doing ordinary things extraordinarily well.

John W. Gardiner
In a way, we've been writing about the topic of customer excellence on the Userlike Blog for the past eight years. Here are our 10 cornerstone tips to set you on the right path:
1

Deeply understand your customers

Customer excellence starts with a deep understanding of your customers and their needs. When you understand what drives your customers, it becomes easy to cater to them. Here are a few ways to get this understanding:
Customer interviews. Businesses with products that " scratch their own itch " tend to be successful, because truly empathizing with the problems of other people is harder than it sounds. If you're not in such a situation, the best way to gain that empathy is by scheduling regular customer interviews. They allow you to dive deeper into the issues than normal service interactions.
Categorize feedback. You'll want to categorize whatever feedback you receive to make it easier to spot trends and patterns. If enough of your customers request a specific feature or have the same points, you'll know you need to make changes.
Create buyer personas. A famous research by Paul Slovic shows that we empathize with people, not with groups. That's one of the reasons why it's useful to create buyer personas of your target customer. They are abstractions, simplifications of your customers, that help you deal with the complexities of real life.
Create a customer journey map. The next step is to walk a mile in the shoes of your buyer personas and create customer journey maps for them. Customer journey mapping helps you to connect the dots between different touchpoints, break down organizational silos and identify areas for improvement.
2

Hire the right people

Your agents are the foundations of your customer service. It helps if agents already come to the table with the desired skills and traits .
Be transparent about the job. When you set the right expectations, candidates won't face any surprises when they start working with you. Be upfront about late shifts, overtime, etc.
Test writing skills. Good writing demonstrates communication skills, empathy and the ability to think critically - crucial traits for customer service.
Use situational judgment tests. You want to know that a candidate will be able to cope with the day-to-day challenges of the job. Situational judgement tests allow you to gauge whether their natural reactions are appropriate for the demands of the role.
Hold multiple interviews. Usually, you'll need more than one interview to know whether the candidate is a good fit for your team. Multiple interviews also help a candidate gather valuable information about the company and decide whether the role is right for them. Head over to our blog post for interviewing best practices.
Highlight growth opportunities/sell the job. This last part is often forgotten, but for people you really want, you also need to sell the job. One way to do this is to highlight growth opportunities during the application process, whether it's promotions or professional development.
3

Focus on customer service onboarding and training

Customer experience is tied to knowledgeable employees. Product knowledge and customer service onboarding gives your employees the tools to handle issues themselves, with minimum escalation.
The best place to start is "baseline viability" , the core knowledge and skills that a new hire needs to hit the ground running.
This is where employees initially receive the same basic training on company culture, values and product. Then, team-directed training is given based on the area of speciality.
You can also encourage employees to actively participate in professional development through educational budgets , helping them to keep their skills up-to-date and excel in their jobs.
Training is not just about teaching your employees about your product. Effective communication is also essential for working and collaborating effectively.
Company-wide communications training can develop these skills and reinforce the importance of good communication. One platform that focuses on this type of training – and with a specific focus on customer service – is Lessonly .
4

Flip towards internal customer service

Your customer service experience is defined by the interaction between your customers and frontline employees. When your employees are in a bad mood, they can't produce a positive experience.

Internal customer service is about investing in the foundations. It's about having a culture that produces happy employees, which in turn produces happy customers.

The concept turns the traditional management pyramid on its head. Front-line employees are at the very top and are supported by middle and upper management so that they can serve customers well.
Here's are some actions that take this from theory to practice:
Restructure your company chart. Visualizing the reversed pyramid stresses that it's management's job to support employees. This step is mostly psychological, but it does send out a strong message to everyone in the company.
Set up service standards. In the same way that customer service standards guarantee a minimum level of service, internal customer service standards hold your employees accountable. For example, this might mean not interrupting co-workers during "silence time" hours.
Ensure two-way accountability and transparency. Accountability ensures that employees don't pass customers from department to department. From an internal customer service perspective, managers are also held accountable through 360-degree reviews. This is only possible if you promote a culture of transparency .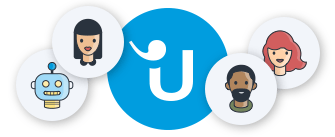 Looking for better customer relationships?
Test Userlike for free and chat with your customers on your website, Facebook Messenger, and Telegram.
Read more
Offer communication training. Effective communication is key to internal collaboration. Offering communication training benefits everyone in the company from the CEO to the janitor. You could enroll your employees in online courses or hire the services of e.g. the Dale Carnegie Institute .
Celebrate success. Highlighting the impact of your team's contributions through e.g. regular departmental meetings, boosts morale and makes them realize who they're working for: the customers.
Collect employee feedback. Your employees are a source of ideas, especially your frontline ones as they're interacting with customers all day. Setting up a central employee feedback system gives your employees a voice and engages them to think about the purpose and direction of your company.
5

Empower your employees

Rules can provide guidance. But if they are too strict, they can stop employees from thinking for themselves. Allowing employees to bend the rules gives them the freedom to make the best decision for the customer.
Your policies provide guidelines but cannot cover every possible scenario. There will always be unexpected situations where your employees will have to think on their feet. Flexible policies make it easier for them to find the right solution.
Rather than insisting on adherence to policies or letting go of them altogether, you could give your team a budget for "breaking the rules." Only when they cross their budget, a manager can look into their conversations and check whether their decision-making is sound.
6

Define your customer service philosophy, values and ethics

If you treat your customers unjustly, they'll resolve to never buy from you again or share their outrage with the world on social media. That's why you need to define your customer service philosophy, values and ethics.
Your customer service philosophy is a set of guiding principles that determine how everyone in your company interacts with customers. Many companies adopt values like "friendliness" and "respect". But such values are too generic to be meaningful.
That's why it makes sense to have a clearly defined vision statement like American Express :
We back our customers
We make it great
We respect people
Doing the right thing is an end in itself. But in customer service, treating customers fairly ensures that they won't bad-mouth you and that they'll keep coming back to you. A good place to begin when thinking about ethics is the Golden Rule: "Do unto others as you would have them do unto you."
7

Guide customers towards the best channels

A few years ago, omnichannel was hailed as the future of customer service. But the best companies don't offer all possible customer contact channels — they guide their customers to the channels that work best.
Many customers still default to telephone and email out of habit, even though chat and messaging are much more convenient for them – and cheaper for businesses. It's the reason why companies like Wistia and Squarespace have stopped offering phone support.
The main benefit of chat is that it lives on your website, so customers are helped at crucial moments. With messaging, most people are already on their phones making it one of the fastest and most convenient ways for customers to reach out to businesses. It's the reason why at Userlike, we've developed our entire customer communication solution around website chat and mobile messaging.
For customers looking to figure out things themselves, self-service options are a must. It allows you to deliver 24/7 support to your customers while taking the pressure off your frontline employees.
Common self-service options include FAQs or a knowledge base . To be truly effective, resources are ideally regularly updated and every time there is a product update or release.
8

Track and improve on the core areas of customer service

To excel at anything, you need a deep understanding of the subject. When it comes to customer service, there are certain core principles which shape the customer experience:
Speed
Accuracy
Clarity
Transparency
Accessibility
Empowerment
Friendliness
Efficiency
It makes sense to define your customer service KPIs around these foundational dimensions. They serve as the benchmark for your service standards.
9

Set service standards

While your core principles are the backbone of your customer service, your standards are your measurable micro goals. They give your employees something to aim for and tell you whether you're setting the bar too low or too high. That way, your employees are not demotivated by impossible-to-reach targets.

But, they shouldn't make you lose flexibility. If, say, an agent needs to spend longer on an issue, they shouldn't be penalized for not meeting efficiency standards.
10

Avoid the "delighting your customers" trap

It can be easy to fall into the trap of "delighting your customers" when you're aiming for customer excellence. However, exceeding their expectations doesn't pay off as much as simply meeting them.

If a customer has to contact support, it's usually because there's a problem. Making them exert effort to solve their problem (issue repetition, channel-switching, repeated contact) is what causes them to switch to a competitor.

When businesses understand this, they can focus their efforts on what matters to the customer. This is what drives customer loyalty.