Quick Guide to Customer Education and Boosting Product Value
Customer education is about product value. How much value a product brings to its customer largely depends on whether they use it in the best way.
It's why Dutch supermarket Albert Heijn offers a free database of recipes that can be made with their ingredients, why Tesla offers short video series on their different car models, and why HubSpot built an entire academy for its software solutions.
These companies understand that when their customers get the most out of their products, they will come back for more.
In this article, we'll show you some best practices for implementing a customer education strategy.
What is customer education?
Customer education is the process of providing your customers with the information, tools and skills they need to get the most value out of your product. This can include providing customers with helpful information such as how-to videos, knowledge base articles, manuals, etc.
If you've invested time and money into building a powerful product, you want your customers to fully use or at least be aware of all its features. You don't want to end up with, for example, a smartphone where only a fraction of its features and pre-installed apps are used.
What's in it for me?
Here are some benefits you can reap from educating your customers:
Trust. According to a study published in the MIT Sloan Management Review , customers have higher levels of trust in the companies that educate them. Investing in customer education shows your customers that your goals are aligned with theirs.
Retention. It stands to reason if a customer doesn't see value in your product, they'll look for alternatives. A customer education program ensures that your customers get the information they need to quickly succeed with your product.
Loyalty. Knowledgeable customers are less likely to shop around because they'll get the highest possible value from your product. If your customers have also invested significant time in educating themselves, it becomes harder for them to switch because of sunk costs .
Higher-quality support. Customer education helps your customers to solve the most common and basic questions themselves. This leaves your agents with more time to devote to more complex issues.
Thought leadership. With customer education, you're not just teaching product knowledge but also best practices. By doing so, you establish yourself as a thought leader, which gives you a competitive advantage over other companies in the same industry.
How to assess your customer's level of knowledge
As with any education strategy, you need to assess your student's level of knowledge before you go all-in — if you start with the wrong lessons, the learning curve will be too steep. Here are a few ways to do this:
Sales and support teams. These teams are your eyes and ears to your customers. As your sales and support teams are in constant contact with them, they'll be able to tell you what are promising areas for education.
Interviews. Talking to your customers directly can reveal more insights than service conversations which focus on solving the issue at hand. By actively steering the conversation towards more complex features, you can get a sense of your customers' competencies from the language they use.
User observation. As part of your interview, you can ask customers to show you how they use your product to identify any difficulties. In the same way as a usability testing session , you ask them to complete a set of tasks and explain their thinking as they go.
Website behavior. Numbers alone won't tell you how your customers experience your site. But with analytics tools like Hotjar , you can see which pages create friction and hesitation, and which lead to questions. Understanding how your customers interact with individual web pages helps identify trends, and optimize them to increase engagement.
The amount of feedback collected from these methods can seem overwhelming. To make sense of the data and eliminate subjective bias, a tool like Asana can keep things in order and prioritize action points.
How to educate customers
Customers differ in their goals. When they first become aware of your product, they're looking for informational content that will help them decide whether they want to purchase from you. Once they're on board, they may be more interested in the complexities of your product to fulfill higher-level objectives.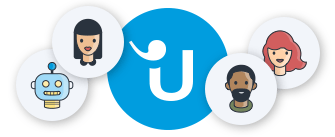 Looking for better customer relationships?
Test Userlike for free and chat with your customers on your website, Facebook Messenger, and Telegram.
Read more
The best customer education program will acknowledge the different stages of the sales cycle : awareness, consideration, sales, product adoption and post-sales. Some of the educational content discussed here will be suitable for more than one stage of the cycle, but we'll focus on primary use cases:
1

Awareness

At this stage, your customers will conduct a lot of research themselves. They'll look up your website and find out what customers are saying about your product (reviews). Making information readily available online saves your sales teams from repeatedly answering the same questions.
Blog. One of the ways you can control the quality of information your customers can find online about your company is via your website and your blog.
Through your blog posts, you can provide in-depth explanations about your products and services. You can also share industry insights and position yourself as a thought leader which sets you apart from your competitors.
2

Sales

Once a prospect has expressed their interest, they'll still have questions about whether your product is a match for their needs. Educational content in the form of product demos, videos and webinars can support sales teams' efforts to address these concerns.

Product demos. A product demo allows your prospective customers to see your product in action. The purpose is not to give a guided tour of your product, but to show your customer how the different functions provide value to them. As every customer has unique needs, every demo needs to be customized.

Tools: Vyond , Demo Builder
Videos. These can be time-consuming to create but give you the chance to show customers your playful side while educating them. Videos are inherently more engaging than other forms of content and can cover a lot more ground in a shorter space of time.
Webinars. Webinars get a bad rap because most fall into the classroom model, "we present and you listen". But a webinar is a scalable way to demonstrate your product to large audiences. Split your content into bite-sized chunks and allow time for Q&As to keep learners engaged. If time allows, include breaks to accommodate short attention spans.
Tools: Livestorm , GoToMeeting , ClickMeeting
3

Product adoption - First steps

After a sale closes, your customers will need help adopting your product. They want to get up and running but don't know what to focus on to achieve that early success. This is where the following training tools can give them a helping hand:
User onboarding software. Software automates the process of onboarding and shortens the path to your customers' success. FAQs may not be detailed enough at this stage and video tutorials may be confusing without context.
Tutorial-based software provides your customers contextual help. Just like a satnav which helps you navigate your way around a new town, user onboarding software walks your customers through the different features of your software.
Quickstart guides. Unlike the standard 300-page user manual which can be overly complicated, a quickstart guide is a step-by-step approach that strips down to the essentials for specific use cases, cutting down the time the customer needs to spend to move forward.
In-product content. An efficient way to onboard your customers is to place learning materials within your product. This takes the form of tooltips, info bubbles, pop-ups/modals, etc. which your customers can opt to see or ignore. For best practices on UX writing, check out this post .
Tools: Chameleon
4

Getting to the next level

Once your customers have mastered the basics of your product, they'll have questions about its more advanced features to meet higher-level objectives. When your customers derive full value from your product, they'll be more invested in it and more likely to stick around in the long-term.

Offering ongoing training keeps them updated on new features/updates and their skills up-to-date.

Knowledge base. Research shows that many people prefer to help themselves over contacting customer support. The benefit of a knowledge base is that it can encompass many forms of content: FAQs, step-by-step process guides, video demos, terminology lists, etc — essentially anything that helps your customers understand and use your product.

A knowledge base with decision tree technology can be a powerful way to guide your customers step-by-step through complex problems.

Tools: Help Scout , Atlassian Confluence , Zendesk
Self-paced learning. Getting your customers up to speed on your product features without overwhelming them is no mean feat. Self-paced learning allows you to chunk information into pieces that your customers will find easier to digest. It also gives your customers the convenience of taking the learning at their own pace.
An example of self-paced learning is HubSpot Academy, which combines short videos and quizzes to keep learners engaged.
Self-paced learning is usually hosted in a Learning Management System (LMS) which offers the following benefits:
Learner control - Your customer gets to choose how much they want to learn in a single session.
Tracking metrics - Completion rates and drop-off points can provide insights into customer engagement and areas of improvement.
Learning communities - Your most advanced learners can get a sense of accomplishment by supporting less proficient users.
When does it make sense to use an LMS? If you're offering a certification program like Hubspot or educating customers en masse, an LMS is the most effective way to track the training delivered and update content, when required.
However, if you're still dipping your toe in the customer education water or you're a smaller enterprise, the other forms of education content discussed in this blog will serve you just as well.
To find the best software for your LMS needs, check out Capterra .
Whose responsibility is it?
In many companies, customer education is the domain of sales and marketing teams to proactively educate customers and prospects, while support does it on request.
As customers will reach all corners of your business, your chances of success will increase if you get everyone in your company on board.
To create effective educational content, all your employees need to be on the same page on how to educate customers. Most will be great at conversational interactions, but when it comes to structured written communication, they may need a little more guidance. For tips on creating educational content, check out this list from the Content Marketing Institute .
Practice makes perfect
Customer education isn't a one-time program that you implement and never touch again. Like learning any other skill, customers need ongoing training to become masters at using your product.
As a minimum, customer education should be reintroduced with new product releases or product updates. As an ideal, content is continuously updated to help customers find new ways to meet their objectives.