Our Crowdfunding Experience
It's March 2012, a few days before the start of our crowdfunding round. Userlike is presented to the investor channel of Seedmatch, Germany's largest crowdfunding platform. It's the first time we hear raw and unfiltered investor opinions.
Most comments were positive, but some were not - and those we felt.
"Come on! Live Chat already exists. Shouldn't this platform bring us innovative startups?"
"This Live Chat thing doesn't work. I've only had bad experiences with it..."
We answered the best we could and prayed investors wouldn't be scared off.
This was four years ago. We've gone through the crowdfunding round, grown to over 1,000 paying customers, 20,000 free users, and we're now in the process of compensating our investors. Because many bloggers, students, and other startups have asked us about our crowdfunding experiences, we decided to share the story.
First contact
We reached out to Seedmatch when we were a few months away from our Beta exit. We had made it to that point on a lean diet. We'd built our prototype from the side room of an apartment without heating, with a daily menu of instant noodles, surviving on student support/paternity compensation.
But even with that lean setup, funds were running low. We needed money to develop further, scale our marketing, and switch to a more nutritious diet. We had been in contact with angel investors, but hadn't been able to reach the necessary level of mutual trust with any of them.
After sending in our business plan to Seedmatch, we were invited to their headquarters in Dresden. There we discussed our product, team, business plan, and the crowdfunding deal.
The deal
We were offered the following: In exchange for 10% of the total investment, Seedmatch would present us in front of their investors, offer guidance throughout the crowdfunding round, and advise with the structuring and presentation of our business plan.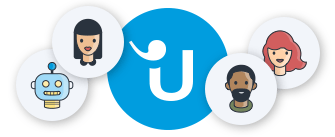 Looking for better customer relationships?
Test Userlike for free and chat with your customers on your website, Facebook Messenger, and Telegram.
Read more
The investors would be paid their share of profits yearly – if there'd be any. After the third year, they could decide to retrieve their investment. In this case, the startup would have one year to pay it back in instalments. After the fifth year, the startup can opt to buy out the investors.
Doubts
We had some doubts. The main one concerned the valuation, which we felt should have been higher. We were valued at €500,000, while we were hoping for a figure that was more or less twice as high. We had put in a lot of passion and commitment already, and it felt like we were being punished for our own realistic growth predictions. Especially since we saw some – in our eyes – less promising startups receive higher valuations.
Secondly, we were fearful of a failed funding round. We had seen some of the preceding startups not reaching their investment targets. Such a scenario would have been a blow to our image, not to mention our egos. Unlike angel investments, crowdfunding exposes you to the world. The fear of rejection was real.
Thirdly, we were a tick annoyed by some of the 'forced costs' that accompanied a Seedmatch round, such as the costs for the accountant's services, financial transaction, and platform provision.
What made us decide to still roll with Seedmatch was that it was the best deal we had found so far. Seedmatch offered us fast access to required capital, and it would expose our product to thousands of relevant people in the process.
The Round
The actual investment day was probably the most exciting one in our existence, since we also opened our product to the public.
Luckily, the few negative comments didn't prevent us from hitting the investment target on the first day, or from getting our first ten paying customers that week. Looking back at the years that followed, we can make some conclusions:
Our feelings of undervaluation are still present, but we have ourselves to blame for our modest predictions.
Seedmatch' marketing machine has been very valuable. It successfully created a buzz, gave a boost of users at the start, and helped us with press coverage ever since.
Our investors have become an important network. A total of 170 people invested, many of whom have become brand advocates, suggesting Userlike where possible.
While we appreciate the feedback and advocating activities from our investors, we are happy that none of them have the power for influencing our direction. This can be different with angels.
The 10% compensation for Seedmatch is high, but worth the return in publicity.
It's impossible to know whether an alternate course (e.g. angel investment) would have produced the same, or better, results. We feel Seedmatch was the right step at the right time. I'd say the main benefits over other options are the market exposure and investor network that come along with the funding. But if your product isn't at a presentable state, crowdfunding could turn out rather painful as well.