Conversational Banking – Benefits, Case Studies and How to Get Started
Conversational banking bridges the gap between convenience and the personal touch on your customers' preferred channels.
Some years ago, mobile banking apps disrupted the banking world, making it easy to manage our finances on the go. But for all their convenience, they're not that straightforward to use and they're not so suitable for complex issues. Conversational banking, on the other hand, promises a more user-friendly and personal customer experience.
For everyday transactions, mobile banking apps are the first port of call – whether it's paying the rent, retrieving account balances or sending and receiving money. But when it comes to applying for a mortgage or a loan, a little more assistance is needed. While there is a wealth of information available online, it's not always tailored and sometimes difficult to navigate through.
With conversational banking, customers can interact with chatbots, voice assistants or humans via live chat, messaging or mobile apps to get personalized advice without needing to walk into a branch or pick up the phone.
Conversational banking is a bi-directional interface between a customer and a bank, where a conversation can be initiated by either participant through a voice, text or visual interface.

Dharmesh Mistry, Chatbots Live
In this article, we'll walk you through the benefits, use cases, and steps for getting started with conversational banking.
Benefits
Customers
Financial advice. Chatbots or voice assistants can function as personal banking assistants. They can track and monitor customers' spending habits to provide personalized financial advice.
Unexpected charges. Customers can dig into unexpected charges. Sometimes, there's a reasonable explanation behind these, but it's not so obvious from a statement.
Upcoming bill notifications. Many of us forget about the standing orders we've set up in our accounts. A chatbot can send a reminder about an upcoming payment, so that the customer can make sure that their balance covers it.
Speedy authentication. Customers are authenticated based on voice samples from conversations, saving the need to memorize secure codes or passwords.
Real-time updates. Trust is key in banking but can be easily lost if a customer falls victim to fraud. With real-time notifications, credit cards can be blocked and transactions reversed before too much money is lost.
Investment chatbot. Many banks allow customers to make stock market investments through them. A part of that involves providing customers information on stock market trends and news. This is where chatbots can help.
Banks
Reduced service costs. When issues are resolved without the need for phone lines or branches, banks can save on service costs. If a chatbot is used, repetitive tasks (e.g. checking account balance) or straightforward questions ( "when can I expect my salary" ) can be delegated, freeing agents up to handle more complex queries.
Upselling opportunities. Chatbots or virtual assistants can help banks identify upselling possibilities. For example, when a customer buys a travel ticket, this is a good opportunity to reach out to ask if they also want travel insurance or currency services.
Fraud prevention. In the same way that customers can get real-time notifications on transactions, banks can be alerted by chatbots or virtual assistants if there is suspicious account activity. They can then warn customers to prevent further theft and recoup funds before it's too late.
Case studies/examples
Bank of America. Erica the virtual assistant lives directly in the banking app. With direct access to customers' transactions, she can send bill reminders, alert customers about duplicate charges and retrieve account and balance information.
HSBC (Hong Kong). Amy , an AI-powered chatbot handles basic questions related to customers' accounts or the bank's products. With the help of an in-built mechanism, the chatbot can learn from customer feedback to handle increasingly complex queries.
Customers also benefit from real-time communication with the bank's WeChat Notification Service. When customers are abroad, they don't need to reply to costly text messages to receive notifications about transactions. Or when they've changed phones, they don't have to worry about SMS notifications falling into the wrong hands.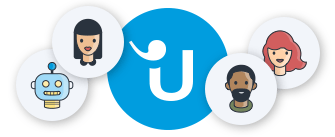 Looking for better customer relationships?
Test Userlike for free and chat with your customers on your website, Facebook Messenger, and Telegram.
Read more
POSB. Digibot the chatbot handles customers' queries on Facebook Messenger. Once two-factor authentication has been completed, customers can get approvals on loan applications, retrieve account transactions or get further information on card-related issues.
Volksbank Lahr. Live chat answers customers' frequently asked questions. For instance, if they need to increase their limits or get their card unblocked when they're abroad, customers can get their request quickly approved in live chat. No queuing and no expensive mobile bills.
How to design a conversational banking experience
1

Map out the customer journey and FAQs at each stage

The first step is to map out the customer journey and the questions likely to arise at each stage. Doing this helps you to understand at which points of the customer journey interaction (human or otherwise) is needed and to uncover friction points.

The customer journey can be mapped for three broad categories of customers:
Prospects: general inquiries, e.g. "what ID do I need to set up a new account?"
New customers: onboarding and application requests, e.g. "how do I invest?"
Established customers: transaction and account services, e.g. "how much did I spend last month?"
In addition, the conversational banking experience must be able to accommodate multiple touchpoints for the different types of customers, for example:
A prospect has a query about a credit card which is initially handled in the messaging app and then transferred securely to the bank.
A new customer is prompted via messaging to complete their profile information on a secure webpage.
When an existing customer wants to pay their phone via the chatbot on a messaging app, a secure access token is created which connects the customer's bank account to the chatbot.

2

Define where you want to offer a conversational experience

Website. As a bank's website typically offers a lot of information on products and services, this is where customers are most likely to need help. One of the easiest ways to implement conversational banking is to offer live chat on the website. With live chat, customers can be helped on complicated topics like mortgage or insurance. Agents can also step in if they feel a prospective customer is losing interest.

Mobile apps. For everyday transactions like checking balances or making simple transfers, mobile banking apps are to go-to option for customers.

But for understanding the difference between the available balance and the current balance, for example, additional assistance may be required. This is where a chatbot or a virtual assistant can help by retrieving account information and advising the customer of any transactions that have not yet been processed.

Messaging apps. Apps such as Facebook Messenger and WhatsApp are popular with billions of users around the world, meaning that messages are more likely to be read than letters or online documents. Customers could be prompted to read terms and conditions, read important statements or sent appointment reminders. It's important to note that your customers need to consent to receiving these notifications.

3

Choose a conversational solution

As far as inferring intent or understanding context goes, chatbots and virtual assistants still have some way to go. Therefore, any conversational solution should consider the human factor and allow for the smooth transition from bot to human.

Solutions should also support the channels on which you want to offer a conversational experience (live chat, messaging).

For an overview and a side-by-side comparison of conversational AI solutions, head over to Capterra .

With Userlike , your chatbots can work across channels: your Website Messenger, WhatsApp, Facebook Messenger, Telegram and even SMS.

You can either connect your chabot to our solution via an HTTP API or build one from scratch through the Logic Chatbot.

4

Take measures to protect customers' privacy

Despite the popularity of messaging apps in private communication and the increasing use of AI in customer service, conversational banking is not without its risks.

The banking industry is a highly regulated environment which means that security and data privacy laws need to be taken into consideration. For banks to offer a safe and secure conversational banking experience, they must take measures to protect customers' privacy and retain their trust.

Compliance. Banking regulations differ from country to country. To offer a compliant banking experience, a holistic collaboration between the finance, legal, compliance and security teams is required.

Secure messaging. If a customer reaches out on a messaging app about e.g a new credit card, they must be able to provide their data securely without the data being stored in the messaging app. That's why it makes to use a fully encrypted messaging app such as Threema or Signal .

On Threema, no personal data (email address or phone number) is collected as users don't have to register a phone number or an email address. With Signal, users do a have to register a phone number, but a self-destruction timer can be set for as little as 5 seconds to offer protection against intelligence agencies and advertisers.

Chatbot security. When working with chatbots, a number of security measures can be taken to protect customers from hackers and fraudsters.

For instance, personal information should only be exchanged when a customer has undergone an identity authentication process. This can be via a digital secure authentication token which can only be used within a specific timeframe or via two-factor authentication where the customer is verified via a password and e.g. the last four digits of their account number.

Messages should also be self-destructing, so that they disappear after a given amount of time. As mentioned above, Signal offers this feature. WhatsApp also gives users the option to have their messages disappear after seven days.

However, this feature isn't available on every messaging app.

Channel selection. For messaging apps to be integrated into the banking experience, messages need to be encrypted, and at the same time, fully auditable by the relevant authorities.

Threema is one of the few messengers that provides the security and data protection that banking requires. Messages and files are fully end-to-end encrypted, making it ideal for sharing sensitive information. It's also compliant with data privacy laws (the GDPR and Switzerland's Federal Act on Data Protection ).

With our secure integration , your data-conscious customers can reach out to you from whichever device they're running Threema on.

With customer's growing preferences for messaging support and the ever-increasing pressure to keep costs low, it's clear that the banking industry needs to catch up with the rest of the eCommerce world.

A low-key and cost-effective way to get started with conversational banking is to implement website chat and messaging apps for customer support.

With our integration , you can handle your customers' messages from the various channels all in one place. Other benefits include autorouting which means customers are automatically connected to the agent best qualified to support them and Sticky Chat which ensures that the same customer is connected to the agent who helped them before.

See for yourself and give Userlike a try today.