How to Add a Live Chat Plugin to WordPress for Free
Integrating Userlike live chat into your WordPress site is simple. Follow our quick step-by-step guide and connect with your web visitors within minutes.
Video Transcription
WordPress is a content management system that fuels nearly 60% of all websites worldwide. You can easily add live chat to your site with the free Userlike plugin for WordPress.
Live chat is the perfect, modern way to build a connection with your webvisitors, assist them on their journey and boost your conversion rate.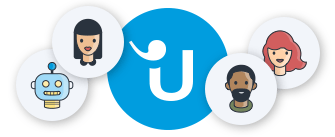 Looking for better customer relationships?
Test Userlike for free and chat with your customers on your website, Facebook Messenger, and Telegram.
Read more
Integrating Userlike into your WordPress site is simple. You'll be up and running within minutes. Note that this plugin only works for Wordpress.org , not Wordpress.com.
So let's get to it.
Log into your Wordpress admin, then click on "Add New" under the "Plugins" menu. Search for the Userlike plugin , install it, and activate it. Go to "Settings" and paste your Userlike Widget Secret.
To get your Widget Secret, log in to your Userlike account. If you don't have one yet, you can create a free account . Then go to "Config" – "Widgets" in the Dashboard, select your Widget and enter the Widget Editor. Head to the "Install" tab and click on "Credentials for Applications" . This is where you'll see your Widget Secret.
Remember to save your changes.
And voilà. The Chat Widget is now visible on your Wordpress site and you can start chatting by going online in the Chat Panel!