7 Ways to Build Customer Trust in eCommerce
Few digital customers are willing to take leaps of faith. Infinite options and comparability have made them picky, wary, and promiscuous. Knowing that they can find everything on several sites, they face businesses with a "bring it on"-mentality.
Most marketing tactics focus on short-term persuasion tactics to grab quick rewards. Less attention goes to building long-term trust, even though that's what drives customer loyalty .
In an environment deprived of face-to-face human contact, there are huge gains for the businesses that know how to build customer trust online. Eight best practices.
1

Be transparent

"If you have nothing to say, don't say anything at all." While that's solid advice for, say, content writers — for businesses it's not.

That's suggested by Steven Tadelis' research . The UCB professor looked at factors that encourage trust, and found that anonymity and secretiveness performed worst. In contrast, information on identity and transparency were the most positive trust factors, especially when shown publicly.
If you're running a business, this is what you contend with: the rampant assumption that your main goal in life is to part fools from their money.

Julia Kirby, HBR
Apple's stand-off with the FBI offers a good example of how transparency can increase customer trust . Already in 2014, Apple had reacted to an embarrassing transparency rating by publishing their Anti-Corruption Policy . Preferable, of course, transparency preempts media coverage.
So, use designated pages on your ecommerce website to convey the 'open book' mentality. Here, transparency aims at an emotional kind of customer trust. At customers' values, not their economic thinking.
Accordingly, your site should feature more than legal disclaimers and wishy-washy statements on responsibilities. Cover questions concerning your daily operations, like production circumstances, working conditions, data privacy and other sensitive topics for customers.
Samsung's rather non-committal 'Our Values' section blushes when it sees how much effort iFAST Corp have put in theirs .
81% of digital consumers research before buying. They love to punish inconsistencies by making them public . That's why it's dangerous to bend the truth when communicating your values, your product's benefits, features or comparison to competitors.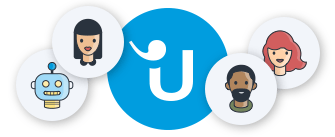 Looking for better customer relationships?
Test Userlike for free and chat with your customers on your website, Facebook Messenger, and Telegram.
Read more
Transparency in pricing is a must. Go for consistent prices across all departments. Also, don't fool the customer with incremental price increases. For instance, don't offer international shipping and then hide the added fee in subpages. Or engage in last-step-price-raising, which flight bookings are known for.
2

Publicize failures

Business communications expert Shel Holtz argues that "acknowledging inescapable facts" is a central attribute of transparent organizations. There's ample evidence that a cover up policy, once discovered, will hurt you twice. First for making the mistake, second for lying about it .
We realized that silence had been a terrible strategy. And it wasn't just the decision not to talk that had been an egregious error, it was that we had not talked immediately.

Marc Benioff, Salesforce
In the book Behind the Cloud , Marc Benioff describes how his company Salesforce misguidedly decided to seal themselves off after some severe server issues. Obviously, the information eventually leaked and the press got their pitchforks. By then, server downtime was Salesforce's smallest problem.
Having learned their lesson, Salesforce implemented a system status page that shares detailed server information. It soon became standard procedure in the SaaS industry. Below you see Help Scout's version.
Salesforce's story shows that it's better to criticize yourself for your blunders. Even the best companies make mistakes. What makes you trustworthy is how you deal with them. Be sincere and beware the pitfalls of saying sorry.
3

Be likeable

A customer builds trust in a business when she identifies values similar to her own, or is in frequent personal interaction with its representatives.

In 2001, researchers Carolyn Y. Nicholson and her colleagues found that liking amplifies these factors. They also found that this becomes stronger as the buyer-business relationship ages.

To create likeability , use direct contact through support and service channels. Your service should be problem-oriented, friendly, patient, attentive, and, preferably, immediate. Service reps should be briefed to stress their company's responsibility when it's due (remember point 2).

Customers' sympathy grows when the company expresses a set of values they identify with. The bias of in-group favoritism makes people favor those they count among their own group. This group, in turn, is to a great extent defined by similar values. The absence of any values won't get you closer to anybody, which is why it pays to be outspoken.
Companies commonly express their values in a mission statement on their 'about us' page. Still, saying what matters for you is mostly about the content, the format is pretty open. Above you see how Hubspot used a (huge) collection of slides to get their values across.
For some great tips on the distribution of values, check out this post by Bruna Martinuzzi from Clarion Enterprises.
4

Get external proof

For customer trust, it's essential to let people know that you're good at what you do. Customers draw on a business's reputation to know how it performs in these categories.

Psychologist David DeSteno argues that "integrity isn't a stable trait." Reputation can't always predict how much integrity a business owns. "Someone who has been fair and honest in the past won't necessarily be fair and honest in the future."

Researchers from Queensland found that "a demonstrated consistency in behavior" increased the perception of integrity for online banks. Positive consumer reviews, spread over a significant stretch of time, are reliable proof of consistency. And like this, also for integrity. Kristi Hines dug deeper into this topic in her insightful kissmetrics-post on how to attract customer reviews.
Honorable intentions don't matter if a person's capabilities aren't up to the task.

David DeSteno
Competence, on the other hand, according to DeSteno, is a stable trait. And reputation is a solid predictor for it. So, focus on reputation-building to make customers recognize your competence.
To a great extent, reputation feeds on the opinions of neutral outsiders. Those can be experts, customers, influencers, or even celebrities ( know the difference ). So look for public endorsement from authorities. Use testimonial pages , earn badges like Trusted Shops' , or provoke media coverage with perfectly timed releases.
5

Humanize

Sociologist Ronald S. Burt and Marc Knez simply defined trust as "anticipated cooperation", which fits a commercial context. In a transaction, trust is nothing more than the anticipation of receiving an appropriate counter value for what's given up.

Essentially, trust is what enables humans to relinquish a certain amount of control despite an unknown future. After all, nobody ever knows for certain how another person will behave. Let alone a company guided by complex economical interests. In eCommerce, the impersonal connection via electronic devices doesn't make things any easier.
Companies are not people.

Corey Wainwright, Hubspot
It's only logical that people look out for familiar human features when building trust in a company. So, making your company more human will eventually make you gain more customer trust.
But how to be human? Apart from direct contact (revisit point 2), you can humanize through your tone of voice . By avoiding jargon and speaking with a distinct tone you can show that there are real people behind your organization. It also inspires recognition value, and by this familiarity and trust.
Brand storytelling , about us pages , a business blog or social media , can all be used to appeal to users with a mix of visual and textual content. Marketer Pam Moore has identified some more brilliant strategies to humanize a brand .
Also, the right contact channels can reduce the gap between customers and businesses. This counts specifically for those that humanize digital communication in a cost-effective manner, such as live chat on websites .
6

Reduce complexity

The more factors affecting a situation, the harder it is to predict the outcome. And, consequently, the greater the distrust of a customer in that situation.

Trust, by this logic, can be increased by reducing complexity. Killing off uncertainties should therefore be at the heart of a business's efforts to build customer trust. It has to come along with simplifying relevant, especially complex, information about the object of interest. Which is the product or service you want to sell.

That's particularly important in industries like insurance and banking . Businesses in such sensitive fields need to explain sophisticated products. Often, they require long-term decisions of customers.
But even if you're selling less complex goods, leave no gaps in product pages on your website. Eliminate expectable questions with sharp information. At the same time, make those specifics palpable, for example with symbols that break down and organize the content. Despite the trust-benefits of extensive information, simple websites are scientifically better .
Ideally, users decide how much information they take into account. They should, however, be able to see how much information you have in place.
Wallet manufacturer Bellroy (image above) did a great job in this respect. In the "Features" they show a default roundup of important information. This includes size, warranty and the leather used. If a user wishes to, she can choose for expanded details the leather and warranty by clicking on a plus-sign.
Often, it's hard to predict the questions that could come up for a product. And you don't want to prophylactically stuff your website with loads of text. Neither should you expect users to ask customer service for every question that crosses their mind viewing a product. They might just drop the buy instead.
To tackle this issue, Amazon came up with a user-curated model, their Customer Questions & Answers section. It's a sort of dynamic FAQ, built and co-answered by users and sellers. A model I could very well imagine to catch on.
7

Pick your partners wisely

Following Volkswagen's media MCA around last year's emissions scandal, French VW-supplier Faurecia's stock price dropped by 8,3%. Only because they were linked to Volkswagen's dramatic breach in trust.

Being associated with a company that's put in the pillory can hurt your reputation. An association with a highly trusted company, on the other hand, will also enhance your own image. So compare your future business partner's values with your own. It's part of a holistic approach to building customer trust.