7 Customer Service Resources to Read, Listen, Watch and Grow
The deeper you dive into a topic, the more interesting it gets. The multifaceted nature of customer service makes it an especially suitable topic for continuous self-improvement.
Luckily, there are plenty customer service resources that make learning a daily opportunity. We've collected the best ones that will help you or your service reps dive right in.
1

Influencers

Any old street corner preacher will 'know' how to handle visitors. But customer service, inevitable for any business, needs voices you can trust. Here are five experts who not only add to, but initiate the #custserv discourse online. This list has in part been scooped from a previous Userlike post .

Shep Hyken
Twitter: @Hyken
As New York Times and Wall Street Journal bestselling author and consultant of many Fortune 100 organizations, Shep Hyken might be the most popular customer service expert out there. Humor, motivation and special hints all over.

Tristan Bishop
Twitter: @KnowledgeBishop
Bishop is one of the most influential digital strategists in the game. He is known for his expertise in social media monitoring and innovative social CRM tools. On Twitter, he's one of few who manages to put actual, genuine value into one-liners on a daily basis.

Kate Leggett
Twitter: @kateleggett
An expert at Forrester Research, Kate Leggett has a main role in market research on demand and supply side, with a trained eye for best practices and technologies. Her work is on market trends related with the holistic customer experience provided by companies' customer service. Her Tweets certify a great overview of both the startup scene and big business.

Matt Dixon
Twitter: @mathewxdixon
CEB's executive director Dixon and his team have been widely referred to as important and true changemakers in customer service management. They advocate reducing customer effort as the central driver of efficiency. Although his online presence is not as perky as that of other influencers' mentioned above, his fieldwork and presentations might help you rethink all you've been taking for granted.

Bill Quiseng
Twitter: @billquiseng
With over 30 years of experience in luxury resort management, Bill Quiseng has seen more than a few sea changes in B2C customer service. He is all about exceeding 'average' in customer service, as opposed to Dixon. As an award-winning blogger and writer, he shares that wisdom with a special dedication for driving leadership to closer positions among consumers.
2

Video Resources

TED
TED's vast and expanding universe of experts' takes on basically anything has one huge benefit: quality's guaranteed. So whether it's on their own website or in the content found under 'customer service' on their YouTube-channel , expect a decent take away.

On TED's own site, the topic of communication is the one most closely linked to customer service. But it's just one of many fields in which there's a lot to be learned for you as a customer-oriented business person. Check out these playlists:

There are many more (unfortunately) uncategorized gems on TED , like this one by John Gerzema:

Charisma on Command
I admit that I have slight reservations towards the average "YouTuber", directing often bland How-To-speeches at their viewers. I also admit that Charlie Houpert , despite similar stylistics, is a pleasant exception.

Houpert wants you to achieve "a magnetic personality." That sounds generic, but in fact it's a collection of entertaining pieces on body-language, tonality, mindsets, and people skills. This matters for customer service as his videos deliver an understanding of how we appeal to others and what matters in communication.
3

Podcasts

Podcasts are portable, personal and can transport information in highly condensed form. They have famously made their way into marketing, now their meaning for learning is becoming more and more obvious . Be all ears for these productions dealing with customer service.
Support Ops
Buffer, Automattic, Wistia, Basecamp – four businesses known for competence in customer support – send their respective experts to feature episodes for this weekly joint podcast . As you may get from the parties involved, it's particularly valuable if you're with an online business.
This is arguably the best podcast in terms of content, production, and fun-factor. The guys even have a manifesto . Listen here . Really, do.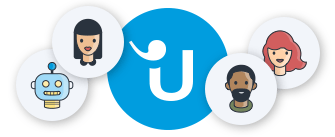 Looking for better customer relationships?
Test Userlike for free and chat with your customers on your website, Facebook Messenger, and Telegram.
Read more
Support Driven
Support Driven is a podcast compiled by a community of over 600 people active and/or highly knowledgeable in customer service. The constantly changing cast makes for a vivid interchange of ideas and experiences and broadens the industry-relevancy of this production. Listen here .
Focus on Customer Service Podcast
This podcast is hosted by Dan Gingiss and Dan Moriarty . It specializes on customer service via social media - as they say, "the channel of last resort when other service channels failed."
The twist: listeners select the guests via hashtag nomination (#FOCS). Biweekly, the two Dans explore how businesses fail or succeed at social media customer service, and why. Listen here .
4

Communities

The more you learn, the more you have to tell. These are the places where you can share your bits on customer service and get in touch with same-spirited people of the industry. Or simply riffle through the unfiltered views of everyday people.

Quora
With around 16,500 threads and 21,400 followers (at the day of publication), Quora has the by far most active community of community of customer service enthusiasts . Most discussions happen at a high level of expertise. They vary in range from macro- ( What makes customers happy? ) to micro-perspective ( Does it mean that I have sociopathic tendencies if I take delight in pissing off extremely rude customer service representatives? ).

Reddit
While it can't compete with the Quora community's professionalism, the one on Reddit has other goods in stock. Especially, bluntly honest experience reports from both sides of the counter.
With nearly 17,000 subscribers, the Subreddit TalesFromTheCustomer is the biggest customer experience collection on the web. The stories told here depict anything from funny, to enlightening, to outright cringeworthy. Most of them are complaints about dreadful customer service.
Featuring more than 15,000 subscribers, Subreddit TalesFromTheFrontDesk gives parallel insight, from the perspective of customer service representatives of all industries.
Inbound
On Inbound, marketing is the main topic. There are, however, plenty of users who bring up lively discussions about customer service , especially about customer relations and management of web-based business.
5

Research Sources

While content of others form the majority of your everyday input, sometimes you need specific numbers and facts right from the source. It can pay off to invest in reports compiled by market-savvy research institutes to fully analyze the situation of your business. In the area of customer service, these are the ones to go with.

Forrester
Forrester has for years been one of the leading resources for research to help businesses in understanding the customer. With a stunning 10,500 reports on all angles of customer service , it's hard not to find the data you desire. While Forrester reports are likely in the higher price segment, you can be assured that they feature enormous detail and that rock-solid research has gone into them.

Harvard Business Review
The HBR's website holds a collection of over 600 articles and over 500 case studies related to customer service. Their selection is divine in that much of that content comes from the researchers who carried out the studies. It varies from full copies to comprehensive articles that present whole studies' data in compact, digestible form.

Annual research publications to watch:
6

Books

A book has unlimited space to examine and analyze a topic from multiple angles, in all detail. For a good half decade now, the pivotal question in customer service is this: To delight, or not to delight?

That's why we decided not to present to you the most famous reads on customer service, but to give you five great books that will enable you to find your own stance on the most fundamental question at the time.
Dixan, Toman, and Delisi – The Effortless Experience
As mentioned above, Matt Dixon and his peers are all about reducing customer effort. This book is their well-researched tackle on 'wowing' customers and common false beliefs about customer loyalty.
A valuable read; especially for those dealing with digital customer service, less so for classic face-to-face scenarios.
Steve Curtin – Delight Your Customers
Steve Curtin made it into a whole lot of best-of-2013-lists with this 208-page read. At its core, Delight Your Customers is about creating amazed, enthusiastic customers who return, spend more, and tell their friends about it.
Curtin, unlike Dixon, sees the key to that in offering exceptional customer service. Curtin wants you to surprise and stun, to be a hero to your customers, not just a helping hand.
Shep Hyken – The Amazement Revolution
Hyken describes his book as being "about indoctrinating yourself and your team in the phenomenon known as amazement."
He promotes the goal of "service that is consistently better than average" by offering sometimes surprisingly simple yet strikingly effective practices and To-Do's. In the delight-discussion, Hyken leans more towards Dixon than towards Curtin.
Thaler and Sunstein – Nudge
A nudge, according to the authors, is "anything that influences our choices." Following this broad definition, Thaler and Sunstein take to psychology to explain what makes consumers, or people in general, tick.
Nudge reaches much deeper than your average customer-service-for-dummies book, but is just as practical. Take it as a research-backed, awesomely written foundation of how to approach customer service.
Dale Carnegie – How to Win Friends and Influence People
Unfortunately, Dale Carnegie can't deliberately add anything to the current discourse. But his 1937 classic still echoes in any customer service expert's mind and is the foundation of many theories and ideas of today.
The time-tested standard work on people-skills and self-improvement is as relevant today as back when it was published.
7

Blogs

Blogs are a meta resource. As this post hopefully proves, they can clear your sight in a complex field like customer service. The following publications are perfect for weekly to daily consumption and have put their focus almost entirely on the service game.

Help Scout
Let's be honest, Help Scout's blog is the one that set standards in the customer service area. Launched in 2013, the blog features a recognizable layout and managed to harmonize straightforwardness with deep analysis. Gregory Ciotti and his team often offer smart analogies and candid introspection .

Kayako
As a service software provider, London-based Kayako pours that daily operational experience into their writing. Their design is refreshingly lean and most of the output is a bit shorter than Help Scout's detailed analysis posts. But it's a benefit, because Kayako doesn't shy away from rather straightforward topics , nor from crunching recent numbers to revive them.

Userlike
Yes, that's us . Earlier this year, we decided to re-adjust our blog's angle and make customer service our central theme, which it is to our communication software company by default. Our aim is to deliver unique insights about all things customer service, by diving deeper into the customer mind and support our claims with psychological research.