7 Ways to Deliver Proactive Customer Support
Regardless of how much you struggle with providing support; you just can't ignore your customers. For one, up to 89% of them will stop buying from you if you do and go to your competitor.
Unfortunately they might still do the same, if you fail to provide quick and effective response.
That's what typically happens when you wait until the last minute before offering a solution. Reactive support is a standard modus operandi for many businesses. Either because of lack of knowledge or resources, they tend to take action only after there is a problem. But good service isn't only about reacting to problems, it's about anticipating them as well.
This is called proactive customer support and it offers a number of benefits for your business:
It increases customer loyalty. A 2010 report by Enkata revealed that taking initiative in your support could increase customer retention rates by 3 to 5%.
It decreases your support calls. By being proactive you can identify issues and resolve them before they become problems, reducing the amount of enquiries you receive.
It helps you to control communication. Customers talk about you, privately but also in public via social media for instance. Being proactive gives you a chance to control their conversation and frame it in the most favourable light.
Below are 7 ways to help you get started with offering proactive support.
1

Monitor your customers' conversations

Your customers talk about you. Sometimes it happens in the privacy of their homes but oftentimes, they take their issues to social media. And if your customers are having conversations about you, you should listen and act whenever it's needed.

Use software like Mention , BuzzBundle or a free app called Social Mention to monitor the web for any comments about your brand. Listen to what your customers say and react in the most appropriate way. If you hear complaints, offer an apology along with a plan of action. If they recommend you, thank them and offer your gratitude for their business.

Take a look at the example below - an enraged customer taking their frustration online. At the time of checking, 2 days after this message was posted, there was still no reaction from the company. Needless to say it's a lost customer service opportunity.
Absolutely knackered and raging with @ASOS . Where is my delivery!!!

— Alice Rosie Allsop (@AliceRosie93) October 8, 2014
2

Announce mistakes as early as possible

Mistakes happen. But it's better if your customers find out about them from you before they realise it themselves. Or the problem escalates on the web.

Always be transparent with your customers. If you shipped the order a day later than promised, email the customer about a delay. Have a technical problem and can't deliver the service? Let your customers know as soon as possible and keep them updated. Remember, things happen but they only become a problem when you try to hide or ignore it.
We're having problems with the ePrint service at the moment. We're working on it, and we'll give you an update as soon as we can.

— UoY IT Services (@UoYITServices) October 8, 2014
3

Contact your customers to see if everything is OK

Post sales support is probably one of the simplest ways to WOW! your customers and show how proactive you are. Yet many businesses consider shipping out the goods as concluding the transaction. Needless to say, they miss out on a great customer service opportunity. And it doesn't take much to offer a post sales support. A simple email asking a customer if everything is OK with the product can go a long way in creating a positive customer support experience. Plus it can help the customer to voice their concerns before the problem escalates and frustration takes them over.
4

Provide self-help options

According to eConsultancy , 51% of customers prefer to find answers to their problems by themselves.

By having an up to date and thorough support knowledge base you can help customers find the answers they need but also, reduce the number of support tickets you receive.

To be the most effective, your knowledge base should include not only information about your products and usage advice. Most common customer issues, best usage practices, troubleshooting advice, terms and conditions, shipping information and many more can help customers solve their problems from the comfort of their homes.
5

Provide live chat support

According to a 2010 Forrester Research , 44% of customers state that being able to get assistance from a live person while they shop online is one of the most important features of a website. But live chat can also help to convert casual browsers. Userlike's customers discovered that visitors who chat are 2.3 to 4.6 times more likely to buy than visitors who don't. That comes as no surprise though:
Live chat is convenient for shoppers. Emarketer.com discovered that live chat is a preferred support option for simple queries like finding out about order status, promotions, shipping or anything related to cheaper products or services.
It adds a human touch. For many customers, having someone to walk them through the ordering process if they get stuck is priceless.
It increases conversions. A report from Boldchat stated that chatters spend 55% per purchase on average spend 55% than non-chatters.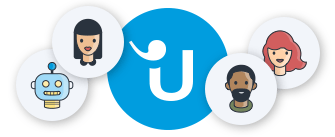 Looking for better customer relationships?
Test Userlike for free and chat with your customers on your website, Facebook Messenger, and Telegram.
Read more
6

Monitor customers actions

Monitor and track how your customers use your site or products. By doing so, you can segment them based on their actions and send them relevant messages. For instance, you can create a segment for customers who have set up an account on your site but haven't purchased anything. Send them an email asking if they need assistance with completing a purchase. Or identify customers who purchase regularly and thank them for their business. Applications like Intercom allow you to monitor how users use and interact with your site and provide support based on their actions.
7

Monitor support trends

Last but not least, monitor your support tickets for any trends and common issues your customers are having. If you spot a particular problem that regularly pops up, i.e. slow website or problems with a particular payment method, take action to rectify it at source. Quite often you will be able to spot and eliminate minor issues before they become big problems. This should not only reduce the number of support tickets but also increase customer satisfaction.

The above aren't the only ways to be proactive in serving your customers but they are the best starting point to start taking support initiative. With nearly one third of customers believing that businesses pay less attention to providing customer service than before, taking a proactive approach can position you in a favourable light.