6 Inspiring Examples of Gamification
When your customers or employees are having fun, it boosts your performance as a company. The concept of Gamification brings a world of opportunities for online businesses to attract and retain users, as well as converting them into buyers and even better… loyal buyers.
We're interested in Gamification because when building our chat tool we also aimed to combine business with fun. There are a couple of companies that we look up to as they truly nailed it with Gamification.
Even though the Google Trend graph shows the term 'Gamification' to be rather new, the systematical approach of driving motivation from people to a certain goal through game elements, such as teams and challenges, is literally as old as the Egyptian Pyramids.
As argued by various authors , the pyramids were built under a different structure than what we've been thinking for so long. Apparently the number of slaves used for the construction was way below what has been thought, all because of the game elements that were included in the work. Slaves were organized in extremely hierarchical groups with specialized individuals in different crafts. These "teams", named after their hometown, competed against each other for many different goods. Their victory was based on effectiveness and rapidness.
Now we wouldn't want to dream of glorifying slavery in any way, but this example does demonstrate the power of game elements. There are some great examples of modern-day companies that used gamification to boost their performance. We accumulated some of the most inspiring examples to put on display.
1

M&M's Eye-Spy Pretzel Campaign

One of the great examples of successful participants engagement with an online social game was the 2013's M&M's eye-spy game. Framed within the M&M's Pretzel campaign, this simple cost-effective game consisted of a simple full-page graphic design of M&M's and 1 small pretzel which users had to find.
This simple, cheap game brought huge gains to M&M, with a boost of more than 25.000 likes on their Facebook page, 6.000 shares and 10.000 comments.
2

Club Psych TV Show and Merchandise Sales

Another great example comes from the american TV Show Psych. Marketers for this product decided to create a new platform - Club Psych - which incoporated gamification into their dynamics with the main goal of increasing customer engagement and ultimately increase their merchandise sales.
The Club Psych is a platform with different games, challenges and multimedia resources related to the tv series. By registering and accomplishing new levels, downloads and other resources, players are ranked in leaderboards, are awarded points and can challenge their friends.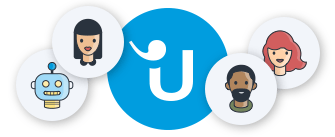 Looking for better customer relationships?
Test Userlike for free and chat with your customers on your website, Facebook Messenger, and Telegram.
Read more
When marketers measured gamification effects within the platform they came out with astonishing numbers: overall traffic on their network increased by 30%, online merchandise sales by 50%, page views by 130% and their content was shared 300,000 times on Facebook, reaching 40 million users.
3

Nike + and the Running Experience Community Project

Nike+ is one of the most famous examples of a game that locks a high amount of potential customers into staying in contact and communicating with the company.
Nike+ is an app developed to complement the most unstructured sport on the planet: running. This platform collects personal data from the users and keeps close update on their running activities in order to monitorize and display their latest achievements and overall evolution. Moreover, Nike+ allows users to compare and compete with people from all over the world, including direct friends when connected to social media.
For Nike, this viral game greatly boosted their exposure and customer loyalty. Furthermore, this highly-developed gaming system allowed them to collect high amounts of data over long periods, after which they were able to segment and market their products and services directly. All the information collected also allowed an increase in productivity of the R&D and Online Marketing departments.
In fact, Nike +'s concept has been so successful that the main framework was built upon and expanded by many other businesses. We just want to highlight the entertaining example of Zombies, Run!, a game where instead of competing with your mates, you are running ahead of a flesh-eating army of zombies.
This game combines the main principles of Nike+ with storytelling - a story about a postapocalyptic zombie world to be exact. While you're out running you'll hear a voice telling you whether it is time for a sprint to outrun a hungry zombie mob.
4

Giff Gaff's Magical Gamified Business Model

Similarly to many community based game approaches comes the Giff Gaff game developed by O2 in 2010. Giff Gaff is a mobile phone service provider with a unique business model.
The idea is that every service provided by Giff Gaff is done by the users of the community, from sales to customer support! From the beginning, since you buy your Giff Gaff SIM Card from one of the members of the platform you're giving away points and becoming a member of the community. When you request any kind of support at their forum and a member supports you, he is also getting more points. These accumulated points can be then converted into cash, as 1 point is equal to 1 pence (which can be withdrawn, converted into airtime, or donated to charity).
Although gamification is typically used to engage customers, the following examples show that it can also be applied for internal purposes.
5

The US Army Game - The #1 Recruitment Tool on the Planet

Another great example of an organization that deployed the gamification concept to support its strategy is the US Army. They developed a free to download game which has become their number 1 recruitment tool.
This is a multiplayer tactical shooter game where people have the opportunity to combat at a squad-level with three fireteams in an extremely realistic approach. By bringing reality into a game, recruiters allow recruits to put themselves in the shoes of a soldier and check whether they have what it takes to become a battle fighter.
This game was developed with a very clear business goal: increasing the number of recruits to the army. Before playing the game everyone is recommended to create an online account, joining the "Online Army" (and giving them all your real data).
In this example the gamified thought goes even deeper by replacing typical badges you get with any online game, for the "Badges of Honor" you will earn by becoming a member of the American Army.
As you can expect, this game has been under heavy ethical discussion. Colonel Wardynski defends the game: "There is a fine line and you don't want to step over it. We steer clear of glamorizing war or taking advantage of current events. People may have lost love ones recently. And there is the privacy of the people involved. Another concern is national security, if you put too much detail into it."
6

Salesforce's Roadwarrior Training

Gamification can also be used for training purposes, as shown by SAP use of Roadwarrior to train its sales staff. Roadwarrior was developed by Salesforce to train sales representatives, through simulated meetings with customers, on how and what to answer considering tailored customer needs. Through the process of answering simulated customers, the sales rep wins badges and earns points, or loses them when they request life-lines. There are many levels to be unlocked on cross-technology matters and reps can challenge other colleagues to match their accomplishments.
Sales people are generally very competitive, making them a good target for a game motivating them to upgrade their sales skills. According to Salesforce.com's blog, 90.4% of the companies that implemented a gamification program for their sales team reported successful results.
With Roadwarrior SAP turned training into fun, increasing the position of its sales force within the learning-curve (by forcing them to continuously simulate different scenarios), increasing motivation and stimulating socialization among the team. And the bottom line, leading to higher sales.
The Possibilities of Gamification for Your Business
You might be aiming at developing your internal capital related with HR matters such as productivity, as you can see from the example of SAP and its training game Roadwarrior, the US Army's recruitment game or through crowdsourcing as Giff Gaf's original business model which includes the concepts of gamification merged with relevance of social communities.
Gamification is a business tool and games are not simple, not just graphics and design. If you would like to create an engaging experience to your customers think strategically and plan carefully what you want to achieve even before hiring your game developer.