6 Innovative Service Tools That Will Change The Ecommerce Industry
What distinguishes great customer service is that it does not only meet customer expectations, it surpasses them! In other words, you have to positively surprise and amaze your customers. The challenge is how to do this on a large and cost-effective scale.
Conventional wisdom tells you that customer service is expensive, and that treating every customer as royalty is impossible. Luckily technology has provided us innovative tools and concepts that break with this conventional wisdom, allowing you to surpass the expectations of every last one of your web visitors.
Finding ourselves in the startup scene of the service software industry has allowed us to get a peek into the most promising service concepts of the future. Check out these tools that can help you become a leader in service and user experience. (Note: some of these concepts have not gone international yet, so you might have to use Google Translate)
Get Honest Customer Feedback with Honestly
Honestly is the ultimate app for the collection of customer feedback. It allows you to easily create individualized questionnaires to be filled in by your customers over the smartphone, and analyze their responses with detailed statistics. A nice innovative feature that Honestly App also provides is the opportunity to get back to your respondents, sending them messages and gift coupon codes to their smartphones.
Stay In Contact With Your Customers Using Smoope
Smoope allows users to stay in after-sales contact with businesses through instant messages from their mobile device, on-the-go. The importance of a multi-channel presence is not new, neither is the importance given to mobile services. However, Smoope combines these two to open a whole new playing field for customer interaction. Tools like Smoope bring a breath of fresh air to the industry and allow online business to take a step further in customer proximity. It allows instant business-to-consumer communication beyond the point-of-sale. Now, talking to a business is almost like talking to a friend or family member.
OMQ: Answer questions before they are asked with an intelligent contact form
We are all familiar with standard contact forms at FAQ oages where you can leave your message. Maybe you will get an answer in any of the coming days, weeks, or you will not receive an answer at all. What if your visitors could get a response right away? Even better, what if you wouldn't need any service employees for that?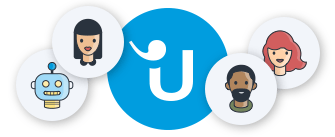 Looking for better customer relationships?
Test Userlike for free and chat with your customers on your website, Facebook Messenger, and Telegram.
Read more
OMQ is a unique tool which allows you to answer your customers' questions before they ask them! OMQ is a self-learning database software which analyzes your customer data and provides real-time answers for their queries. The more you and your customer support answers, the more the database will learn.
Moreover, OMQ will set up answer templates for your employees to easily contact guests and deliver homogeneous, targeted and relevant responses. Don't let your customers wait long for those easy-to-solve issues and give a break to your support service team so that they can focus on the more important matters.
Meet face-to-face with Dozeo
Some customers need a little more attention and sometimes there's no better way to sell than to show-off your product, face-to-face. However if you're an online business and miles away from your customers, things can become a bit tricky. Not so with dozeo . Dozeo is a very lightweight and easy to use tool that allows you to schedule online meetings with your customers, colleagues, or partners quickly.
Dozeo allows you to pitch in high-quality while sharing and working on media with as many guests as you wish, wherever you are. Crucial here is that no downloads are required for either the customer or service employee. Also no contact requests are required. Meet and pitch online as a Pro, with Userlike integration your online selling will become more effective than ever.
Bring Service Into The Home Of Your Customers With Einfach-Machen-Lassen
If you are selling technical products you will run into the problem that your customers are not sure about how to use or install them. This results in missed sales and high return rates. With the services of Einfach-Machen-Lassen you allow your customers to book a 'technical guy' next to their purchase, who will come to the home of your customer and ensure an optimal setup. This is a mixture of a tool and a service, or as they call themselves, "product as a service". Currently the handyman network of Einfach-Machen-Lassen is limited to Germany, but a great concept like this cannot stay local for a long time.
Stop Talking, start showing with Firefly
If you ever tried to explain somebody over the phone how to do something on the computer you will know that this can be quite a frustrating experience. "Now click the blue button in the top right corner.. yeah the top right.. ok. Double click? Yes? No? The blue button yes! What? No it's blue. Aaah okaay blue-greenish…" How much easier is it to just show it. That's where Firefly jumps in.
Firefly offers a secure, transparent co-browsing and browser-sharing tool with which service employees and visitors can share their browser screen, allowing the operator to highlight elements on the screen or even take over control of the visitor's browsing session. Firefly guarantees top privacy and security as it won't access the computer, other tables, or open pages. With the Userlike integration you can chat and show at the same time.
Keep Moving Forward...
Being innovative while getting to know your customers is a process of continuous improvement. You can keep amazing your customers by staying up to date with the latest technologies. We hope these tools have inspired you on the possibilities of innovate support systems. We will update this list with new and useful tools. If you have a suggestion of an original tool just leave a comment below!
About Userlike
Userlike is live chat software for websites, allowing companies to chat with their (potential) customers directly over the website. Look here for more information.