What's New: More Dashboard Languages, Group Forwarding, and Chatbot Integration
Our latest update is all about ease of use. As of today, we offer you more languages so you can staff a multinational support team and offer support around the world. Be sure to check out our other features that will improve service for both you and your customers.
1

Group Forwarding

Until now, you could only forward a chat to another Operator. But if your Sales team receives a technical request, they might need to send it over to your IT Support team. Instead of having to check who's available for technical support, you can now forward a chat to another group under the Actions menu or by entering the command $group followed by the group name in the text entry.

We also added the option to forward a chat to any other Operator in your Operator group under the Actions menu, making chat distribution easier.
2

Chatbot Integration

Chatbots are on the rise. More and more businesses are taking some of the support process out of human hands to simplify their customer service. We've already offered the ability to connect your bots to Userlike using the XMPP protocol. Now if your bot framework only speaks HTTP, we've got you covered.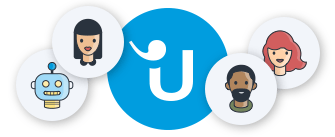 Looking for better customer relationships?
Test Userlike for free and chat with your customers on your website, Facebook Messenger, and Telegram.
Read more
Our Business and Flex customers can integrate their HTTP-based bots into Userlike by following our very detailed Chatbot Integration tutorial . The tutorial covers everything you need to get your chat bot online with Userlike. Give your bot a name, a face, and provide the required endpoint information to get started!
3

New Dashboard Languages

Check your Operator Profiles for our new supported languages! Besides English, German, and Dutch, we support Spanish, Portuguese, Italian and French . You are now able to view the entire Dashboard, Chat Panel, and tutorials in a language that you are more comfortable with. To view the Userlike Dashboard in these languages, head to the Config menu, then select Operators. After selecting an Operator, select your desired language under the Profile tab.
4

Chat Macros Translations

Last up, you can create translations for your Chat Macros in any of the Widget languages that we offer. If you have a standard greeting that you find perfect for all of your customers, you can now add a translation in the Chat Macros configuration. Select a language, click on the Add Translation button, then enter the translated text.

In December, you'll be able to use all of your prepared Chat Macro translations for any chat that comes into the Chat Panel.

Enjoy the new improvements and happy chatting!