10 Crucial Elements for Website Credibility
Every new visitor faces a tough choice. They have to decide whether to trust you – or to run away, fast. Your next sale depends on this decision. But you also have the power to influence their choice.
With the affluence of online scams and malicious websites, online customers have become weary about who they buy from. They continuously look for reassurance that they can trust you and that your site is safe to buy from. And the only way to convince them is by creating a sense of credibility on your website.
In this post, we share our tips and best practices for assuring website credibility.
What is credibility
BJ Fogg , behavior scientist at Stanford University and leading expert on website credibility, defined it as such:
Simply put, credibility can be defined as believability. Credible people are believable people; credible information is believable information. In fact, some languages use the same word for these two English terms.
He also makes two important points regarding credibility:
It's a perceived quality. It doesn't reside in any object, person or a piece of information.
It's multi-layered. Our perception of credibility depends on evaluating multiple dimensions simultaneously. Its two key components however are trustworthiness and expertise.
When assessing credibility, Fogg concluded, visitors use the Prominence–Interpretation system. This means that two things happen during the process:
Visitors notice something (Prominence) and,
they make judgement about it (Interpretation).
Therefore, to be seen as credible, your website must display certain elements users are likely to interpret as such. Here are the most crucial ones:
1

Design

It's not a secret that we judge businesses by their websites. The better the design, the more credible the business seems to be.

In a study conducted by the University of Melbourne ,researchers discovered that shoppers perceive visually attractive online presences more trustworthy. As the study author, Dr. Brent Coker, points out: "With websites becoming increasingly attractive and including more trimmings, this creates a greater feeling of trustworthiness and professionalism in online consumers."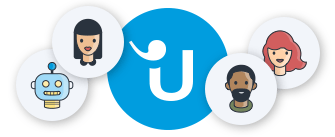 Looking for better customer relationships?
Test Userlike for free and chat with your customers on your website, Facebook Messenger, and Telegram.
Read more
This study of over 2,500 online shoppers found that participants comment on design and website's look and feel more than on any other factor, with over 46% of comments addressing design in some way. A separate study called "What Makes Web Sites Credible? found that good design is the second most common credibility factor.
2

Trust seals

In 2012, while developing a model for online customer behavior, two researchers from Priyadarshini Engineering College and S. B. Patil Institute of Management identified trust and security as major filtering elements preventing buyers from completing the purchase. In one Econsultancy survey , when asked how they decide whether to trust a site when shopping on it for the first time, 48% of respondents answered: "The site displays trust marks to reassure shoppers" .

A trust badge verifies that a business is authentic. Security seals also confirm that your website has been tested and is safe to buy from. Then which trustmarks are the best to use?

Econsultancy discovered that the best trust badges are those your audience is already familiar with. According to another study by Actual Insights , badges from well-known brands are the most effective. In their survey three companies - MacAfee, Verisign and PayPal - achieved the highest recognition.
3

Visible contact details

This study found physical address, contact phone number and email address as the top three credibility signals, followed by photos of the organization's members. Clearly displayed contact details subconsciously suggest to users that there's a real business behind a website. Similarly, a prominent "Contact" button can act as a credibility cue.
4

Relevant copy

Visitors consider websites displaying relevant and engaging information as more credible. According to research by BJ Fogg, 25% of respondents rely on the content and information focus as a sign of a website's credibility. Elements that, according to the study, make copy relevant include:
Focus
Depth / Length
Clarity
Potential Bias
Usefulness
When speaking of content's depth Fogg comments:
We suspect that in many cases in web surfing, users may not necessarily read the in-depth information, but simply having it available seemed to produce a sense of credibility, suggesting the site is authoritative.
5

FAQ, return and refund policies

FAQ sections allow visitors to solve their potential problems and answer immediate questions they have about your business. According to Econsultancy , 51% of shoppers prefer to find answers to their problems themselves. Similarly, clearly visible return and refund policies reassure visitors that you will help them in case they have a problem or simply aren't happy with the product.
6

Detailed product information

In an earlier study, Econsultancy found that over 60% of shoppers use "detailed product information" as a cue to decide whether to purchase a product or not. When assessing the quality of a product description, users look at three criteria :
How informative it is
Whether it establishes trust in a store
Whether it convinces them that a product is for them
7

Testimonials

Letting your customers speak on your behalf is one of the best ways to overcome buying objections and add credibility to your site. First of all, they stand out. Words enclosed in quotation marks carry implied authority and grab the reader's eye quicker than words that aren't.

Testimonials tell a user's story. When customers rave about you, they first and foremost confirm that they had a positive experience with you. They also overcome skepticism. Testimonials skip the sales pitch and present a real user's story, someone whom you've genuinely helped.
8

Reviews

A Dimensional Research survey found that 90% of customers are influenced by online reviews when buying. On average customers read 2-3 online reviews before making a call. And 79% of consumers trust online reviews as much as personal recommendations.
9

Loading time

Probably it happened to you once that you clicked on a Google search result and were led to a page that took longer than 5 seconds to load. What I, and most other people, do is to quickly hit the return button.

A slow loading time is killing for the credibility of your website and the trust in your brand. This point is also made in this Neil Patel post:
Remember that for every second you shave off of load time, you'll tend to boost customer confidence and trust in your site, and sow the seeds that will make them way to tell others about you.
The first thing that pops in your mind with a slow loading website is: "why is it taking so long?" . We've grown so accustomed to low loading times that slowness makes us suspicious. "Isn't this a serious website?" "Has this website been hacked?" "Is my security at risk"? Raise your website speed and you raise your credibility. And also your Google Search Rankings by the way.
10

Customer service

Lastly, customer service plays a big role in a customers' perception of credibility in ecommerce. The aforementioned research found that comments of customer service were more frequently mentioned in relation to ecommerce than any other industries (16.7% compared to 6.4%). The Dimensional Research study also found excellent customer service to be the number one factor impacting a level of trust in ecommerce companies.
Conclusion
As researchers Alsudani and Casey point out in their research The effect of aesthetics on web credibility :
Credibility influences a user's interest in a website. Once users perceive the credibility of a website they will be more likely to use it.
A number of factors affect the perception of credibility. Featuring even the most common ones, however, can increate the sense of trustworthiness and have an impact on how visitors perceive your site.